Photos from John XXIII school Mass honoring namesake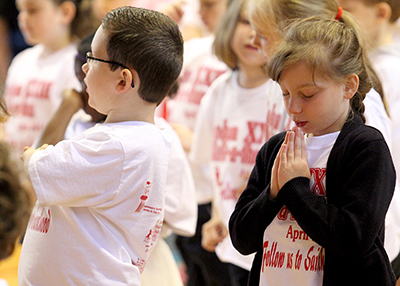 Staff Report
The John XXIII school community came together for a special Mass on April 24, after which students donned their "Follow us to Sainthood T-shirts for the school's first walk-a-thon to raise funds in support of good works in the spirit of Blessed John XXIII.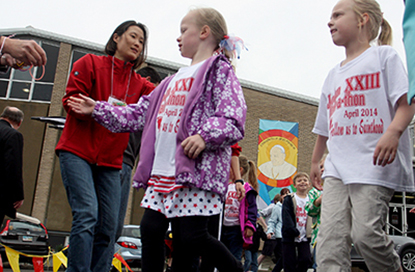 "This is a once in a lifetime opportunity, a real teachable moment in history," said Dawn Pickerill, principal. "It's a chance for the students, for all of us, to learn more about what John XXIII did in his lifetime that led to his becoming pope, what we can take away from his example and incorporate into our own lives."
The students were also to take part in a writing project based on a quote from the pope's autobiography, Journey of a Soul: "I will not forget that I am never alone, even when I am by myself…"
John XXIII school came into existence in June of 1973 with the consolidation of three other Middletown Catholic schools — Holy Trinity, St. Mary and St. John — into one. The school was named after the former pontiff almost 10 years to the day after his death.