Major event planned to commemorate MLK's 'I Have A Dream' speech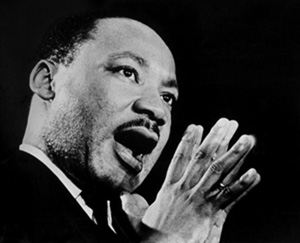 Staff Report 
Thousands of Americans, mostly African-Americans, started an as yet unfinished journey to equal justice and opportunity in the summer of 1963 with the historic March on Washington.
The high point of that event was a speech delivered by an Atlanta clergyman — Dr. Martin Luther King Jr.  His "I Have a Dream" speech became part of the legacy of the great civil rights leader and its 50th anniversary will be celebrated at the CINTAS Center at Xavier University Aug. 28.
"We invite the greater Cincinnati community to join us for this evening of remembrance, celebration, prayer, praise worship and song," said Deacon Royce Winters, director of the Archdiocese of Cincinnati's Office of African American Catholic Ministries.
The Aug. 28 celebration will include music from the African American Catholic Ministries Gospel Choir. Others participating in the event include local broadcaster Courtis Fuller, master of ceremonies; Cincinnati Councilman Wendell Young, who will read a proclamation prepared especially for the observance, and Auxiliary Bishop Joseph R. Binzer, who will lead prayer, mentioning the names of deceased civil rights leaders Rev. Fred Shuttlesworth, Rev. Maurice McCrackin and Father Clarence Joseph Rivers II.
The 90-minute multi-media program will include as yet unannounced soloists and a performance by a dance ensemble.
More information on the event will appear in the weeks ahead on www.thecatholictelegraph.com, www.catholiccincinnati.org, and on local media outlets. The event is free and open to the public.