Making Catholic Memories: Saints Perpetua and Felicity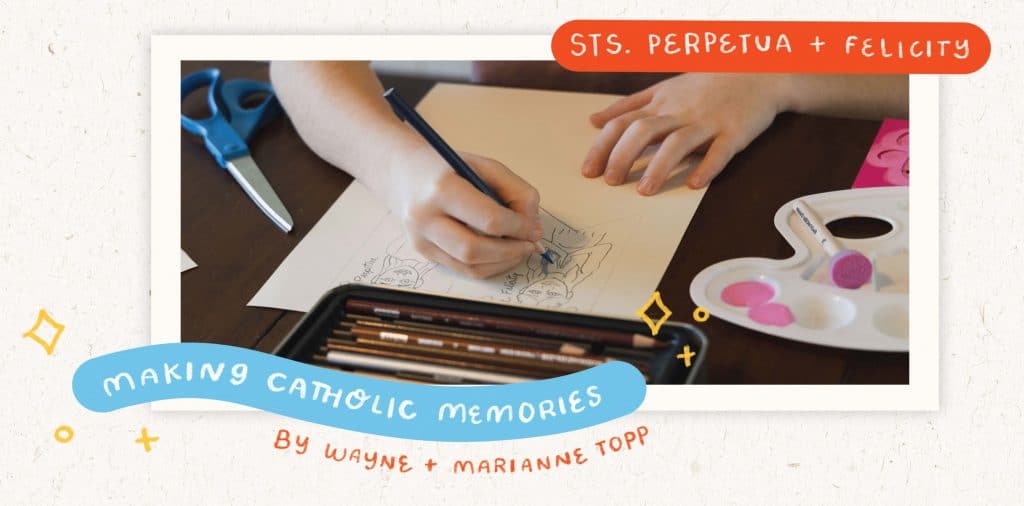 Married only six months, we learned we were expecting our first child, but were both working at low-paying jobs while searching for full-time careers. Of course, the news brought complete joy and overwhelming excitement! But we admit to feeling stress too.
Thousands of questions ran through our minds as we contemplated the unknowns. How can we afford to care for a baby? How will we raise him or her? The worries continued long after the positive pregnancy test, the most difficult ones centering on, "What if something happens to the baby? Or us?"
On March 7, we celebrate the feast of two women, Perpetua and Felicity, who lived in the early 3rd Century in Carthage, North Africa. They undoubtedly asked the same questions, and they gave us the ultimate answer.
Perpetua was a well-educated and wealthy young woman of society while Felicity was a slave, but they died together as martyrs. A month before imprisonment for her new-found faith, Perpetua gave birth to a young son, who was instantly the joy of her life. However, she willingly left him in her family's care rather than give up her Christian faith.
Felicity was still pregnant when sent to prison, but just days before her execution, she miraculously gave birth to a healthy baby girl, despite cruel treatment during her many months in prison. Her child, too, was taken from her and raised by a Christian couple. Though the
pains of childbirth were great, the joy of seeing her daughter and knowing her baby would have life gave her the strength to face execution. The two women bravely faced the gladiators, and, with unfathomable calmness, entrusted themselves entirely to God.
Sts. Perpetua and Felicity knew one of the highest forms of happiness on earth in bringing their children into this world. They also faced one of the greatest sorrows, leaving their children to be raised by others. We see in their stories the key to parenting: trust.
As Catholic parents, we know the new life we bring into this world is a gift from God. God initially provides for His children through their parents' care, but sometimes He provides others to be His source of love and grace. May we be aided by Perpetua and Felicity's prayers to fully surrender ourselves to God's will for our children and to be attuned to the ways God wants to provide for them.
In honor of these saints, we seek to be a source of love and grace for mothers in our own communities by throwing a baby shower.
This article appeared in the March 2022 edition of The Catholic Telegraph Magazine. For your complimentary subscription, click here.