Maria Taylor Turpin High School Senior Cantors at St. John Fischer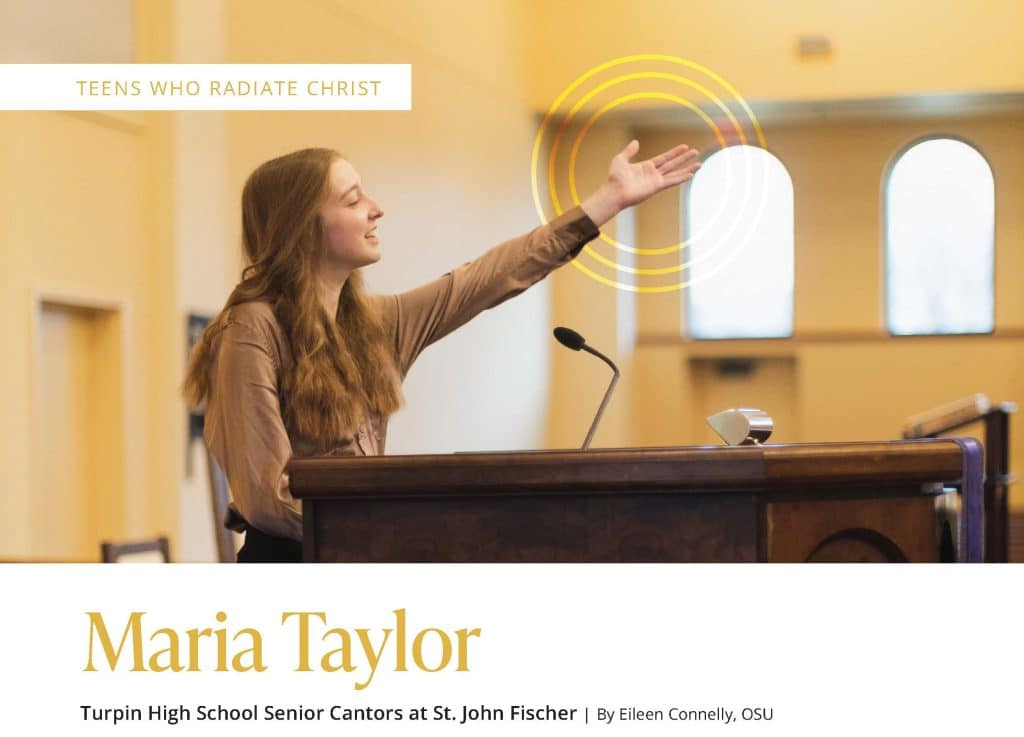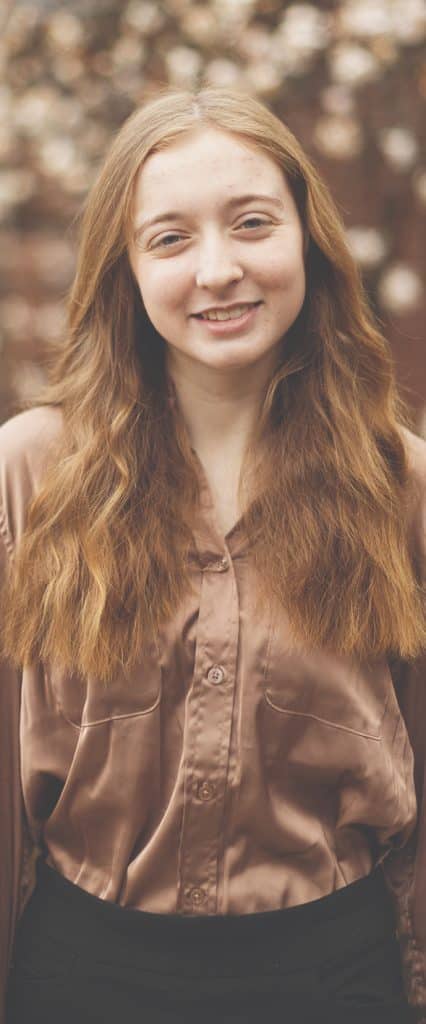 There was a time, admits Maria Taylor, when she would have been afraid to stand at a microphone and sing in front of a crowd. Thanks to her own deep faith, her supportive family and the encouragement of parishioners and staff at St. John Fisher Church in Newtown, Taylor now shares her gifts and brings joy into others' lives as a cantor and psalmist.
The teenager's musical talent was nurtured at Mercy Elementary, where her third grade music teacher nominated her to perform in Joseph and the Amazing Technicolor Dreamcoat.
"That's where it all started, ironically, with a Bible story," Taylor said. "It's been all music from there. I'm sure my family sometimes wishes they could get me to stop singing now," she added with a laugh, noting she is blessed by support from her parents, Denise and Steve, and siblings, Michael and Katie.
Over the years, Taylor took voice lessons, gaining knowledge and confidence in her vocal abilities. Her interest in theater carried into high school at Turpin, where she is currently a junior involved with marching band, chamber choir, Hope Squad, Key Club and the National Honor Society. A lifeguard at the YMCA during the summer, Taylor is employed at Doscher's Candy Co. over the winter.
"I like being busy," said the active teenager. "Being involved in so many different things will open doors for me in the future and help me choose my path."
Amid her many activities, a big piece of Taylor's heart is with her faith community of 17 years. Fellow parishioner Jane Kinley, who passed away in early March, "was a loving friend, who really helped me on my journey, adamantly encouraged me to seek out cantoring and to sing my heart out," Taylor said.
Another parishioner, Jim Crosby, introduced Taylor to Michelle Markert, the parish music director. What started as plans to simply sing at a couple of Masses quickly led to her regularly cantoring the Saturday vigil Mass, and sometimes for Sunday morning liturgies. For Taylor, the rewards that accompany cantoring are many. "It brings me so much joy to bring the congregation together to sing and to celebrate our faith," she said. "God gives each of us certain gifts for a reason, gifts that, with hard work, we can use to help others or turn into something beautiful for them to enjoy. One way I can do this is through cantoring."
Many people thank Taylor after Mass for singing. "That's priceless," she noted. "It gives me purpose. If I can do something that makes another person's day better, that brings them closer to God, then I should keep doing it."
Markert gives high praise for Taylor's gifts, "Maria is a rare talent in that she has a beautiful voice, sight reads well and is able to understand well that her role as cantor and psalmist is very different than that of a solo performer. She receives guidance well and communicates beautifully with the congregation. It has been a joy to watch her grow in her understanding of her own vocal instrument and in the spirituality of the liturgy."
Taylor is also a voice for the parish's youth, representing them at the monthly Pastoral Council meetings. Her service has been an incredible learning experience as she discusses various parish-related issues and plans future events. "It's been a real opportunity for growth," Taylor said. "Everyone treats me like an equal, and I'm learning how to listen, compromise and recognize the importance of taking in everybody's input. There's value to what other people have to say, even if you don't agree. I think I'm able to provide a fresh perspective and it's really a blessing to serve my parish in this way."
"Maria is living out her faith and confirmational commitment by being of service not only to her school community, but very passionately and selflessly to the parish community," said Father Steve Angi, pastor.
As she looks to the future, one of Taylor's favorite hymns, "Enter the Journey" offers reassurance. The refrain's inspiring words read: "Enter the journey. Come to the song. By God you are chosen, by name you are called to follow the vision, carry the cross. Enter the journey of faith as the family of God."
"This reminds me to enjoy the journey and that we're not alone," she said. "I'll be entering my college journey soon, then adult life. That song is very comforting."
Taylor doesn't have any firm college plans yet, but considered studying nursing, with a possible minor in music. "There are so many things I'd love to explore," she said. "Whatever my career is, I know it will involve using my gifts and helping people. I find so much fulfillment in that."
This article appeared in the May 2023 edition of The Catholic Telegraph Magazine. For your complimentary subscription, click here.