JJ, Grace & Liam Teens Radiate Christ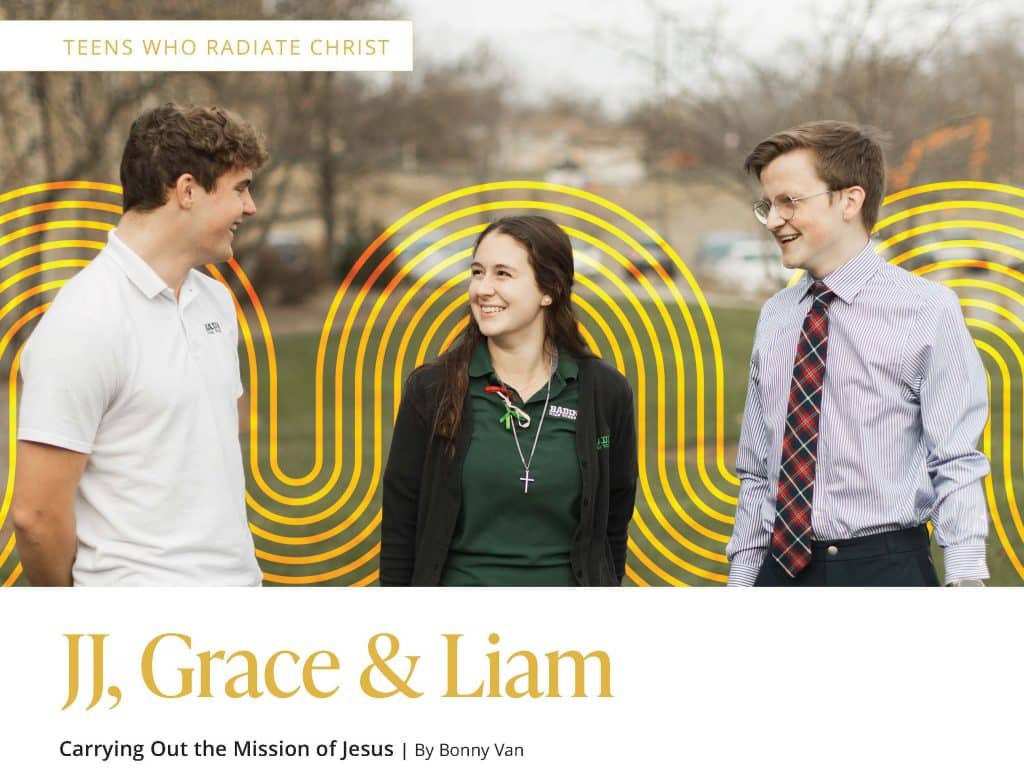 In searching for those carrying out the mission of Jesus, look no further than Stephen T. Badin High School in Hamilton. There, you'll find seniors Liam Connaughton, JJ Even and Grace Warner. All three credit their Catholic faith for helping guide their mission of sharing Christ's love and service with others.
Connaughton works at his family's ice cream shop, plays the piano, and has always been involved at his church, St. Joseph in Hamilton. "[It's] one of the prettiest churches I've ever seen," he said.
"I've done everything you can think of at a parish: serving, reading and distributing," he said. In seventh grade, he built a website for the church. "But more than that, I'm involved in faith outside my parish. I've led retreats at Badin, been a part of Bible studies and led faith groups at Badin. My Catholic faith is the core of who I am. I believe many of the values I hold close are the results of my faith."
For his junior and senior year service projects, Connaughton partnered with Sleep in Heavenly Peace, which builds beds for children in need. "Before volunteering at SHP, I was largely unfamiliar with the issue of bed poverty," said Connaughton. "So many kids in our community don't have a comfortable place to rest their heads at night."
"Christ is truly at work through SHP," he said.
Fellow classmate, Even, is usually participating in volleyball or soccer or sitting on the sidelines cheering on other Badin sports teams. Otherwise, he's busy helping others find their strength, both spiritually and physically.
An active member of Sacred Heart Church in Fairfield, Even is also a Eucharistic Minister at school Masses. His group's service project partnered with The NeuroFit Gym in Hamilton, a non-profit organization that provides a gym-like environment for those with neurological issues. The group painted a mural and a Bible quote, bought organizational supplies and built shelves and desks.
"I chose this as my service project because one of the directors of the gym was super supportive of us through the whole process and loved all of our ideas and gave us a lot of freedom," said Even.
Even said he was initially looking for a "direct" service project, but is grateful for the lessons received.
"I learned that you can make just as big of a difference behind the scenes," he said. "This work relieves some of the load off of the team. I learned how much of a community there is surrounding the gym."
Warner is part of Badin's cheerleading squad and participates in competition cheer and dance, the Scholar Leader Academy, the National Honors Society and the Spirit Club. Her involvement with her church, St. Peter in Chains in Hamilton, began at a young age. She helps lead Vacation Bible School, was an altar server, lectors and is a Eucharistic minister.
"My faith has given me opportunities in high school as a server and Eucharistic Minister at school Mass, taken me to Boston on a conference with the Sisters of Notre Dame de Namur and now, my senior year, as head Sacristan— meaning I get to lead my school in prayer each morning and set up and clean up for each Mass," said Warner.
For her senior service project, Warner and her friends bake bread on Thursdays and deliver it on Fridays for the Community Meal Center. They also help prepare meals for guests.
"The people there are in some of the toughest situations but they talk and laugh and sing worship," she said. "The workers are all volunteers who take time out of their Friday night to serve these people. We pray and share with each other, and there's just almost a magic to it that can't be described."
She continued, "I drive through Hamilton now and I see 'my friends' from the Meal Center, rather than a stranger who scares me. My heart has more empathy, even outside of my own hometown, and I go out into cities around the country with eyes of empathy and compassion. I've also just learned how important it is to look at the heart of a person and meet each other at that human level. God calls us to love one another."
All three students acknowledged their families for providing love, support and strong Christian values that helped guide them through school. They also credit Badin High faculty as outstanding role models. Warner said she learned to live by the idea of "attitude of gratitude" from her homeroom teacher and now keeps a gratitude journal.
"Why be sad about a rainy day when I can thank God that the rain is giving life to this Earth?" she said.
"Liam, JJ and Grace have continually glorified God and furthered the mission of Badin High School through their work," said Badin principal Patrick Keating. "They have been leaders in our Christian Service program, retreats, the classroom and extracurricular activities. We are incredibly proud of the work that they continue to do and look forward to what comes next for each of them."
This article appeared in the May 2023 edition of The Catholic Telegraph Magazine. For your complimentary subscription, click here.