Meet New Youth Office Director Brad Bursa: Heart on fire for mission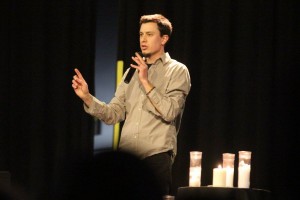 Brad Bursa may have come to youth ministry by accident – but he also came with zeal.
The new director for the archdiocesan Office of Youth Evangelization and Discipleship – formerly the "youth" half of the Office of Youth and Young Adult Ministry (OYYAM), Bursa is a native of Tiffin. He attended Catholic school and college, but a conversion experience in his freshman year at John Carroll University led him to switch schools (to Franciscan University of Steubenville), majors (to education and theology) and careers (to teaching high school).
"My first job out of college as a English teacher at a Catholic high school in Denver set my heart on fire for youth," he said. "Mentoring them, holding Bible studies with them at lunch, walking through the high school year with them… I thought I would teach for life."
But when a job came open in youth ministry at St. Gertrude Parish in Madeira, Bursa and his wife, Katie, tried to think of someone to recommend for it. Katie 's family attended the parish, and the couple had been married there. The Bursas thought working in an established youth ministry program with Dominican Father Michael Dosch, then the pastor, and the Dominicans who staff the parish would be the perfect job for one of their former classmates.
"Then I thought: We're 20 hours away from our friends and families and expecting our first baby," Bursa said. "Maybe I should be the one applying for it."
He did, and soon the young family was back in Ohio and Bursa was making the transition from working with the same students every day to working with different students at a variety of times and locations.
"I had to find myself again," Bursa said, after building an identity as a classroom teacher. "But it really set my heart on fire for mission. I couldn't sit at my desk all day. Instead, I had to say, 'How can we get creative here? How can we accompany young people on their journey with Christ? Soon I realized that mission couldn't be done alone; it needed a team of adults with a heart for evangelization.'"
The youth ministry at St. Gertrude had about six active volunteers. In his eight years at the parish, Bursa built that group to 40, and helped move the youth ministry model from one based on large group events to one based on small groups of students who meet for years with the same two adult leaders in "discipleship cells," being apprenticed in faith.
"It's very personal, relational, and intentionally confronts the culture," Bursa said. While American culture is currently individual, consumer-driven, and impersonal, he said, this "incarnational evangelism" aims to give young people an authentic relationship with Christ by showing them how to live that relationship with other people.
Based on the work of Jim Beckman at the Augustine Institute and methods used by the Fellowship of Catholic University Students (FOCUS) as well as the ongoing youth ministry at St. Gertrude's, the Discipleship model of ministry requires dedication and "face time," Bursa said, as the adults spend time with their groups "getting to know their joys, their struggles, and if they have faith."
Bursa hopes to bring the model to the archdiocese as a whole. The emphasis on the faith life of teens has already spread in a second youth ministry project Bursa helped found: Encounter prayer festivals. First held by three area youth in 2012, Encounter events are now held quarterly at The Underground, a Fairfield youth concert and event venue. Last fall, Dayton began holding its own.
"We were getting together for meals and prayer before the Blessed Sacrament," Bursa said, "and we thought, why not pray with our teens in front of the Blessed Sacrament?" Soon the event was open to all youth ministers and their groups and sponsored by the Archdiocese. The events feature food, talks, music, prayer, and fellowship, culminated by eucharistic adoration. Archbishop Dennis M. Schnurr, the current and previous vocations directors, and area priests have led Adoration.
Bursa, who holds a master's degree in theology from FUS, lives in Madeira with his wife and four children and began his new position Dec. 12. "I'm very grateful to be part of an Archdiocese that has a long tradition of youth ministry — that is dedicated to youth," he said. "I'm grateful to Sean Reynolds and the OYYAM staff, in particular the work done on the athletics initiative and all of the work Sean did to strengthen families.
"My hope is that we can see the demographic of youth as mission territory," Bursa added. "I really believe that youth is a mission field."