Missionary of the Precious Blood is 'blessed beyond words'
January 10, 2012
By Eileen Connelly, OSU
ST. MARYS DEANERY — The journey to the priesthood took Missionary of the Precious Blood Father Joseph Grilliot from his family farm in the northern part of the Archdiocese of Cincinnati to a large, inner-city parish in Los Angeles.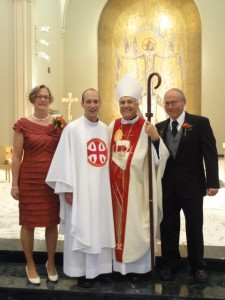 Father Grilliot was ordained Sept. 24, 2011, in the Chapel of the Assumption at St. Charles Center, his community's motherhouse in Carthagena. A native of Versailles, Father Grilliot said he "didn't think much" about the priesthood while growing up, although he was certainly familiar with the ministry and presence of the Missionaries of the Precious Blood who served in the area. It was as a student at the University of Toledo, where he was studying engineering, that the young man realized he was in the wrong major.
"I became very involved in campus ministry early in my freshman year, and after a participating in prayer groups and a retreat, became very drawn to serving God and God's people," he explained, "I realized I needed to consider the priesthood."
He was particularly attracted to the Precious Blood community because of their mission, "whether it's serving in a foreign mission or working in justice ministry with the poor," said Father Grilliot. "Initially, it was the sense of who the Precious Blood Missionaries are — down to earth and honest. Then, I came to be drawn to their spirituality, that sense of healing blood that flows to where it's needed, and participating in God's work of healing and reconciliation."
Father Grilliot changed his major to religious studies and graduated in 2004 with a bachelor's degree in philosophy. He entered initial formation with the Missionaries of the Precious Blood in 2005. During special formation, he was assigned to Sts. Peter and Paul Parish in Ottawa, Ohio. He earned a master of divinity degree early in 2011 from Catholic Theological Union in Chicago, and was ordained a deacon in January. He went on to serve at St. Agnes Parish in Los Angeles, where he has since been appointed associate pastor.
The Chapel of the Assumption was filled to capacity for Father Grilliot's Mass of ordination, with his family, friends, Missionaries of the Precious Blood and their lay associates, Sisters and others in the Precious Blood family witnessing the joyful occasion.
"Keep always before your eyes the example of the Good Shepherd, who came not to be served but to serve, who came to seek out those who are lost," said Bishop Emeritus of the Diocese of Des Moines Joseph Charron, who presided at the ordination, during his homily. "My prayer for you, Joe, on your ordination day, is that all of your wonderful thoughts and desires (about the consecrated life) will be fulfilled."
"I can only begin to express how grateful I am. I'm grateful beyond words," the newly ordained Father Grilliot said at the conclusion of the Mass. "After so many challenges, I am most grateful to my family for their love for me and to the Precious Blood community for the way they've shaped me."
On Sept. 25, Father Grilliot celebrated a Mass of Thanksgiving at St. Denis Parish in Versailles before returning to his ministry in Los Angeles. St. Agnes Parish serves approximately 2,000 to 3,000 families with six weekend Masses, one in English and five in Spanish. "The people here have been very welcoming and very patient with my Spanish," Father Grilliot said.
From celebrating Mass and administering the sacraments to accompanying a parishioner to an immigration hearing and being present to a family broken apart by deportation, Father Grilliot embraces both the challenges and the gifts of his ministry. "I feel the grace of God is really present and am blessed to be part of the lives of the parishioners, to share their hope and their despair," he said.
Although the noise and busyness are a change from the slower pace of rural life, Father Grilliot feels his background prepared him well for his ministry. "I respect the life and hard work of farmers, the grassroots sense of it and the risk taking it involves," he said. "I think it gave me a sense of down to earthness in ministry. I know what it's like to labor hard and celebrate the successes. I think it's given me a sense of authenticity in being present to people and meeting them where they are."
Father Grilliot readily admits that there are some days when he feels rather overwhelmed by the responsibility of his vocation. It is then he remembers that "the grace of God is present, touching me and encouraging me and I don't have to rely on myself. This is where I'm called to be. Even though all my questions haven't been answered, it's more than enough. I've felt so encouraged by my Precious Blood community, my family, the folks from my parish back home. I'm not just my own anymore. It's God working in me and working His grace in the bigger community."
His advice to other young people discerning a call to the priesthood or religious life? "Be honest, be authentic and listen to the call in your heart. Even if it's scary, take the risk and follow where the grace of God will lead. It might turn your world upside down, but that might be exactly what you've been longing for. You'll find life in the midst of life. That's what I found."