Montessori program at The Summit celebrates 50 years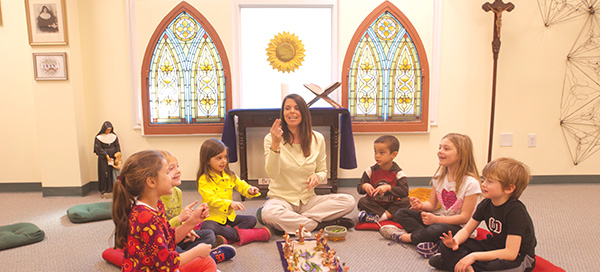 By Eileen Connelly, OSU 
The Catholic Telegraph 
Great moments happen every day in The Summit Country Day School's Montessori program.
In classrooms designed for Montessori teaching, materials are carefully displayed to optimize learning, independence and curiosity and ignite the creativity of the youngest Summit students. Montessori-trained teachers recognize the potential of each 2- to 6-year-old and nurture each of them. The most telling examples of success are the children themselves: 2-year-olds who are learning respect and organization when they are not yet out of diapers; 3-year-olds counting in French and Spanish; and a little boy from Germany, who has only been in the United States a few months, but is already speaking English well.
The Summit's Montessori program, founded by the Sisters of Notre Dame de Namur, will celebrate its 50th anniversary during the 2013-14 school year.
"The Summit is a special place," said Amy Berger, currently in her eighth year of teaching there. "We have the Catholic education at its core and the Sisters' original founding philosophy, great teachers and families, and our parents are wonderful. Our Montessori is unique in the set up of our day and the choices offered. No other Montessori program is quite like ours, and I am very blessed to be here."
Any Montessori history begins with Italian physician and educator Maria Montessori, who believed that if we are to have hope in humankind, then we must have hope in children. The Montessori philosophy emphasizes an intellectual, yet warm, creative and encouraging environment — teaching children a sense of order, independence, concentration and coordination, while recognizing their individual needs, range of readiness and ability. Maria Montessori's sentiments resonated with the Sisters of Notre Dame de Namur, who also recognized the gifts and potential of each child and believed each individual should be nurtured with love.
The forward-thinking Sisters embraced her philosophy and began to explore Montessori methods at The Summit in 1923. A year later, Sisters Josephine Mary and Marie Angela left for Europe, touring Downhall in Scotland, where the congregation ran the Notre Dame Child Clinic. They returned to United States with the vision of establishing a full-scale Montessori program at the Summit, however the expense of sending teachers to Europe for training, the outbreak of war and other factors led to a suspension in the Montessori activities.
By the time the Sisters reintroduced Montessori to the Summit on an experimental basis in 1962, methods that were once considered controversial were viewed as educationally sound. Summit's Montessori school opened in September 1963 with 25 students under the direction of Sisters Mary Motz and Jane Thomas (now Jane Jones), who had been trained and certified at two Montessori centers in the United States. Sister Mary continued to head the school until 1974, when she was succeeded by Sister Noreen Joyce. Sister Mary recalls that The Summit's program quickly became a national model for other schools and filled requests to serve as a internship site for those training in the Montessori methods, including students from Xavier University. The Summit's faculty contributed to Montessori Matters, published by the Sisters in 1967, which became an invaluable resource for local and national educators training in Montessori techniques.
"The 50 year dedication of Summit Country Day Montessori School is a tribute to the efforts of the many people at Summit over the years who have worked to provide quality education for young children," said Kathleen Duval, a longtime Montessori teacher who for many years served as a national consultant for the American Montessori Society. "The Sisters of Notre Dame de Namur contributed significantly to the establishment and growth of Montessori in the Cincinnati area."
Recalling the early years of Montessori at The Summit and its continued success, Sister Mary, said parental involvement was, and is, critical.
"I realize that one of its greatest strengths and sources of positive growth was the tremendous parental support and involvement in the program…," she said.
"Another conviction I gleaned from my Summit Montessori experience was to closely observe each child and help them move from where they are to reach their highest potential," added Sister Mary. "This helped me realize the need to keep in mind the possibilities of each child's future role in society."
A protégé of Sisters Mary and Noreen, Phyllis Schueler ushered in the modern era of the Montessori program. She came to The Summit in search of a "solid" educational experience recalls searching for a "solid" program for her preschool-aged son and said she "fell in love" with Summit's Montessori program. Sister Mary hired her in 1971, and she went on to pursue a master's degree with a concentration in Montessori education at Xavier. In 1989, she became the school's director. As a parent first, Schueler enrolled all four of her children in the Montessori program. Now, three of her four grandchildren are in Montessori.
Looking back on the development Montessori education at The Summit, Schueler credits the faith and vision of the Sisters of Notre Dame de Namur, as well as ongoing parent, teacher and administrative coordination, with its success.
"The teachers really make our program with their dedication," she said. "If you believe in the potential of children, they will exceed your expectations."