Two women discern same order as strangers, enter as sisters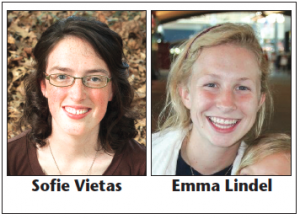 By Megan Walsh
The Catholic Telegraph 
Two Cincinnati women will become sisters in the same religious order in Ann Arbor, Mich., when they enter the community in August.
Sofie Vietas and Emma Lindel met for the first time in May 2012, when they both attended a vocations retreat at the motherhouse of the Dominican Sisters of Mary, Mother of the Eucharist in Ann Arbor.
Their stories are quite different and their personalities are almost opposite, but God called them to discern the same order located four hours away.
Sofie's discernment began as soon as she started to read, when she chose the books by an author who wrote all about Dominican saints.
Being home schooled all her life, Sofie saw how powerful a marriage could be and knew there was great honor in being a wife and mother one day. However, after reading one saint book after another, she would say to herself, "I could totally be a Dominican someday."
Years later, it only took one retreat, CREDO, for Sofie to have her "ah-ha" moment of peace and acceptance that she was being called to religious life.
Sofie kept remembering the stories of the Dominican saints and after a recommendation, visited the Dominicans of Ann Arbor for a vocations retreat.
"It wasn't until I actually got home and woke up the next morning that I realized that I was going to be a Dominican," Sofie said.
Sofie returned to Ann Arbor in May 2012 for a second retreat of discernment and it was then that she decided to wait a year and complete her schooling before entering. This is also when Sofie met fellow Cincinnatian Emma Lindel.
Just as everyone's relationship with God is different, so is the discernment process. When Sofie was an avid reader, Emma was not. Where Sofie was open to God's call, Emma was looking the other way. Sofie was vocal about her discernment and Emma made sure to lock her bedroom door before praying.
Emma's discernment began about two weeks before high school started.
"God asked me to go to Seton instead of St. Ursula," she said. "I didn't know how or why, but I changed to a school where none of my friends were going."
After a semester of feeling out of place and lonely, Mother Teresa reached Emma through her book Come Be My Light. This book helped Emma open her heart up to God's will.
"As I'm reading this book, I feel like she is suffering for me," Emma said. "Mother Teresa lived a crazy life and I wanted that life."
Next came the Steubenville Youth Conference at Franciscan University that Emma was invited to. It was during eucharistic adoration that Emma experienced her first genuine interaction with Jesus, which truly opened her heart to Christ and the possibility of a religious vocation.
This powerful moment motivated Emma to begin subtly changing her lifestyle and, inspired by Mother Teresa, she became involved with service and giving back.
After attending a second Steubenville Conference, the girl who kept her faith life completely private announced to her peers on the way home, "I am called to a religious life!"
When World Youth Day 2011 rolled around, Emma heard God ask to drop her life-long involvement with soccer to instead acquire a job so she could travel to Madrid, Spain.
Throughout all these months, Emma continued to revisit the idea of religious life, as if being courted by God; she was scared and apprehensive.
While at World Youth Day, the love story between God and Emma culminated to one of the most humbling moments yet.
"How romantic am I that I took you all the way to Madrid to propose to you?" Emma heard God ask in her heart.
Emma finally accepted God's plan for her instead of trying to make her own plan work.
"The day I broke up with my boyfriend, I went to talk to the Dominican Sisters at St. Gertrude (in Madeira)," Emma said. "And after still more discernment and prayer, was accepted on Feb. 2, the World Day of Consecrated Life."
Sofie and Emma, one year older than Sofie, will be entering the Dominican Sisters of Mary, Mother of the Eucharist on Aug. 28 with 24 other women. Their formation period will be eight years with limited contact to family and friends.