More than 300 students celebrate 50th anniversary of Pacem in Terris at XU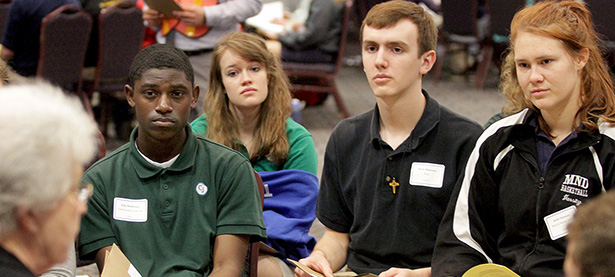 By Jean Lim
For The Catholic Telegraph 
How do you see yourself as hope to a world that desperately needs persons of faith to bring it closer to peace?
That question was the focus of events at Xavier University on April 18 commemorating the 50th anniversary of Pacem in Terris (Peace on Earth) by Blessed Pope John XXIII.  Both the day long high school program and the evening lecture open to the public were sponsored in this current Year of Faith by the Archdiocese of Cincinnati, Xavier University, the College of Mount St. Joseph, the Intercommunity Justice and Peace Center and the Educating for Peace Coalition.
At "New Hope to the World: Called by Our Faith to Be Peacemakers," the 310 high school students and 37 teachers began their day by viewing a powerful video created by McNicholas High School students along with their teacher Jeff Hutchinson-Smyth.
(Read More about the video and watch it here)
The participants were then invited by choir director Chris Albanese and the McNicholas liturgical choir to envision themselves "On That Holy Mountain" where "there shall be peace."
Jesuit Father Michael Graham, president of Xavier University, welcomed the students to their day of reflection and Archbishop Dennis M. Schnurr began the day with prayer. Keynote speaker John Carr encouraged the students to become "a glowing point of light in the world, a nucleus of love, a leaven" (Pacem in Terris, 164). He recently retired after more than 20 years as the executive director of the justice, peace and human development department of the U.S. Conference of Catholic Bishops and recently joined America magazine as its Washington correspondent.
Each student had the opportunity to attend his or her choice of three of 15 breakout sessions led by community leaders, Archdiocese of Cincinnati staff, College of Mount St. Joseph professors and Xavier University students.  The presenters were impressed with the engagement of the students shown by their questions.  A lunch break provided a chance to admire the mosaic created with contributions from students at McAuley, Mercy, Seton, St. Ursula, and Ursuline. More than 100 pieces of artwork with the theme of peace were also on display, coordinated by Caitlin Bertsch and Maria Rosa-Arbona.
Students were invited to reflect on "Where Do You Go From Here?" by Xavier University students Anthony Cirillo and Forest Hempen along with Cara Molulon (McAuley), Quentin Ullrich (St. Xavier), Sheila Eustace (Summit) and Danny Poole (McNicholas). After mingling all day with new ideas and students from all over the archdiocese, school delegations had time to begin group discernment of how to continue their focus on peace and justice issues at their own schools and beyond.
The energy in the Cintas Center banquet room was still palpable in the evening as about 250 members of the public and Xavier University students came together for Carr's presentation "Pacem in Terris: Called by our Faith to be Peacemakers."  Father Graham again welcomed the audience, which included Tony Aretz, president of the College of Mount St. Joseph. Carr pointed out in his presentation that the most quoted part of Pacem in Terris has been its admonition to banish nuclear weapons, but also emphasized John XXIII's focus on the common good with the priority for the poor.  When asked by a Xavier student what Pope Francis would add if he were writing Pacem in Terris today, Carr answered that he would add further emphasis on the environment and the role of the laity.
Donna Park served as the leader of the Educating for Peace Coalition, which worked more than 18 months on the events of the day.  Her passion for peace emanated from her work with the Citizens for Global Solutions.  Other members of the Educating for Peace Coalition were Tony Stieritz, from the Archdiocese Social Action Office; Jean Lim, from Xavier University; Michael Casciato, from the College of Mount St. Joseph; Marguerite Bourgeois, from St. Xavier High School; Linda Goldbach, from McAuley High School; Jeff Hutchinson-Smyth, from McNicholas High School; Bob Bonnici, from Mother of Mercy High School; Tito Sanchez, from Purcell Marian High School; Brenda Bertsch, from Citizens for Global Solutions; Caitlin Bertsch, from Vegan Roots, LLC and Maria Rosa Arbona, a former teacher at St Ursula Academy.
Lim is a adjunct faculty member in Xavier University's theology department.