More than 350 at Seton donate hair for cancer patients [Photo Gallery]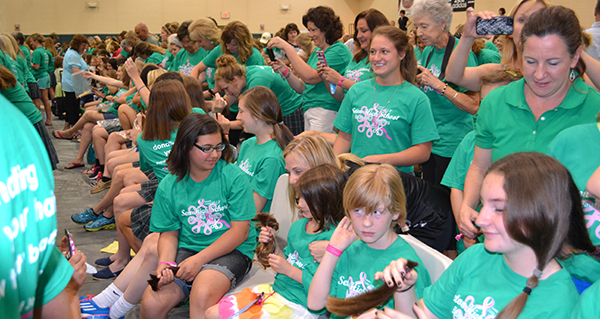 By John Stegeman
The Catholic Telegraph
For a high school girl, hair care can be a terribly important thing. Peer judgement can turn a bad hair day into a nightmare. On May 20 at Seton High School, however, several hundred women opted for a different kind of hair care — cutting off their own hair to donate to those in need.
(See video and photo gallery below)
More than 360 women, mostly Seton High School students and some younger students, had their pony tails cut to donate to Patene Beautiful Lengths, a program sponsored by P&G's Pantene product line. The program started in 2006 and claims more than 400,000 ponytails have been donated to make real-hair wigs for women undergoing cancer treatment. Pantene Beautiful Lengths has donated more than 24,000 wigs to American Cancer Society wig banks since beginning the program.
More than 1 million Americans are diagnosed with cancer each year, but the big numbers and statistics don't tell the complete story. Each cancer patient faces a unique battle for their lives, and programs like Pantene Beautiful Lengths help in the small way of helping people feel better about their appearance.
Seton High School's Marketing/Public Relations Coordinator Christy Schutte was among the organizers of the event. Two years ago her young daughter asked if she could donate hair to Pantene Beautiful Lengths, and five months after she did, she found out her daughter had cancer. Schutte's daughter is cancer free now.
"Cancer is a big, scary word," Schutte told the packed crowd in Seton's gym. "But all the little ways that people can do kind, generous things make a big scary thing like cancer somehow seem smaller. Just like you are all doing today."
he day's program was emceed by Q102 Disc Jockey Jon Jon. The event also remembered the late Jen Sherman. Sherman was a 2009 Seton High School grad who served as a student spokesman for the event as a sophomore. She donated her hair during the event in 2007, but later suffered a major heart attack as a senior. Sherman died in 2012.
The program, the third Seton has hosted, also included testimonies from several cancer survivors.
One survivor, current Seton senior Rachel Wink, told of her battle with cancer as an 8- and 9-year-old.
"When I was going through treatment, I just lived my life the way I wanted too, and I wouldn't let anything stop me," she said. "Now that I am older I realize I was truly lucky that I was able to do all the things I did and that I never had any big complications.
"I love putting my story out there for people to hear because to me, it lets people know that even in the darkest of times, you can get through anything with a positive attitude…," she added. I love giving back to the cancer community any way I can."
2005 Seton alumnus Katie Lahni, another survivor shared what it was like to find out she had cancer.
"It was November 17, 2011 and again I was at work when I received the unforgettable phone call," she told the crowd. "My doctor said that I had nodular sclerosis hodgkin's lymphoma. I didn't even know what that was or what that meant. He had to tell me it was a cancer of the immune system.
"In the blink of an eye, a cancer diagnosis changes your life," Lahni added. "Your goals, your dreams and your priorities are forced to take different turns. You now have to fight for your life."
Rotha Penn, a representative from P&G who works with the Pantene brand, was also in attendance. She told the crowd that working on the Patene Beautiful Lengths is one of the highlights of her job.
"No matter what, hair is really important to women," Penn said. "Imagine a woman undergoing cancer. The first thought, a lot of women tell us, is,'Wow, what's going to happen to my hair? It's going to fall out, how am I going to look? How am I going to feel?' One of the things we decided to do was create this program that would give women free real hair wigs when they're undergoing cancer treatment."
To learn more about Pantene Beautiful Lengths click here.