A Thousand Wooden Crosses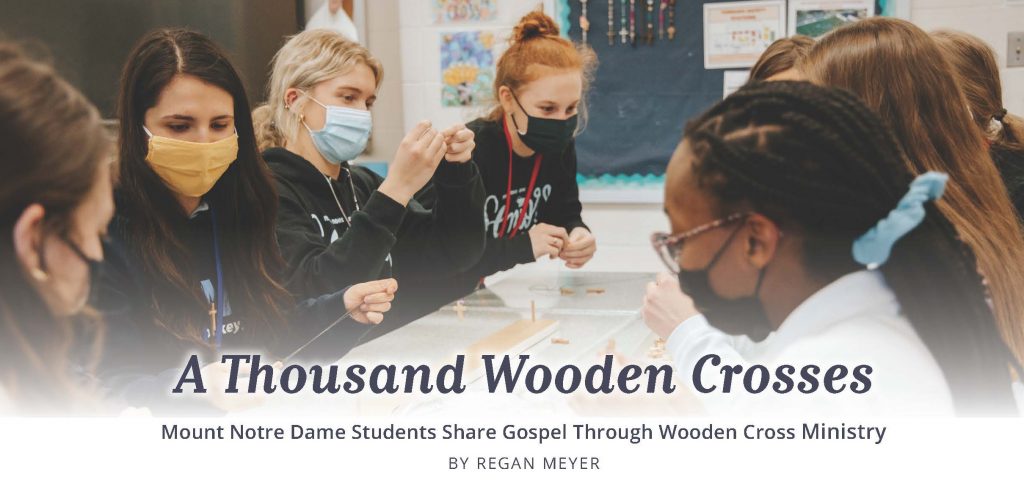 When Todd Forman began corresponding with Bill Evans of the 2nd Chance Cross ministry, he never imagined he would one day lead the program. It all started several years ago when Forman reached out to Evans to learn more about his ministry that re-purposed scrap wood into small crosses.
"I've always had a fascination with crosses," Forman said. "About 10 years ago, I was Googling for a way to give crosses to people. I found Bill Evans. … Every year, I would request a big batch of crosses [from Evans] and send a thank you check to support the ministry."
In 2018, Forman sent Evans an email, but Evans didn't respond. Eventually, Evans' wife emailed Forman and explained he had died of Parkinson's disease.. His widow sent Forman the last supplies of the 2nd Chance Cross Ministry. That sparked Forman to present the 2nd Chance Cross Ministry as a potential student service project to the MND service board.
"I was initially just moved by that story and by Mr. Evans' ministry," said ministry co-leader and MND senior Sophia Germano. "When Mr. Forman talked to the service board about it, I stepped up and said, 'I would love to help out with the ministry; "What can I do?'"
With MND students on board, the Graces and Blessings Cross Ministry was soon born. Forman launched the ministry in January 2020… and then, the pandemic hit.
"It gave me time to figure out how we're going to get the crosses produced. It gave me time to find people to help," Forman said.
Forman and his friends produce the refined wood for the ministry's crosses. He also stains the crosses at home. The students assemble the crosses and attach them to necklaces. "We have meetings every other week. Girls can come in and string the crosses onto the twine and add beads. From there, they go into little baggies so that they can be distributed more easily," said ministry co-leader and MND junior Rachel Noschang.
So far, the Graces and Blessings Cross Ministry volunteers have handed out crosses to fellow students and individuals in the community. "We let the Holy Spirit work," Forman said. "We never know who is going to be touched by it."
Noschang said that the first step to confidently sharing your faith is to live it yourself. "I personally wear one of our crosses every day to school…. It starts with following [Christian] values yourself, but also looking for them in others," she said.
Germano added that being rooted in faith is crucial. "If I go up to a person and they tell me to go away, that doesn't really matter. The slim chance that I could share something that I'm so passionate about with somebody else, even if there's a one percent chance, it's totally worth it," Germano said.
According to its mission statement, Mount Notre Dame aims to empower young women to "learn, live, lead, and serve." Germano said the cross ministry does just that.
"Taking a cross and giving it to somebody, you're essentially empowering somebody else by sharing your faith with them," Germano said. "When we take our crosses and share them with the rest of the student body or anyone we know, that's a way to be an empowered young woman."
To order crosses or for more information about MND Graces and Blessings Cross Ministry visit www.mndhs.org/crossministry
This article appeared in the April 2021 edition of The Catholic Telegraph Magazine. For your complimentary subscription, click here.