Mount students mark 10th anniversary for mission trips to help rebuild after Hurricane Katrina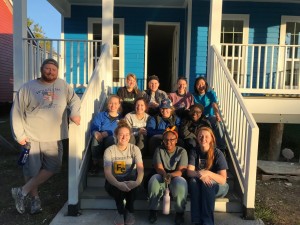 This Christmas break marked the tenth year that a group of Mount St. Joseph University students went to New Orleans with the goal of serving others by helping families displaced by Hurricane Katrina.
The Mount's group of students, led by campus ministry coordinator Charissa Qiu, included 11 students on a weeklong mission trip to New Orleans where they worked with the St. Bernard Project's Opportunity Housing Program. The area was devastated by Hurricane Katrina and many families are still working to rebuild their homes, more than 11 years later.
"There is no time limit to recovery," said Mount sophomore Toria Black who took part in the mission trip. "Being able to go help the people that were hurt and help rebuild their city was a wonderful experience."
Added Mount junior Andi Saylor, "The St. Bernard Project was a wonderful organization to work with because of the connections with the community as well as getting to hear from the site coordinators and their experiences."
The Mount's group, ranging from freshmen to seniors, worked on three houses on Lamanche Street that were in the final stage of construction. They painted, caulked, trimmed, helped with door installations, and cleaned the homes to get them ready for families to move in. The Mount team stayed at the House of Charity New Orleans, which is a collaborative ministry that was an idea of the Sisters of Charity and supported by the Charity Federation. At the end of each day, students considered their experience of serving others.
"I found out how much I enjoyed the end of the day reflections as it helped me see the bigger picture from different views," said Sydney Koo, a junior.
"I think the trip opened my eyes to the resilience of the community and the culture of New Orleans," said Qiu. "I was also so impressed with our students who worked hard without complaints. I felt fortunate to spend time with them and watch them grow in their relationships with each other."
The mission trip isn't just a working experience; it's also an educational one. Students also learn about other cultures and visit the Hurricane Katrina Museum to learn more about what people endured during the hurricane and rebuilding.
"I remember hearing many accounts of the return of the people to the city, and many people talked about how they felt that first glimmer of hope when they heard the sound of jazz music back on the streets," said Qiu. "Learning about Hurricane Katrina and the relief efforts that poured in from all over the U.S. and beyond was a great reminder that in times of trauma, suffering and great loss, we find hope, strength and healing in beauty and art, and in diverse communities of people who come together to collaboratively offer physical, financial and spiritual support."
Members of the Mount's faculty and staff also make an annual mission trip to New Orleans each spring to help the rebuilding process.
Mount St. Joseph University is a Catholic university and sponsored ministry of the Sisters of Charity of Cincinnati that provides an interdisciplinary liberal arts and professional curriculum with undergraduate, graduate and doctoral programs emphasizing values, service and social responsibility.