Sisters of Charity of Cincinnati Bestow Elizabeth Ann Seton Award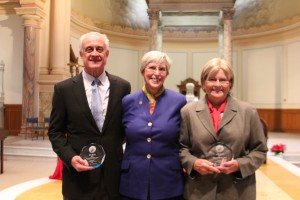 Delhi Township, Ohio – The Sisters of Charity of Cincinnati awarded the Congregation's highest honor, the Elizabeth Ann Seton Award, to John DiCola and Janet Schelb on Sunday, Jan. 8, 2017, in the Immaculate Conception Chapel at the Mount St. Joseph Motherhouse. The award recognizes individuals outside the Congregation for their significant contributions in furthering the mission of the Sisters of Charity to act justly, build loving relationships, share resources with those in need, and care for creation.
John DiCola was a treasured member of the Sisters of Charity Health Care System, starting his association in 1987. John was instrumental in developing the concept known today as Catholic Health Initiatives (CHI). He served on the original leadership team of CHI and shared his skills as a leader and innovator in furthering the ministry of Catholic health care in rapidly changing times. John understood the vision of the women religious founders of CHI and the call to create something new and sustainable. Other Sisters of Charity sponsored ministries have also benefitted from John's mission-driven skills and strategic thinking. He shared his insights in the early planning days of the Bayley campus and assisted St. Joseph Home in updating their long-range plan. In his combined 29 years of association with Catholic health care and various Sisters of Charity ministries, John consistently integrated the values that reflect fidelity to the SC heritage.
Following in the footsteps of Elizabeth Seton, Janet Schelb was a primary school teacher in Sisters of Charity/Cincinnati schools for 40-plus years. She is currently active in the Bellarmine Chapel community and is a founding member of Bellarmine's Dismantling Racism Team. For more than 30 years, Janet and others from the Community of Hope have served the elderly and shut-ins at CMHA's Marquette Manor in English Woods. The Community of Hope provides grocery shopping, transportation to doctor's offices, and visits when someone moves into a nursing home. For a number of years, Janet was the chairperson of the Board for Power Inspires Progress (PIP), Venice on Vine. She remains on the Board, serving as the chairperson of the Development Committee. For many years, Janet was on the Steering Committee for the annual Way of the Cross/Way of Justice Good Friday procession in downtown Cincinnati. Her care for the earth is evident in her passive solar home. Humility, simplicity and charity are hallmarks of Janet's life.