My Journey: Cradle Catholic says recognize need for constant commitment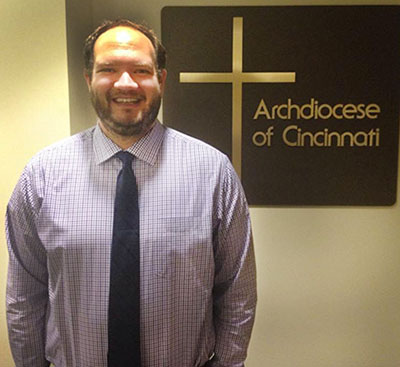 By John Stegeman
The Catholic Telegraph
Luke Carey, Assistant Director Office of the New Evangelization for the Archdiocese of Cincinnati isn't a convert.
For Carey, there was no moment when it all just clicked. There was no explosive experience wherein the faith of his childhood was confirmed. Instead, there were little assurances along the way and a constant commitment to follow Christ.
Read previous My Journey features
— Saints were her gateway drug
— Husband can't deny wife's faith
— For Hartman, conversion has been a lifelong experience
— Evangelized by dead people
— Cursillo crucial to Bishop Binzer's journey
Carey was born to Catholic parents and raised in a Catholic parish. He was part of a Catholic youth group and later attended the very Catholic Franciscan University of Steubenville. Jobs followed in Catholic education and Catholic youth ministry.
If you're sensing a theme here, it's that his life has always been steeped in the Catholic faith. Even so, his faith journey has had its ups and downs.
"I've been to Mass a million times," he said. "I've done a million praise and worship things. I've done adoration and confession a million times… What does this look like? I never really had the profound moment where it all kind of clicked. I never had that feeling of consolation.
"To this day, what I've learned is the importance of commitment," he added. "When you talk about faith and doubt, that dichotomy, an approach is obedience."
In various moments of his life, through spiritual direction or just speaking with his parents or grandfather, Carey has sought an "end" to the journey, but now realizes faith is sometimes a process.
"I had to come to a point where I was OK knowing that for some odd reason in my life there was never going to be an "a ha!" moment," he said. "You want the Star Wars thing where Luke shoots the rockets into the Death Star and it blows up. But that might not be how it is for you."
When discussing his faith story, Carey spoke often of confession and the Eucharist. He also detailed the role of Christian music, peer ministry and a strong Catholic community. All of that added up to his eventual taking ownership of his belief in Christ.
"I've seen too much. I've been through too much. I've seen God work in my life," he said. "I can't deny this. I'm going to figure this out. Every day I just go into prayer with that and try to use those tools… Anytime I've gone to God he's shown up."
Now working with the New Evangelization, Carey works to help reach a culture that sometimes seems at odds with Catholicism.
"One of the things we try to stress to people is that its going to be incredibly messy, and that's a good thing," Carey said. "Pray everyday. Every single day. Five minutes. You have to make a commitment… I've been learning to just do it everyday. You have to be anchored and have strong roots. That means a personal relationship with Christ."
In addition to looking inward, Carey said the New Evangelization means being tested, and developing friendships with those who don't share our Catholic faith.
"If you don't have friends you hang out with who don't believe what you believe, something is wrong. Don't have an agenda, just be their friend," Carey said. "But also… Christ may have hung out with all of the sinners, but he lived with the apostles. Having community is really important too. You don't want to be so safe that you're not evangelizing the world, but you don't want to be in the world so much that you don't have a community.
"The world isn't going to convert itself," he added. "It is going to be through you being friends with other people… At some point in time something is going to happen where God is going to move your heart or theirs and those conversations are going to start to happen."
This My Journey feature originally appeared in the June 2015 print edition of The Catholic Telegraph