New Catholic website aims to reach a different audience

By John Stegeman
The Catholic Telegraph
A new website produced by the Archdiocese of Cincinnati is promising to "stir into flame the gift of God."
Referencing 2 Timothy 1:6, StirIntoFlame.com, is an outreach of the archdiocese to everyone, but specifically the unengaged Catholics. Upon visiting the site, readers see a clear departure from the usual look of Catholic websites. The site debuted June 30.
"That doesn't look Catholic, but that's a good thing," said Sean Ater, director of the Office of the New Evangelization, which headed up the project. "The reason I think it is not what you usually see with Catholic web pages is that we had a completely different audience in mind than the usual Catholic blog or webpage. The usual Catholic webpage is directed to your engaged Catholic, giving high-level catechesis, interesting cultural Catholic information for those who are really interested and plugged in. What we are trying to do is create a web page that would be interesting and engaging for the unengaged Catholic.
"Those Catholics aren't really searching out Catholic stuff," Ater added. "We're trying to walk with people on a journey of faith. We're trying to meet them where they are and help them take the next step on that journey. We understand that everyone is at a different stage but a lot of people are at an initial stage of their conversion journey. We're tying to rouse curiosity in them and make them want to dig deeper."
The front page of Stir is dominated by a screen-width background video and text urging readers to "Explore your faith." Clicking play takes viewers to an inspiring short video introducing the site. In the video, produced by U.S. Digital Partners, a narration talks about the journey of faith with a distinct road trip motif.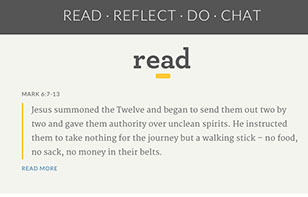 "A road trip is analogous to the journey of faith," Ater said. "You have a destination in mind, but also the journey turns out to be just as important. On a road trip you want to have people with you, it makes it more interesting. There's also ups and downs. There's awesome things that happen on a road trip and then unexpected things that throw you off."
While the video does have a passing image of a rosary crucifix, to reach the intended audience the site isn't overtly flooded with Catholic terminology.
"We have Catholic symbols throughout that let people know this is Catholic, but its very Jesus centered and Bible centered, which is obviously very Catholic but I think for Catholics we're not used to that starting point," Ater said. "It isn't that you don't eventually get to the very deep Catholic teaching, but you have to be spiritually prepared for it. You have to be spiritually mature for that seed to fall on good soil. The way you get there is a relationship with Jesus. Start with that, give people the tools to build that, and you kind of build from there."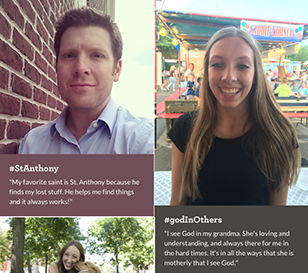 One of the site's sections is "good news." It includes a snippet of a Gospel reading, a quote or comment from a saint or important figure, and a sharable meme with advice on putting the good news into action. Though it doesn't say so explicitly, the good news section is a streamlined "Lectio Divina." The scripture passages follow the Catholic lectionary and link to the United States Conference of Catholic Bishops website for more information.
Ater said one of Stir's goals is to be a person-to-person ministry. Though important, a church-to-person approach doesn't always open doors so in a section on the site titled "stories," Stir has photos of local Catholics with short quotes where the person answers questions of faith. This section is based off the popular Humans of New York website which uses a similar format.
"They just get normal people and ask them a question and really get into people's lives," Ater said. "We're asking questions like who's your favorite saint, or how do you pray?"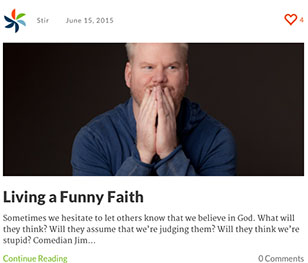 A third section, titled "curiosities, A Catholic hodge podge" is the only place the word Catholic appears on the front page. In this blog-style section, Stir explores some of the curious things that make up Catholic life. Some entries include "Five Reasons Catholics Should Care About the Environment" and "What's with the Festivals?"
Finally there is an events calendar titled "What's stirring?" The site will also foster communication. Readers can sign-up to receive weekly email updates about what is new on the site and doing so will enable their ability to leave comments on the site.
Stir can also be followed on Twitter at @StirIntoFlame and on Facebook.
Visit StirIntoFlame.com 
Visit the Archdiocese of Cincinnati homepage
Posted July 8, 2015