Navajo visitors make lasting impression at area parish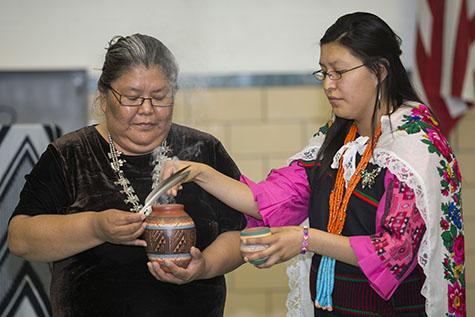 By Patricia McGeever
For The Catholic Telegraph
A little muscle and manpower from the Navajo Nation has left a lasting impression on Sts. Peter and Paul Parish in Reading. The parish has a twinning relationship with St. Mary's Mission in Tohatchi, N.M. Parishioners have made 11 mission trips to New Mexico over the past 17 years. This year, for the first time, members of St. Mary's made the trip here.
"It feels really good because they helped us a lot helping with the Bible school and the church and took the time to come out and spend time with us so we're going to repay that favor," said Coranell Iyua. 
The 13-year-old is part of the youth group that raised close to $9,000 to fund the trip. The group worked for a year holding taco sales and selling fire bread. They held bingos and raffled off an old jeep that was no longer used that their pastor, Father Dale Jamison, donated to the cause. Their hard work paid for 18 people from five families to make the journey.
"I wanted to experience something new," said Star Lorenzo, who made the trip with her parents and brother.  "We're just looking forward to what they have for us."
What awaited them was a 10-day experience that included work, fun and an evening set aside to educate others about their culture. They pitched in on projects done around the church and school. A crumbling stone wall along the driveway was repaired. Mulch was spread around the parish grounds. The insides of all the school windows were washed and every desk disinfected. All the extra hands helped haul away some large items the parish no longer needed.
"I think it's great," said Marshal Natonabah, who made the trip with his 13-year-old nephew, Henry. "At home I'm doing things for other people anyway. But now it's on a larger scale."
The group was eager to work and excited about seeing a different part of the country.
"It's very green," observed Sadie Yazzie of the very different landscape here. There were other differences, too.
"My main thing was coming to church for Mass to see how it's different from our parish," she said. "We have a really small parish."
They thought Sts. Peter & Paul was really big, until the group toured the Cathedral Basilica of the Assumption in Covington. Their hosts made sure to include other memorable outings. They saw a photo exhibit of Native Americans at the Taft Museum and were able to teach the docents a bit about what was on display. They had a cookout, took in the Newport Aquarium, Tri-County Mall, and a Reds game, complete with a five-hour rain delay. They visited the Sisters of St. Francis in Oldenburg, Ind. Sisters from the order serve on the reservation, including Sister Pat Bietsch, who made the trip east with the group.
Before the visitors returned home, the group held a Navajo Presentation night for the parish. Each family gave a talk and shared their heritage though history, music, dance and prayer. More than 200 people from the parish attended.
"I think it made this whole twinning thin real to everyone," said Beth Pettigrew. "They've heard about it for years and years, but to see them and get to know them it's made a world of difference."
This story originally appeared in the August 2015 edition of The Catholic Telegraph.