NCAA Men's Basketball Tournament University of Dayton Tip Sheet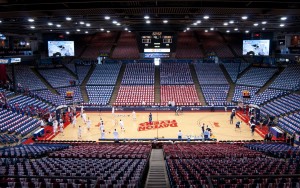 WHAT: Preparations for NCAA Tournament First Four
WHERE: University of Dayton Arena
WHEN: 11 a.m. Sunday, March 12, through Wednesday, March 15
Here is information on media availability regarding the University of Dayton's role in the First Four of the 2017 NCAA Division I Men's Basketball Championship.
➢ 11 a.m. Sunday, March 12: Arena staff will be installing the arena floor and setting up the playing area. Scott DeBolt, senior associate director of athletics and University of Dayton Arena director, will be available for interviews. This is the ONLY opportunity to interview University of Dayton staff and video of preparations for the First Four. Eric Farrell, executive director of the First Four Local Organizing Committee (The Big Hoopla), can be available during the week by calling 937-361-8432.
➢ 5-8 p.m., Monday, March 13, and 12-3 p.m. Tuesday, March 14: Participating teams will hold public practice sessions. Admission is free. Media without NCAA credentials can cover practice sessions only from areas open to the public. Media without credentials cannot enter until the same time the public enters the arena. Media are not permitted in restricted areas without an NCAA credential. If you do not have an NCAA media credential, the application process is closed and you cannot get one. University of Dayton basketball media credentials or other media credentials do not provide access to restricted areas.
➢ 12-3 p.m. Tuesday, March 14: A University of Dayton sports media class that studies the role of media and communications in the sports and recreation industry and helps prepare students for careers in the field will hold class at UD Arena to watch press conferences and practices, and chat with reporters about their jobs. "Thanks to University of Dayton athletics and the NCAA, our students have the opportunity to use University of Dayton Arena as a classroom and see how top national media do their jobs," said Shannon Shelton Miller, a former Michigan State athletics beat writer for the Detroit Free Press who teaches the class. Media must have NCAA tournament credentials to film and interview students in the arena. Arrangements can be made for interviews outside UD Arena.
➢ Opportunities other than Sunday, March 12, and practice sessions: Media without credentials can broadcast from outside the arena near the ticket office on the side of the arena facing Interstate 75. No media can do live shots inside the arena Monday, March 13, through Wednesday, March 15.
➢ First Four Tickets: Tickets are available through http://daytonhoopla.com/tickets.
➢ Parking: Parking in University of Dayton Arena lots A, B and C are by NCAA First Four all-session permit only. All-session permits for lots A and C are available to the public for $15 by visiting the University of Dayton ProSource Ticket Office adjacent to lot A 8:30 a.m. to 4:30 p.m. Monday through Friday. General parking is available for $10 in lot D each day. For more information, call the University of Dayton ProSource Ticket Office at 937-229-4433.
➢ The Big Hoopla Activities, Sunday, March 12:
10 a.m.: The Big Hoopla Four Miler, University of Dayton River Campus (registration and check-in starts at 9 a.m.) — The top four overall male and female runners will receive a cash prize. In addition to the overall top finisher awards, the top three male and female runners in each group receive two tickets to the NCAA First Four. New this year, all finishers will receive a customized Hoopla medal.
1 p.m.: Fifth Annual Big Hoopla STEM Challenge, Chaminade Julienne High School (registration begins at noon, pre-registration is recommended) — Open to children in kindergarten through eighth grade, the free event features science, technology, engineering and math demonstrations plus a hot-shot basketball contest. Students compete for prizes that include First Four tickets, iTunes and Scene75 gift cards, iPads and much more.
For more information on both events, visit http://daytonhoopla.com