New Artwork to adorn Display Window at 100 E 8th St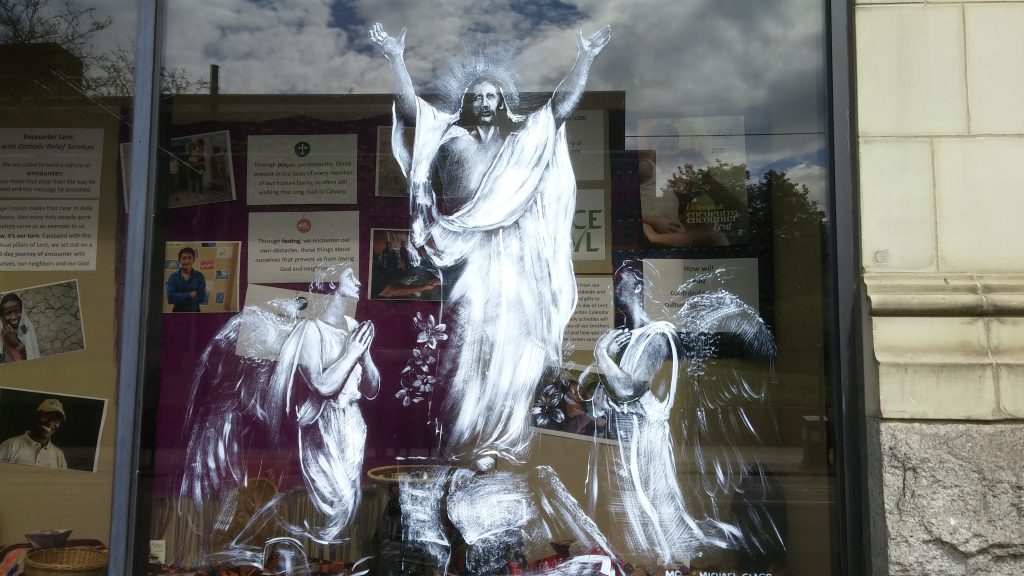 Updated Monday April 17, 2017: Michael Glass's compleded artwork the Risen Christ is adorning the 100 E 8th St. Window.
Updated Saturday April 15, 2017
Work has begun by Michael Glass on the display window at the Archdiocese of Cincinnati. Though a bit of a rain delay, Glass expects several more hours before completion. A parishioner of St. Mary's in Greenville, art is a passion of his.
On Saturday April 15, 2017 a unique event will happen at the Archdiocese of Cincinnati Central Offices at 100 E. 8th St. on the Walnut Street side there is a display window.
At around 8:00 a.m., Michael Glass will be painting the Risen Christ in the display. According to the artist, the process should take a few hours: from morning and part of the afternoon.
The Cincinnati Bell Connector (streetcar) swings right by, so look to the left as you approach 8th Street. The Cincinnati Reds host the Milwaukee Brewers at 1:15 p.m., so if you're headed to the ballpark, stop by to see the window.
Easter Vigil is at 8:45 p.m. at both the Cathedral and St. Francis Xavier Church, another wonderful opportunity to see this new addition at the Archdiocese.
Of course, Easter Sunday there's several masses downtown another opportunity to see this newest artwork.