Obituaries in April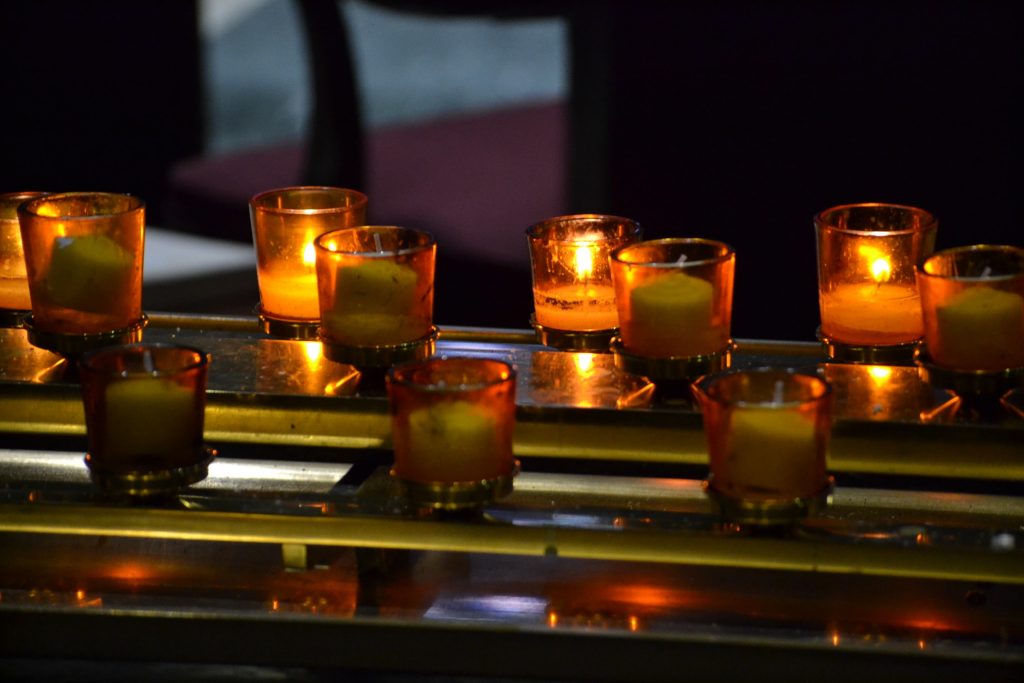 Father Leo Schloemer
A Mass of Christian Burial for Father Leo Bernard Schloemer was celebrated April 3 at Our Lady of the Fields Chapel in Fairfield. Father Schloemer, 94, died March 25. He was a Glenmary Home Missioner for 67 years.
A native of Cincinnati, Father Schloemer made his first oath with Glenmary on Aug. 15, 1952. He was ordained a priest on May 20, 1956. His service to Glenmary included assignments in Ohio, Oklahoma, Texas, Arkansas and beyond. He studied internationally at the University of Louvain in Belgium, where he earned a master's in theology. Father Schloemer served as Glenmary's director of education from 1979 to 1983. From 1969-1975, and again from 1987-1991, Father Schloemer served in Colombia. He was the founding pastor of San Simon Apostol and Maria Madre de Dios parishes in the Archdiocese of Bogota. He was the first Glenmarian to study Spanish to communicate with his parishioners in Colombia. Today many Glenmarians speak Spanish.
Sister Mary Lawrence Hartmann
A Mass of Christian Burial for Ursuline Sister Mary Lawrence Hartmann was celebrated April 13 in St. Ursula Convent Chapel. Sister Mary Lawrence, 92, died April 7. She was an Ursuline of Cincinnati for 74 years.
A Cincinnati native, Sister Mary Lawrence began teaching the first grade at St. Ursula Academy in 1948. In 1962, she became the first principal at St. Ursula Villa and held the dual position of principal/teacher until 1967. Following her tenure at the Villa, she became the principal/teacher at St. Henry School in Dayton, In 1971, she returned to the Villa, where she taught until 2000. In retirement, she continued to tutor students.
Sister Mary Lawrence is survived by her brothers, Lawrence, Richard and Thomas. Interment was at Gate of Heaven Cemetery.
Sister Mary Paulita Hoffman
A Mass of Christian Burial for Maryknoll Sister Mary Paulita Hoffman was cele-brated March 19 at the Maryknoll Sisters Center in New York. Sister Paulita, 104, died March 14. She was a Maryknoll Sister for 85 years.
A Cincinnati native, Sister Paulita entered the Maryknoll Sisters novitiate on June 4, 1933. She professed first vows on Jan. 6, 1936, and final vows three years later. Sister Paulita received her first overseas assignment to China in 1938. There she ministered in direct evangelization, catechesis, pastoral visiting and native novitiates. She was placed under house arrest by the Communist government and imprisoned for two years. After her release and a period of recovery, she worked in the Maryknoll Sisters Promotion Department. From 1954 until 2004, Sister Paulita lived and worked in Taiwan doing pastoral and catechetical ministry in a number of parishes. She then served her community in a variety of roles until her retirement in 2012.
Interment was in the Maryknoll Sisters Cemetery on the Center grounds.
Brother Stephen Richter
A Mass of Christian Burial for Franciscan Brother Stephen Richter was celebrated March 27 at St. Margaret Hall Chapel. Brother Stephen, 85, died March 23.
A Cincinnati native, he entered the Franciscan order at Duns Scotus College in Southfield, Mich., in 1954, completed novitiate, professed first vows in 1959, and solemn vows on Aug. 16, 1962. Brother Stephen served in fraternal ministry all over the province, but by 1981, his organizational and business skills were needed at Friarhurst Retreat Center, where he served as business manager and guardian for a total of 12 years.
Interment was in St. Mary's Cemetery in St. Bernard.
Sister Rosalie Kastner
A Memorial Mass for Precious Blood Sister Rosalie Kastner was celebrated April 11 at the Salem Heights chapel in Dayton. Sister Rosalie died at the Maria-Joseph Center on March 28. She had been a Sister of the Precious Blood for 81 years.
A Dayton native. Sister Rosalie taught 46 years in elementary schools in Arizona, California, and mostly in Ohio. During her early years in retirement, she volunteered as a teacher aide and in other ministries. She retired to Salem Heights in 2009.
Sister Bertrand Lieux
A Mass of Christian Burial for Sister of St. Joseph Bertrand Lieux was celebrated April 15 at Mount St. Mary Convent in Wichita, Kansas. Sister Bertrand, 88, died April 9. She was a Sister of St. Joseph for 72 years.
A native of New Roads, La., Sister Bertrand's first years in ministry were spent in Catholic education as a teacher and principal at schools in south Louisiana. After earning a master's in hospital business administration at Xavier University, she served as a hospital administrator for six years. Sister Bertrand then moved to Cincinnati, where she served as executive director of development for the Sisters of St. Joseph Medaille for 16 years.
Sister Bertrand is survived by her siblings, Magda Lieux Bonnette and Ralph Lorio Lieux. Interment was in the convent cemetery.
Sister Mary Stella Gampfer
A Mass of Christian Burial for Sister of St. Francis Mary Stella Gampfer was celebrated April 16 at the convent chapel in Oldenburg, Indiana. Sister Stella, 81, died April. She was Sister of St. Francis for nearly 63 years.
Sister's early mission experiences took her to high schools in Evansville, Oldenburg, and Middletown. In addition to teaching English, history, and religion, she served as an advisor to prize-winning student newspapers. In the arch-diocese, she taught at Our Lady of Angels and Fenwick high schools.
Sister Stella is survived by her brothers, David, Joseph and Terrance.