Office of Religious answers all your questions on Consecrated Life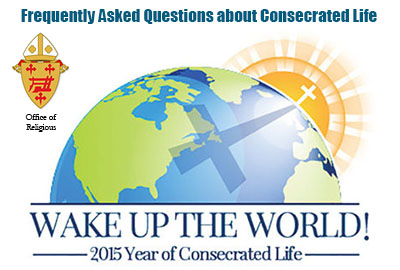 Staff Report
Consecrated Religious have been crucial to the life and development of the Church throughout the ages. Recognizing this, Pope Francis has set aside Nov. 30, 2014 through Feb. 2, 2016 as the Year of Consecrated Life.
Archbishop Dennis M. Schnurr has set the objectives for this celebration in the Archdiocese of Cincinnati. They are:
to increase the visibility of religious life/consecrated life,
to express appreciation,
to highlight the joy experienced in this vocational choice, and
to educate on the importance of on religious life/consecrated life to the Church.
As one means of learning more about religious life/consecrated life, the Office of Religious has compiled the following FAQ entitled, "Most everything you ever wanted to know about Consecrated Life."
What is consecrated life?
Consecrated life is a gift given by Christ who chooses a person individually to respond to His great love in a special relationship. He asks that person to leave some aspects of the world to put themselves at the service of their brothers and sisters.
Consecrated life is a vocation just as marriage and diocesan priesthood are. Both men and women can choose to consecrate their lives to Christ as a way to seek an intimate relationship with Him.  Those in consecrated life generally join a religious order. There are scores of religious orders – some founded centuries ago by saints, and some founded more recently to fulfill a particular need. Consecrated life is most often shared in a community which is united to live out their common mission together. An exception to this (joining a religious order and living in community) is The Consecrated Virgin Living in the World.
How do I know if God is calling me to consecrated life?
Listen to your heart. Is something deep inside you inviting you to something more in life
Listen to the many ways God speaks to you — not in a voice "out loud," but in the inner reaches of your mind and heart, in nature, in the events of your life. Do you experience a deep yearning to make God the center of your life?
Listen to the voices of those around you. Do others see qualities in you that might indicate a call to be about the work of building God's kingdom here on earth as a woman or man religious?
The process of listening to your own heart, to God and to the voices of others is called discernment. Discernment is a process of reflection, prayer, conversation and openness. Discernment takes time and energy. But it is through this process that we discover who we are and what God wants us to be.
(There is an Online Discernment Retreat available for women ages 20-40.  For more information:  email Cathy Bauer, OSB at [email protected]; text 859-468-6040 or call 859-331-6324).
What is the difference between solemn vows and simple vows?
The New Commentary on the Code of Canon Law explains the distinction this way:  "The older religious orders (monastic, canon regulars, mendicants, Jesuits) have perpetual solemn vows, and the more recent apostolic congregations have perpetual simple vows. The chief difference between the two is that religious who profess a solemn vow of poverty renounce ownership of all their temporal goods, whereas religious who profess a simple vow of poverty have a right to retain ownership of their patrimony (an estate, endowment or anything inherited from one's parents or ancestors) but must give up its use and any revenue."
What is the meaning of the vows women and men religious make?
The vow of poverty is an invitation to simplicity. Unencumbered by worldly possessions and concerns about attaining those possessions, women and men religious can focus completely upon, and devote their entire lives, to God and serving others. In living the vow of chastity, religious remain celibate, dedicating themselves entirely to Jesus.
The outward expression of that love for God, to whom a religious sister, brother or priest has dedicated her/his life, is the joyous and generous love she/he gives to all without exception. Through the vow of obedience, a Religious humbly opens herself or himself to the will of God and remains receptive to how and where God calls her/him. In making this vow, a Religious surrenders her/his own will in order to do that which is God's will.
Blessed with unique gifts and talents, each Religious remains opens to how her/his talents and skills can best serve those in need, the Church, as well as the community to which one belongs.
Who is a Brother?
All Christians are called to share in the brotherhood of Jesus, in them, Jesus continues to walk this earth.  In response to this call, some men assume the title Brother.
A Religious Brother is called to a vowed life of prayer, community, and ministry and not be a priest. The core elements of a Brother's life are prayer, community, the vows of poverty, chastity and obedience, and ministry.  Some Brothers belong to communities comprised of only Brothers; others share communities with religious priests and seminarians, e.g., Dominicans, Franciscans, Glenmary, Marianists, based on its charism. In most religious communities of men, one may choose to be a brother or a priest.
Brother Leo Kirby writes "Of all the paths to take in the Church it's the one least traveled upon and to a Brother that makes all the difference."  (www.todaysbrother.com)
Are Sister and Nun interchangeable terms?
Despite the fact that you may call someone Sister and in the next breath describe her as a nun; these terms are not interchangeable strictly speaking.  A Catholic nun is a woman who lives a contemplative life in a monastery which is usually cloistered (enclosed) or semi-cloistered. Her ministry and prayer life is centered within and around the monastery for the good of the world. She professes the perpetual solemn vows living a life according to the evangelical counsels of poverty, celibacy, and obedience.   A Catholic sister is a woman who lives, ministers, and prays within the world. A sister's life is often called "active" or "apostolic" because she is engaged in the works of mercy and other ministries that take the Gospel to others where they are. She professes perpetual simple vows living a life according to the evangelical counsels of poverty, celibacy, and obedience.
Why are there so many different congregations of women and men?
Each religious order has been founded at a specific time and place by a founder or foundress. These founders and foundresses saw a need, e.g., the education of women, children, the poor; the care of the sick; the dying in the streets of India; the care of children without parents; the great need of people to hear the Word of God.
Besides a particular work of mercy that drew the founder or foundress into action, each community has a particular charism.  A charism has been described as "a window" on the Gospel, e.g., charity, the goodness of God, hospitality, mercy, poverty, preaching. Charism has also been described as the "deep story," the inheritance that members of a religious community receive from the founder or foundress.
Why are there so few Sisters, Brothers and Priests in schools and hospitals today?
One of the very obvious reasons is the fact that there are simply fewer religious today compared to the total population and to the number of Catholics. However, two other reasons also affected the move away from these two important ministries.
In the 1960s men and women religious were asked by the Church to study their founding charisms.  In doing so, and applying them to the contemporary world and its needs, many discovered that it was an historical shift that moved them from their original reason for being founded to meeting the needs of Catholics in the US through Catholic hospitals and schools.  Following the Church's mandate many religious congregations returned to working with the poor, the alienated and the marginalized just as their founders and foundresses had done.
At the same time, laity were being encouraged to take their rightful place in the ministries of the Church and more and more lay men and women were training for ministries that had been traditionally been those of men and women religious. This shift shows that it is not the ministry of teaching or health care that defines religious life, but rather vows or promises and the communal life undertaken to meet the needs of God's people in an ever changing world.
Who are the consecrated women and men of the Archdiocese of Cincinnati?
Presently the charisms of thirty- four women's religious communities and twelve men's religious communities are represented in the Archdiocese; ten religious communities with headquarters here and there are four postulates/novitiates.  The Archdiocese has one contemplative order, the Poor Clares.  There are two Secular Institutes with members in the Archdiocese:  Caritas Christi, the Company of St. Ursula. There is also a Public Association of the Faithful, Regnum Christi; a Private Association of the Faithful, the Children of Mary; Sisters for Christian Community and a Consecrated Virgin Living in the World.  There are approximately 1,125 consecrated women and men in the Archdiocese.
Why are some priests and brothers called Friars?
The term "friar" refers to a member of one of the mendicant religious orders, e.g., Dominicans, Franciscans. Friars have different vows and restrictions than monks, and spend more time in the outside world as opposed to being secluded in a monastery.
"Friar" comes from the Latin word "frater," meaning "brother." In the early Church, Christians used the term to describe any of their fellow believers. It wasn't until the 13th century that "friar" began to refer to members of particular religious orders.  Friars are classified as mendicants, or members of Catholic religious orders who take vows of poverty. Mendicants are forbidden to own property. They support themselves through their own work and the generosity of others. The rise of the mendicants was the result of negative feelings toward the Church and its extensive property during the 13th century.
What is a Secular Institute?
Members of secular institutes are consecrated lay women and men who profess the evangelical counsels of celibate chastity, poverty and obedience according to the specific spirituality and charism of their institute and according to the demands of their lay vocation in the world.
Many institutes gather regularly for mutual sisterly or brotherly support. There are more than thirty different institutes in the United States.  Members are active in every field of human endeavor:  education, housekeeping, medicine, office workers, public policy, nursing assistants, accounting, and the law.  Most live in their own residence and provide for their own livelihood, retirement, and health needs.  (www.secularinstitutes.org)
Who is a Consecrated Virgin Living in the World?
Consecrated virginity is among the oldest forms of consecrated life in the Church. The Second Vatican Council restored this solemn consecration for virgins living in the world.
The Consecration is made to God who accepts the virgin's promise, at the hands of the diocesan Bishop, and through the action of the Holy Spirit.  Through this sacramental, the virgin, after renewing her promise of perpetual virginity to God, is espoused to Christ, belonging to Him alone.  She enters a public state of consecrated life in the Church and receives the ancient title "bride of Christ."  The consecrated virgin lives in full communion with the Church through her spiritual bond with her bishop and she shares in the concerns of her diocese through their on-going communication.
She has a Eucharistic, Marian and ecclesial spirituality. The consecrated virgin prays the Liturgy of the Hours, receives the sacraments regularly, and is faithful to private prayer. She prays for the Bishop and clergy and the needs of her diocese.  She provides completely for her own material needs, including medical care and retirement resources, through employment, pension, or other means.  At no time is her diocese financially responsible for her.   (www.consecratedvirgins.org)
Where can I go to learn more about consecrated life in the Church?
If you would like to know more about some of the religious communities with members in the Archdiocese go to:  http://www.catholiccincinnati.org/ministries-offices/religious/get-to-know/.  If you are wondering what Sisters are doing these days go to:  http://www.catholiccincinnati.org/ministries-offices/religious/ministry-stories/.  If you are interested in a very readable history of religious life, read Chapter One of Religious Life at the Crossroads by Amy Hereford, CSJ.  To learn more about Consecrated Virgins Living in the World go to:  www.consecratedvirgins.org.  Information on Secular Institutes can be found at:  www.secularinstitutes.org.  Religious Institutes have websites and there you can find all kinds of interesting information; they include sections on how to become a Sister, Brother or Priest in their community.
Will I be the last Religious in the Community I choose?
What we know is that there have been women and men called to this form of life commitment since the early centuries of the Church. The history of religious life demonstrates many ups and downs with some congregations dying and new ones being born. Congregations were reformed or re-founded to respond to the needs of the times through the grace of the Holy Spirit.
Sisters, brothers and priests continue to amaze people with their energy and enthusiasm for new projects, new expressions of their mission and charism. They believe in a hopeful future despite increasing median age and transfer of many ministries and institutions to lay leadership. This is because we believe that God continues to call faith-filled young people to religious life. Those who respond to the call will have the courage and generosity needed. They will have the gifts of creativity and vision to help shape the new form of religious
Posted Jan. 28, 2015