Year of Consecrated Life concert packs cathedral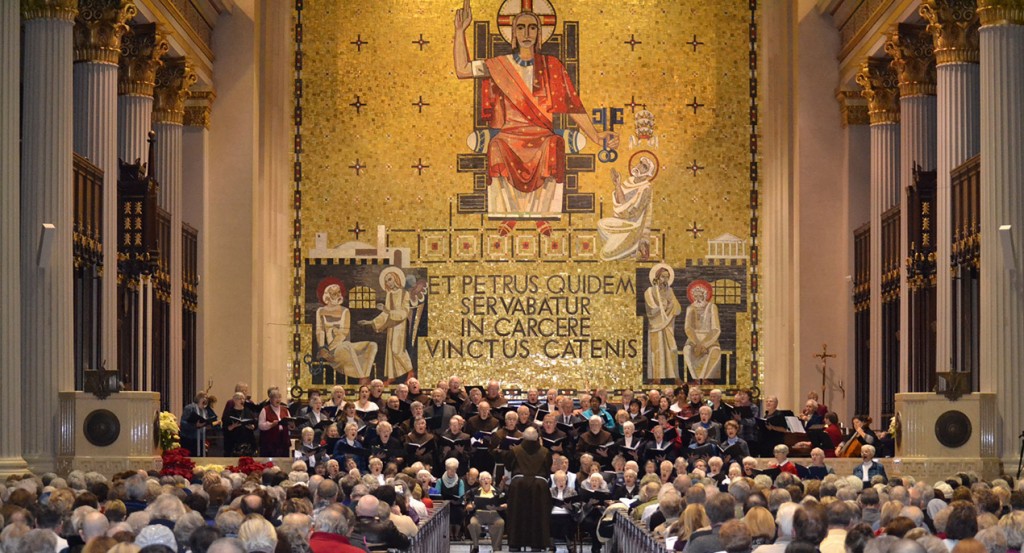 A full house at the Cathedral of St. Peter in Chains Jan. 17 enjoyed a concert performance by more than 120 singers and musicians from 17 religious orders in concert to celebrate the Year of Consecrated Life declared by Pope Francis at the end of 2014.
The observance will come to an official end with a special liturgy celebrated by Archbishop Dennis M. Schnurr at 11 a.m. Jan. 31 in the cathedral.
"The number of people coming to the concert was greater than we ever expected or hoped for," Sister of Notre Dame de Namur Marilyn Kerber, Director for Religious of the Archdiocese, said. "This fact along with the appreciation expressed will not fade from our minds and hearts for a long time."
The hour-long concert was so well attended, several rows of folding chairs had to be added for audience in the back of the church.
More than a dozen inspirational selections, including several soloists, were include in the program, which was narrated by Father Dan Anders OFM. Father Fred Link, OFM, conducted the choir. The choir was accompanied by religious performing on piano, organ, cello, bass viol, guitar, flute, trumpet and percussion instruments.
Sister Kerber welcomed the audience and introduced the choir.
"Welcome to this sacred space and welcome to this Year of Consecrated Life Concert," Sister Kerber said. "Preparing for this event has brought joy to both the singers and musicians.  We share with you this afternoon, in reflection and song, the joy we experience in our vocation to the Consecrated Life.  St. Augustine said 'Singing is praying twice.'  It is our prayer that all of us present today will be renewed in our God given vocation."