On 'The Mighty Casey,' and the renewal of a new papacy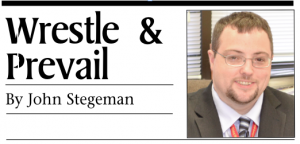 "The outlook wasn't brilliant for the Mudville nine that day: The score stood four to two, with but one inning more to play."
Just about any baseball fan or English major is familiar with those famous lines from the Ernest Lawrence Thayer poem Casey at the Bat. The poem resonated with me last month, not for its opening lines, clever rhymes or (spoiler alert) depressing ending, but for a theme that I think applies strongly to Catholics.
I was watching coverage of the conclave like so many others. My research for articles had me pouring through hundreds of stories from both the secular and Catholic press. Despite the building excitement of the conclave, many were talking about the church as though it was an institution of the past, or something in the last stages of its life.
Admittedly, this was more prevalent in the secular media, but even among some Catholic bloggers there were comments wishing that the new pope could somehow "save" the church from its problems. In the midst of reading those articles I took a break to read a story about the Cincinnati Reds' Aroldis Chapman. That mixing of baseball and the faith led my brain to Casey at the Bat.
"And then when Cooney died at first, and Barrows did the same, A pall-like silence fell upon the patrons of the game.
"A straggling few got up to in deep despair, the rest; clung to that hope which springs eternal in the human breast." 
It seemed to me like some were getting up to go in deep despair, but the live streaming cameras from St. Peter's Square showed that many more clung to the hope that springs eternal.  As Catholics, we live "in the hope of eternal life, which God, who cannot lie, promised long ages ago," (Titus 1:2) and there in the square I saw that hope.
After the excitement of Pope Francis' election calmed down a little the next day, I thought about the poem some more. As it continues, the patrons of the game think that if only the Mighty Casey could but get to the plate with runners on base, that he would come through and save the day for the Mudville Nine. The crowd grows melancholy believing Casey won't get his chance, but lo and behold, he does.
"There was ease in Casey's manner as he stepped into his place; There was pride in Casey's bearing and a smile lit Casey's face. And when, responding to the cheers, he lightly doffed his hat, No stranger in the crowd could doubt 'twas Casey at the bat."
But Casey arrogantly lets two strikes go by, and even then, the faith of the crowd seems unshakeable. It comes to a head on the final pitch. With "10 thousand eyes upon him" and his teeth clenched in hate, Casey finally swings. He misses, and the people of Mudville are deflated, their faith shattered.
Perhaps some of us in the church can be, at times, like the people of Mudville. We can be fans more than believers. We love our church, but when we see its problems we put our faith in the wrong places. To parody a line from the poem, it is as if we believe "if only the right pope could but get a crack at that. We'd put up even money now with the right pope at the bat." And then we wait for that person to come and "fix" things.
The day of Pope Francis' election, Archbishop Dennis M. Schnurr said in a press conference that "The church is both human and divine. We can't touch that which is divine." His point was that church governance can change, that things that are not matters of doctrine, can change and be improved upon. I am still learning about Pope Francis, but by all accounts he is absolutely the right pope for our church at this time. He is a good, humble, holy man who can improve upon many of those things that can be changed.
But we should avoid looking at our new Holy Father like the Mudville fans look at Mighty Casey. It's not the pope we must rely on to "fix" or "save" the church. If there are things that need fixing, or people who need saving, we must rely on our Lord and Savior Jesus Christ.
Opening Day for the Cincinnati Reds is probably the closest thing the Cincinnati area gets to the excitement of a papal election. Thousands of people gather near Findlay Market and Fountain Square, clinging to that hope which springs eternal in the human breast.
While the world watched and waited for white smoke to pour out of the Sistine Chapel chimney, millions clung to that same feeling of hope. Some hoped for a good and holy pope. Some hoped for a pope from their region of the world. Some in the square no doubt simply hoped it would stop raining. But most importantly, there was hope. The reason for that hope was beautifully simple. We knew that we would get a pope, we knew that the sun would (most likely) rise tomorrow and we knew that the gates of hell would never prevail against us.
Opening Day, not unlike the first day of a papacy, is also a renewal. It is a chance to start again. United in prayer with our new Holy Father Pope Francis, we place our faith not in just in one man newly elected, but in our God — Father, Son and Holy Spirit.
To parody Mr. Thayer once more:
"Oh, right here in this promised land the sun is shining bright, papal banners are swaying somewhere, and Catholic hearts are light; And right here all are laughing, and happy children shout, For there is much joy in our world — Christ our Lord does not strike out."
+ + + + +
John Stegeman is a reporter and oversees The Catholic Telegraph's new media sites.