Every Day Evangelist: Painting is a passion for artist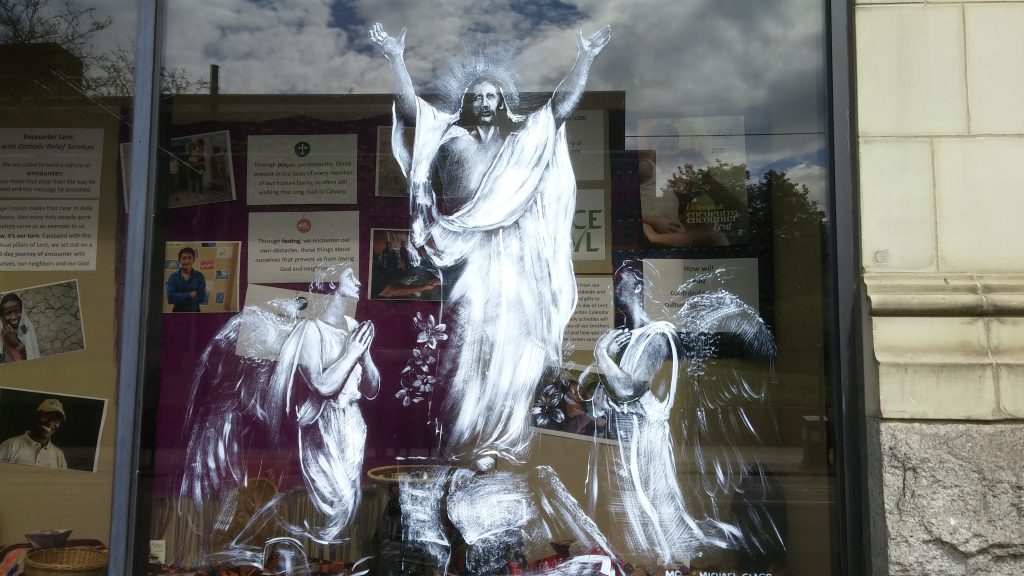 By Patricia McGeever
You don't have to visit a museum to see a fine work of art depicting the Risen Christ. A reproduction of Carl Bloch's "The Resurrection of Christ" is painted on a window of the Archdiocese of Cincinnati Central Offices at 100 E. 8th Street in downtown Cincinnati. It was all in a day's work for fine artist Michael Glass of Greenville. He started his creation about 7 a.m. on Holy Saturday, April 15 and was finished by about 4 p.m.
"It rained for an hour and I sat in my car watching radar and the sky, hoping I wouldn't get rained out," Glass said about the day he spent in Cincinnati.
Glass works full time as a graphic designer building digital content for a marketing firm. But, when he's home, he schedules two hours a day to paint, three if he can manage it.
"When you make it a habit, great things happen," he said of his dedication.
Glass lives in an old farmhouse with his wife and daughter and one room is dedicated to his painting.
"I live and breathe art," he said. "Painting is my passion it's what drives me. It's on my mind when I wake up in the morning and when I go to bed at night. I love working on canvas. I learn something new and I'm always challenged."
Glass has always been artistic saying he liked "drawing, painting and making messes." He took every art class in high school and won an art scholarship to Columbus College of Art and Design. When it came time to choose a career, it was either art or real estate. Art won, and Glass said it's one of the best decisions he's ever made.
Realism and abstract realism are his styles of choice and he likes art that tells a story, much like the works of Norman Rockwell and George Bellows. Glass uses oil paints, water colors, pastels and acrylics and he can etch into granite. Paint markers and a two-inch house painting brush are some of his favorite tools. The work on the archdiocese window began with another favorite, a grease pencil. He freehanded a drawing of Bloch's painting using a grid so everything would be proportioned. Then he applied the paint. It's an architectural-type, exterior acrylic paint and should last anywhere from two to five years on the window. Glass got more than a few stares and comments as his work progressed. A man even pulled over his car and told him what a wonderful job he was doing.
"It meant so much," he said of the comments. "Five hours into the painting, if you start turning heads or getting comments it gives me an idea I'm on the right track."
Glass and his family attend St. Mary in Greenville where he's been a parishioner for 17 years. He recently donated a painting to an auction to help raise money for the parish. His life-size window painting was a gift to the archdiocese and Cincinnati.
"I'm at a point where I just wanted to give back," he said of his donations. And he wants everyone to see the beauty of a brush stroke, the color on a canvas, or an image on a downtown window and let the art speak to them.
"I don't want anyone to have a forced narrative when they see my art. That was a reproduction of an 1800's painting," he added regarding his window work. "Maybe it's a memory, a reminder, a calling or a spiritual awakening. Or, maybe it's a reminder to hang in there. It's going to be alright."
Michael Glass poses with the image of the Risen Christ he painted on the main window of the archdiocesan Central Offices.
For more information about window paintings and fine art by Michael Glass, visit ArtByMichaelGlass.com, or follow him on Facebook by searching "artbymichaelglasss."