Panel Discussion Brings Women Religious Together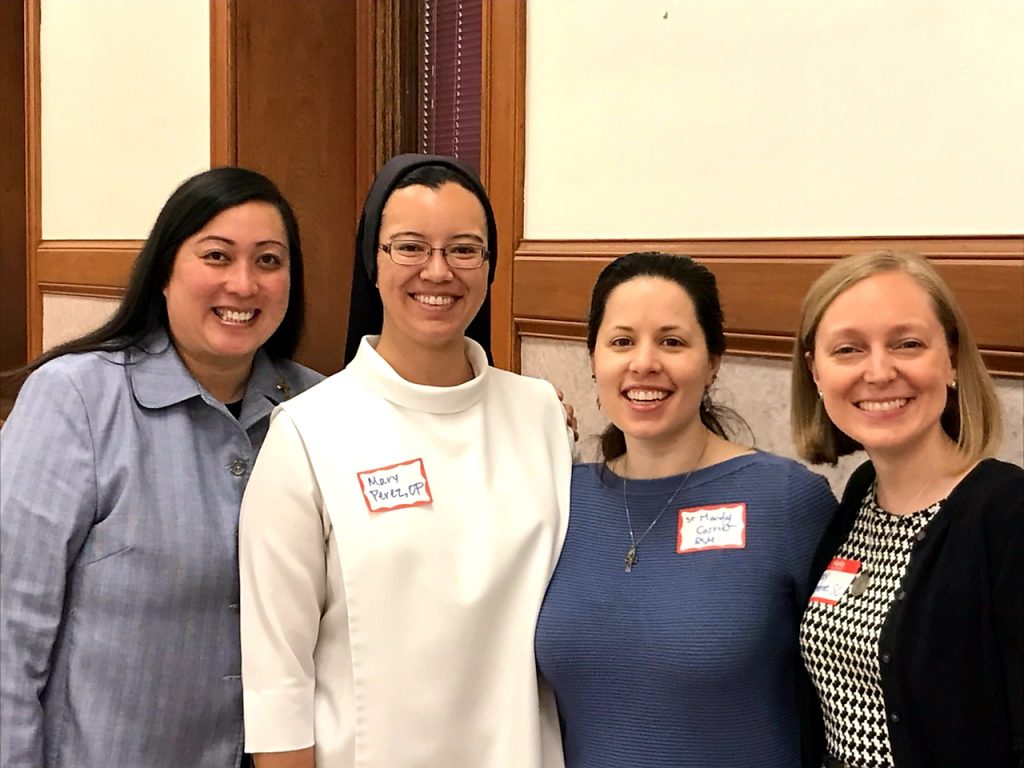 By Eileen Connelly, OSU
What is God asking of us? How can we show God's compassion, live out our charisms and continue to be a voice for others? How can our love for life shine?
These were just a few of the questions brought to the table at a gathering of 110 women religious from throughout the archdiocese on May 4 at the Sisters of Charity of Cincinnati motherhouse.
Four of the authors (Sister of Mercy Amanda Carrier, Sister of Charity Tracy Kemme, Dominican Sister Mary Therese Perez and Sister of St. Joseph Thuy Tran) of the book "In Our Own Words" were on hand for a panel presentation, followed by an intergenerational discussion on religious life. The goal was to have an actively engaged conversation about religious life, Sister Tracy explained, noting that this was one of many panel presentations contributing authors have made throughout the country.
Written by a diverse group of younger women religious from North America, "In Our Own Words" offers a collection of essays on issues central to apostolic religious life today.
The 13 authors represent different congregations, charisms, ministries and histories. The topics and concerns that shape these chapters emerged naturally through a collaborative process of prayer and conversation. Essays focus on vows and community life, individual identity and congregational charisms, and leadership among younger members leading into the future. The authors hope these chapters may form a springboard for further conversation on religious life, inviting others to share their experiences of religious life in today's world.
"I think 'In Our Own Words' is a significant contribution to our growing understanding of the consecrated life today," said Sister Marilyn Kerber, outgoing director of the archdiocesan Office for Consecrated Life.
During the panel presentation, the authors shared some thoughts on what religious life means to them.
"Whatever our ministry, compassion is paramount," Sister Amanda said. "We need to be willing to stop whatever we're doing to be fully present to another person. The world needs our compassion."
Sister Thuy spoke of the "mission instinct," saying, "If there is a need, our response is 'of course.' Our vows are still relevant, and call us to put ourselves where most people don't want to go."
Those who participated in the gathering left filled with hope for the future. "The panel discussion was energizing," said Congregation of Divine Providence Sister Leslie Keener. "As a younger member in my community myself, much of what each one said resonated with me, and I appreciated each unique perspective as well. Each one brought her authentic self to the conversation, and it reminded me that there is a beautiful diversity in religious life today. These kinds of intergenerational conversations are essential; they show us that religious life is alive and that the Holy Spirit is still moving!"
"I found the May 4 gathering to be very inspiring," added Sister Carol Brenner. "I also learned a lot about why younger religious see and do some things in a different way than we older sisters do. Another learning was how much we value in common, though it is expressed in different ways. We need more conversations like that to see that we are one in heart."
The organizers will be working with the Office for Consecrated Life to coordinate future gatherings so the conversation will continue, Sister Tracy said. A retreat day is under consideration, and the hope is that individual congregations will use the book for discussion. In addition, a follow up book penned by young international sisters is being considered.
"We had question after the panel discussion from the Mercy novitiate in Guyana asking about the international perspective, so we're looking at how we can support that and lift up those voices, too," Sister Tracy noted. "What a great way to support global sisterhood!"