Parishioner serves others in Vietnamese Catholic community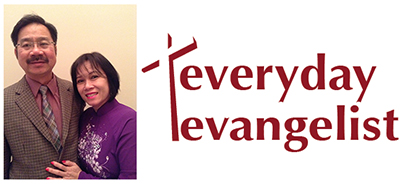 Tom Dao unravels red tape.
Dao, a Vietnamese who arrived in the United States and Cincinnati in 1985, has become involved in  social service advocacy for the elderly and others in need in the Vietnamese community.
"Some of what I do is help elderly people fill out applications for things they need from the government. I do government paperwork and visit with the people," said Dao, a member of Our Lady of Lavang Parish in Elmwood Place — a Catholic parish serving the Greater Cincinnati Vietnamese community. His wife, Tracy, organizes parish events, including the celebration of the Vietnamese New Year in February.
"What I do for most people in the church who know me is I connect with them for home health care services. They ask for home health care to come to provide for them. If they need to bring in a nurse; if they are having trouble with their insurance or the forms, I help them apply. Sometimes, the government has stopped benefits, and I have to find out why. Sometimes, I personally take them to the government agency to find out why things were stopped and reapply. I do taxes," said Dao, a laid off quality control specialist who has been employed by area chemical companies.
"I'm more of a support person who wants to get people through the red tape of government services. It's time consuming and nerve-racking and all of that. It's a runaround many times; but it is rewarding to be of help," he said.
In 1982, Communist North Vietnam overtook South Vietnam and "under the Communist Party control  there was no freedom," Dao said. "Some people escaped from my country to other countries. So in 1982, I escaped by boat and I went to Thailand. I was in Thailand for three years in a refugee camp where I met my wife. So many, many Vietnamese refugees came to Thailand, to the Philippines and others places. We had to wait and wait to be accepted and finally, in 1984, the U.S. Embassy accepted me to come to the United States. I came to Cincinnati. I had a cousin come here before me. I was a refugee and came with help from Catholic Social Services of Southwest Ohio.  They sponsored me."
Dao also coordinates the Vietnamese Sunday school at the church and is involved visiting the homebound helping them and praying with them.
Tom and Tracy Dao are very involved with Our Lady of Lavang, but the parish is much more than the bricks and mortar building in Elmwood Place.
"Actually, we divide the Cincinnati Catholic Vietnamese community based on geography," Dao explained. "There are eight areas. We set it up that way because the Vietnamese community is spread throughout Cincinnati.  We divided it in area based on population — the number of families registered in the church areas. So, Area Number One is Delhi; Number Two is Fairfield, and so on. These are groups of families that meet together weekly or more often.
"The pastor, Father Chau Pham, SVD, goes to one group each week. My wife and I go to Area Number Four in Hamilton.  We meet every Monday night.  My wife is the group leader. We read the Bible; say the Rosary; sit down and talk and discuss; share food. We recently had two people in our group who passed away so we helped them with arrangements," Dao said. There are about 45 families in the Hamilton area group.
All of the area groups attend Sunday Mass at our Lady of Lavang. There are about 40 to 50 families in Area Four in Hamilton. There are 215 families registered at Our Lady of Lavang.
"Our New Year is celebrated at the same time as the Chinese New Year which falls on the second week in February. We get together on Friday night and Saturday and Sunday and we celebrate. It's a nice festival. We make all kinds of festival food. Tracy does a lot of organizing. She takes care of our special events. She does things like our three-day retreats, Christmas and  different Vietnamese special events year-round. In summertime we have a picnic. She gets involved with that — getting the food ready."
This Everyday Evangelist feature first appeared in the January 2016 print edition of The Catholic Telegraph.