PAT GOEDDE SELECTED AS FLEMING'S SUCCESSOR at LaSalle High School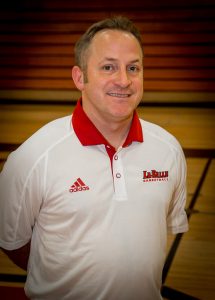 Pat Goedde, a 1991 La Salle alum and the top assistant and JV Head Coach for the Lancers, has been named the 4th Head Varsity Basketball Coach in the 56 year history of La Salle High School, Director of Athletics Keith Pantling announced on Tuesday.
"After hours of conversations with Pat, it became very clear to us that the best candidate to lead our basketball team was already on campus," said Keith. "While there was great interest in this position, Pat's genuine passion and love for La Salle was very evident. I am confident that La Salle basketball will continue to grow and reach new heights under Pat's leadership."
"I have been privileged to be a Lancer since 1987," said Pat. "This is not just a coaching promotion, this is a dream come true for me. I am very excited to lead our program. This is not just a job, this is my life mission!"
Pat became an assistant coach in 1991 under Dan Fleming immediately following his playing career at La Salle. As an assistant coach for the varsity team for 26 seasons, Pat helped the Lancers to 14 Sectional Titles, seven District Titles, seven GCL South Titles, two Regional Titles and two Division 1 State Championships.
In 1995, Pat was asked to be the Freshmen Head Coach. After seven seasons and an overall record of 102-33, Pat was promoted to JV Head Coach in 2002. He has compiled a 221-84 overall record including 112-57 conference record in his 15 seasons leading the JV.
Off the court, Pat builds strong, personal relationships with his student-athletes. "The basketball alumni have made their voice heard." Keith added. "Pat is relationship-driven and truly strives to help each student-athlete reach their full potential in mind, body and spirit."
"We are excited to have Pat as our next basketball coach," says Principal Aaron Marshall. "He understands the importance of helping our young men develop their full potential on and off the court."
"The one thing that stands out with Pat is how hard the kids play for him," says former La Salle Head Basketball Coach Hep Cronin. "Pat was never afraid to ask questions and always listened and learned. His work ethic and humility have allowed him to develop from a young coach to an experienced leader of young men." Hep is the father of La Salle alum Mick Cronin, classmate and friend of Pat and current UC Bearcats Head Basketball Coach.
Pat earned an Associates of Arts in Pre-Education and a Bachelor of Science in Education from the University of Cincinnati. He will continue to serve as physical education and health teacher at St. Jude Elementary School where he has served for 15 years. He and his wife, Angela, have three children: Andrew (9), Austin (7), and Anna Grace (5). They reside in Lakehills in Colerain Township and are proud members of St. Ignatius Parish.
"There is a spirit at La Salle where teachers, coaches and administrators build extraordinary relationships with their students and players," says Pat. "I want to thank the La Salle community for their support as we move this program to the next level. Let's go to work!"
---
La Salle is located at 3091 North Bend Road in Green Township and has served students from the Greater Cincinnati area since 1960. The school website is www.lasallehs.net. Follow us on Twitter @LaSallePride and Facebook facebook.com/CincinnatiLaSalle
MISSION: As a Catholic School in the Lasallian tradition, La Salle High School prepares young men to achieve their full potential in body, mind and spirit.
VISION: Students will be guided to live as disciples of Jesus Christ.
Pat Goedde Coaching Timeline
1991-2017: Assistant Coach Varsity Basketball, La Salle
1995-2002: Head Freshman Basketball Coach, La Salle
2002-2017: Head JV Basketball Coach, La Salle
2017: Head Varsity Basketball Coach, La Salle