Who's Who?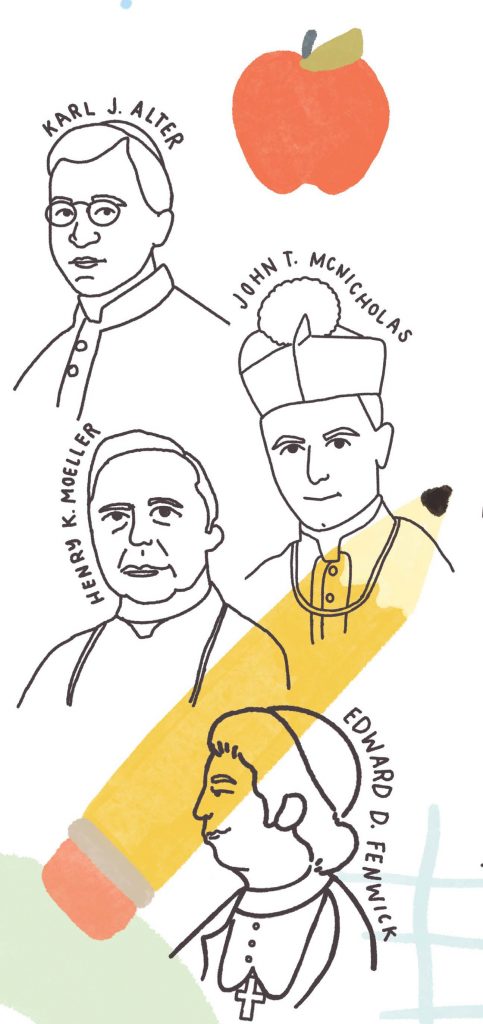 Who (or what) are all our Catholic high schools named after, anyway? Here's a quick guide to the names of the archdiocesan and independent Catholic high schools in the Archdiocese of Cincinnati:
Archbishop Alter High School, Dayton
Named for Karl Joseph Alter, fifth archbishop of Cincinnati, the school opened in 1962 and is associated with the Sisters of Charity of Mount St. Joseph. Formerly Bishop of Toledo, Archbishop Alter initiated a massive building campaign (erecting nearly 100 churches, 94 elementary schools, 14 high schools, 79 rectories and 55 convents) and renovated the dilapidated cathedral.
Archbishop McNicholas High School, Cincinnati
Founded in 1915 as St. Joseph Academy by the Sisters of St. Joseph of Medaille, "McNick" joined the diocesan school system and became the first coeducational high school in Hamilton County at the direction of Most Rev. John T. McNicholas, OP, fourth archbishop of Cincinnati, in 1950, the year of his death. In 1951 his successor, Archbishop Alter, approved renaming the school for him.
Archbishop Moeller High School, Cincinnati
Named for the third archbishop of Cincinnati, Henry K. Moeller, the school was founded in 1960 and is one of the country's 19 Marianist high schools. Born in Cincinnati to immigrant parents, Archbishop Moeller had two brothers who also became priests, and a sister who became a nun. He was the Bishop of Columbus for three years before being named Coadjutor Bishop of Cincinnati in 1903.
Bishop Fenwick High School, Franklin
Named for Edward Dominic Fenwick, OP, the high school opened in 1952 and has been in its current location since 2006. Born in Maryland, Father Fenwick returned to the U.S. in 1804 after teaching in Belgium and London, hoping to start a college. Instead, he became an itinerant priest ministering throughout the Mississippi Valley, built the first Dominican foundation in the country and, in 1922, became the first Bishop of Cincinnati. He founded what became Mount St. Mary's Seminary in 1829 and, in 1831, established The Catholic Telegraph.
Carroll High School, Dayton
Named for Jesuit priest and early American leader John Carroll, Carroll High School opened in 1961 and has a Purple Star designation from the State of Ohio for military-friendly schools. Educated in a secret Maryland Jesuit school before completing his education in Europe, Carroll was a friend of notable American revolutionaries and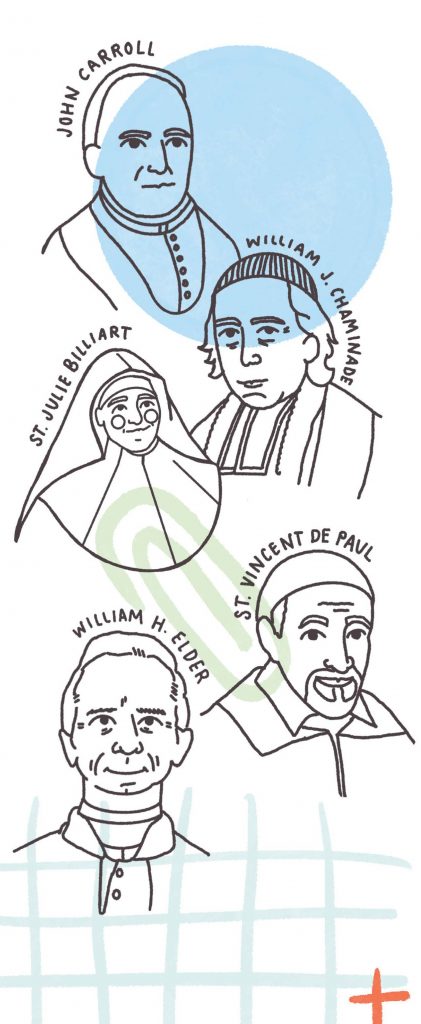 worked to build tolerance for Catholics in a country suspicious of all ties to foreign leaders. He was consecrated America's first bishop in 1790, founded Georgetown University in 1791 and later laid the cornerstone of America's first cathedral. In 1808, he was made archbishop after the creation of four new dioceses – including Bardstown, KY, the mother diocese of Cincinnati.
Chaminade Julienne High School, Dayton
The successor to several Catholic schools, CJ is named for Father William Joseph Chaminade, founder of the Society of Mary, and St. Julie Billiart, foundress of the Sisters of Notre Dame de Namur (Julienne High School's name was originally Notre Dame Academy de Julienne). The current school was founded in 1973 and became a joint project of the Marianists and the Sisters.
Catholic Central School, Springfield
The result of a number of parish school mergers, beginning with the merger of three high schools in 1932, Central Catholic is now a K-12 school in one building (as of 2013), with a preschool in a separate campus. The name dates back to 1932, when it was chosen to unify the high school student body. All predecessor schools were associated with the Sisters of Charity of Cincinnati.
DePaul Cristo Rey High School, Cincinnati
Named for St. Vincent DePaul, founder of the Sisters of Charity (for the school originated as a project of the Sisters of Charity of Cincinnati) and Christ the King (as part of the Cristo Rey network of schools), DePaul Cristo Rey is an independent college- preparatory Catholic high school sponsored by the Sisters, founded in 2011. Students work at area businesses as part of its corporate work-study program.
Elder High School, Cincinnati
Named for William Henry Elder, second archbishop of Cincinnati, the school was founded as a two-year school for boys in 1912. It was originally part of St. Lawrence Parish (Elder laid its cornerstone in 1886). In 1922, Elder opened in its current location, and was the fourth high school in the archdiocese. As Bishop of Natchez during the Civil War, Elder refused to have prayers for the President said at Masses, applying to Washington for protection from government interference into church services, and was briefly jailed. He became Coadjutor Bishop of Cincinnati in 1880, and archbishop in 1883. He established the Office of Chancellor to fix the archdiocese's dire finances.
La Salle High School, Cincinnati
Named for St. Jean-Baptiste de la Salle, a 17th-Century French priest and educational reformer, and the founder of the Institute of the Brothers of the Christian Schools (the Christian Brothers), the high school for boys opened in 1960. Father La Salle taught poor workers' children in their native language,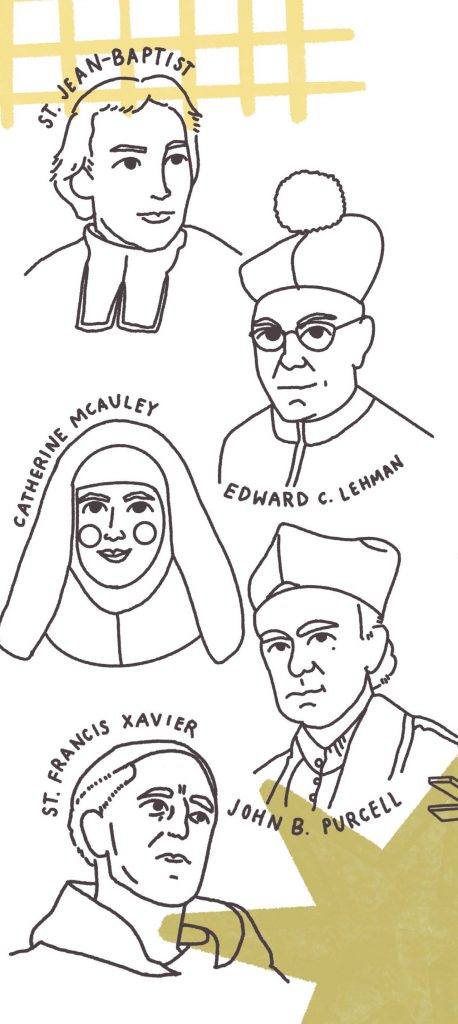 using many teaching methods that are now standard, including grouping students by ability.
Lehman Catholic High School, Sidney
Named for Monsignor Edward C. Lehman, the pastor of Holy Angels Parish who supervised the school's construction, Lehman is the successor of several schools. The oldest was established by Holy Angels with the Sisters of Charity of Cincinnati in 1889; the current school dates to 1970.
Mercy McAuley High School, Cincinnati
Named for the Sisters of Mercy and their foundress, Catherine McAuley, Mercy McAuley was established in 2018 when the two area Mercy high schools (Mercy, founded in 1915 in Westwood, and McAuley, founded in 1960 in College Hill) combined at the College Hill campus. The Sisters of Mercy were founded in Ireland in 1827 as a laywoman's community to help poor women, children, and orphans. They combined contemplative prayer and an active life. Invited to Cincinnati by Bishop Purcell, they opened their first two schools in 1858 and their first hospital in 1892.
Mount Notre Dame High School, Cincinnati
Mount Notre Dame High School was founded by the Sisters of Notre Dame de Namur and named for the Virgin Mary and the French city of their founding. Originally founded as Notre Dame Academy in 1860, it was the first all-female academy in the archdiocese. Renamed "high school" in 1956, when it joined the diocesan school system, the school moved to its current location in 1965.
Purcell Marian High School, Cincinnati
One of 19 Marianist high schools in the U.S., Purcell Marian high school is named for the first archbishop of Cincinnati, John Baptist Purcell, and for Mary, the Mother of God. Purcell High School for boys was founded in 1928. The school combined with Marian high school (the latest in a series of schools associated with St. Mary Parish in Hyde Park) in 1981. A Sulpician priest born in Ireland, Father Purcell was consecrated bishop in 1833 and archbishop in 1850, built St. Peter in Chains Cathedral, and invited numerous religious orders to help run the rapidly expanding parishes and schools.
Roger Bacon High School, Cincinnati
Named for medieval English philosopher and Franciscan Friar Roger Bacon, now considered an early advocate for empirical proofs in scholarship, the school was founded by the Franciscans in 1928. In 1984, it consolidated with Our Lady of Angels school for girls (also founded in 1928). Known as "Doctor Mirabilis," Brother Roger wrote about

grammar, mechanics, optics and many other subjects, and argued that natural sciences should be part of education. Largely passed over during his lifetime, his works became famous in England during the 1500s, when he was considered an alchemist who had discovered arcane secrets.
Royalmont Academy, Mason
Founded by parents as an independent Catholic school in 1996, and originally located in Oakley, Royalmont Academy moved to Mason in 1998. It is named for Mount Royal in Montreal, Canada, the site of St. Joseph's Oratory. A basilica and national shrine, it was established by St. Andre Bessette, a lay Holy Cross brother known for miraculous healings. Part of the Regnum Christi network of academies, Royalmont serves students from preK-12, and, in 2009, it joined the archdiocese's school system.
Seton High School, Cincinnati
Named for St. Elizabeth Ann Seton, foundress of many schools and the first American-born saint canonized, Seton's roots date to 1854 and Mount St. Vincent Academy/Cedar Grove, established by the Sisters of Charity of Cincinnati. Seton opened in 1927, and taught the students of Cedar Grove, as well as the female students who were taught at Elder High School during Seton's construction.
St. Ursula Academy, Cincinnati
Named for St. Ursula, a semi-mythical princess and martyr killed in what is now Germany in the early 400s, the school was founded by the Ursuline Sisters of Cincinnati. They, in turn, came from the Ursulines of Brown County, a group of mostly French sisters established in St. Martin, OH, to teach Irish and French immigrants. The Ursuline Sisters followed in the footsteps of St. Angela Merici, the 16th Century foundress of the Companions of St. Ursula.
St. Edmund Campion Academy, Cincinnati
An independent Catholic school offering a classical curriculum, St. Edmund Campion is named for one of the 40 Martyrs of England and Wales – an English Jesuit priest who was hung, drawn and quartered after refusing to recant his faith. Founded by parents in 1997, the school is now located in the former St. Margaret of Cortona School in Fairfax.
St. Rita School for the Deaf
Founded in 1914 by Father Henry J. Waldhaus (with the help of the Knights De l'Epee, a fraternal organization of deaf Catholics) as Ohio's first accredited high school for the deaf, the school is named for St. Rita of Cascia, "saint of the impossible," an Italian widow whose husband was killed as part of a vendetta with another family. Though she worked to end the feud, the scandal almost kept her from being accepted as a nun. Today, the K-12 school teaches students with a
variety of communication needs, including dyspraxia.
St. Xavier High School, Cincinnati
Named for St. Francis Xavier, "St. X" is now the second-largest private high school in Ohio. One of the country's oldest high schools, it was founded 1831 as a combined high school, college and seminary. St Francis Xavier, one of the co-founders of the Society of Jesus, was born in the Kingdom of Navarre and vowed his life to mission when he was a student in Paris. He worked in India, Japan, Borneo and other Asian countries, and died on his way to China in 1552. He helped develop the distinctive Jesuit methods of missionary work, and purportedly converted more people than anyone since St. Paul and is the namesake of churches and schools around the globe.
Stephen T. Badin High School
Hamilton Named for pioneering missionary priest Father Stephen T. Badin, the school was founded in 1966 when Hamilton Catholic High School and Notre Dame High School consolidated. It is affiliated with the Sisters of Notre Dame De Namur. Father Badin, the first priest ordained in the U.S., served in Ohio, Kentucky, Indiana, Michigan and Tennessee. Born in France, he worked with Indian tribes as well as American pioneers, and donated the land for the University of Notre Dame.
Summit Country Day, Cincinnati
Founded in 1870 by the Sisters of Notre Dame de Namur as a girls' school, the Academy of Our Lady of Cincinnati was nicknamed "Our Lady's Summit." The school adopted the Country Day School model in 1927. A second school for boys was founded in 1941. By 1972, it was a coeducational, preK-12 school offering a Montessori preschool program.
Ursuline Academy, Cincinnati
Originally incorporated as the St. Ursula Institute, the Ursuline Sisters of Brown County opened the girls' school in 1845. Girls traveled from all over the U.S. to attend. During the Civil War, daughters of generals from the North and South attended, and the nuns forbade them from talking about the war. Named for St. Ursula, the school moved from Cincinnati to Blue Ash in 1970.
This article appeared in the June 2021 Bicentennial Edition of The Catholic Telegraph Magazine. For your complimentary subscription, click here.