Percy Stricklin: Church of the Resurrection Parishioner and Father Serves as Family and Community Role Model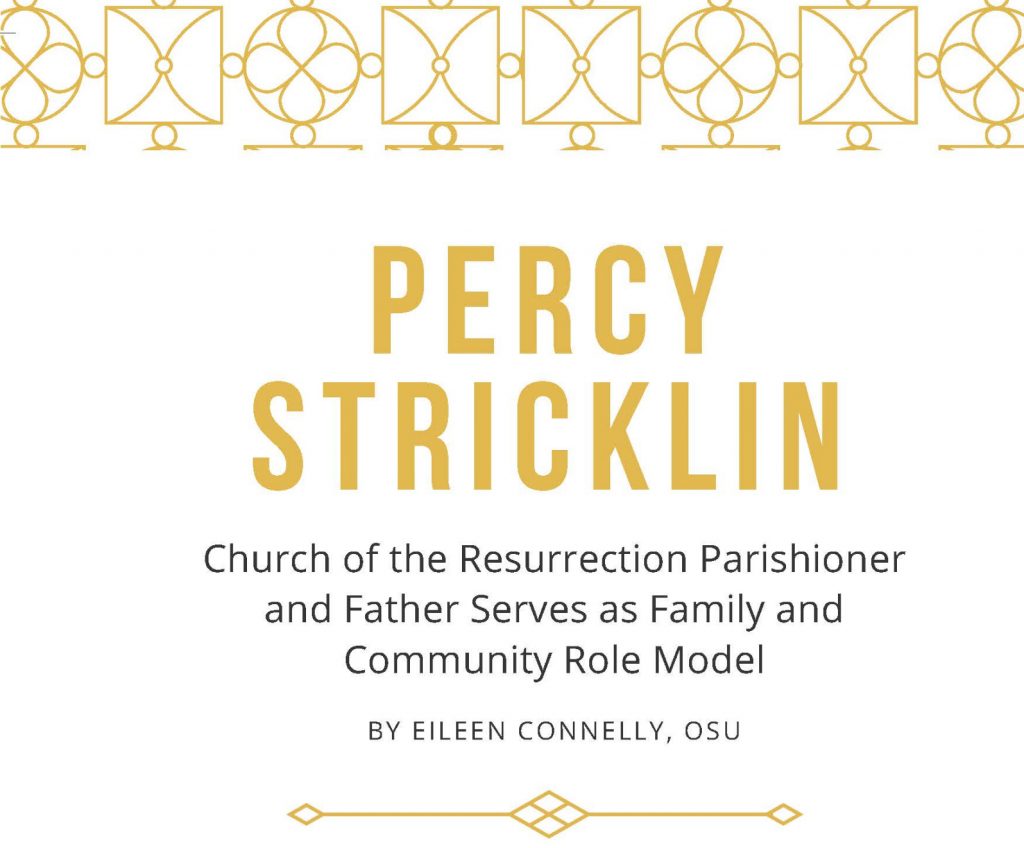 Keeping God first. For Percy Stricklin, that's the key to living his vocation as a loving husband, father and committed Catholic, and it's a choice he affirms daily.
"Every morning when I wake up, I immediately focus on God," he explained. "It sets the tone for the day. Even though there may be some adversity, you get through that by keeping Christ at the center.
Stricklin, a convert to Catholicism and active member of Church of the Resurrection in Bond Hill, appreciates the opportunity the Year of St. Joseph offers to honor and reflect on the carpenter's deep faith and example.
"He kept God first, and that takes humility, discipline and courage in the face of ridicule and danger. Joseph teaches us that there will be times when we have to allow something to happen that isn't the ideal of what we perceive it should be, but also realize that it could be the biggest blessing. It takes faith and the belief that God will be true."
Born and raised in Mississippi in the Southern Baptist tradition, Stricklin was exposed to Catholicism at various points over the years, but became better acquainted with it when he met his future wife, Lucy, in college. Both were students at the University of Southern Mississippi in Hattiesburg. Lucy was a Catholic exchange student from the State of Yucatan, Mexico, and Percy, an unofficial English tutor.
"We met through friends," he recalled. "All it took was one look at her smile."
The Stricklins have been married for 21 years and have two daughters, Lileth, 20, and Annette, 17.
When the young family relocated to Cincinnati from Memphis in 2004 for Stricklin's work with Kroger, their search for a Catholic parish led them to the then St. Agnes (now Church of the Resurrection). They were immediately welcomed into the diverse urban faith community by Deacon Royce Winters and his wife, Nor-Rita, Inspired and encouraged by his family and their St. Agnes friends, Stricklin entered RCIA and was received into the Catholic Church in 2006.
Now he feels that every day is the chance to walk "hand in hand with Jesus" and strive to be an example of faith and love for his family.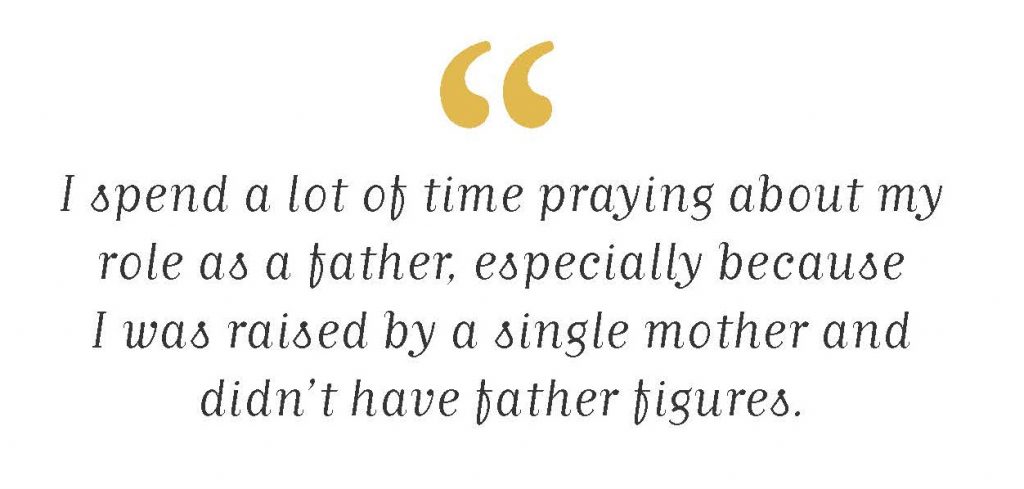 "I spend a lot of time praying about my role as a father," he said, "especially because I was raised by a single mother and didn't have any father figures. It wasn't until later that I came to know my father. I promised myself early on to be there for my family no matter what."
"I can be a provider for my family, but I also want to set the example," Stricklin added. "It's sometimes tough, so you need to have a center, you need to have faith. I tell my girls to that they have to be open to focusing on God, to listening to Him."
He's hopeful that his involvement at Church of the Resurrection is a means of modeling their faith for his daughters. Sticklin is currently chairperson of the Pastoral Council, serves as a sacristan, and has been active on various parish committees.
"When they come to me to have a conversation about our faith, or get involved without me asking, it gives me great joy," he said. "When I see them volunteering, how they pray for and encourage other people, I know they've been listening. They are both blossoming in their faith."
That faith has also been the unifying factor in his bicultural marriage to Lucy. "Yes, we are from different cultures, but our mindset has always been to focus on Christ, along with an openness to understanding and respecting each other," Stricklin said. "The universal Church unites us all, and the same thing has happened at home for us. We're in sync with each other because we keep our eyes on the same thing: God. It's been a journey, and it's something we work at every day, but we're stronger because of any struggles we've faced."
"My wife is a very patient, quiet woman, and that's been good for me," he added. "She's allowed this country boy to mature. We talk about our faith more than ever now, and grow together spiritually as one through our prayer."
Regarding his role at the parish, Stricklin said he and his family are committed to ensuring that "all are welcome," just as they were years ago.
"Welcoming is one of our pillars at Church of the Resurrection, followed by growing, evangelizing and stewardship. Being welcoming is the key to opening the door to hearing God's message, to experiencing His call. This plants the seed. Community has to be that way. It's what people are looking for and how they can experience God."
This article appeared in the March 2021 edition of The Catholic Telegraph Magazine. For your complimentary subscription, click here.