Being Pro Life: The Role of Men and Fathers
Our culture tells us abortion is about "reproductive freedom" and "women's rights." As Catholics, we know abortion is really about the right to life of the unborn, and a culture that has transformed the meaning of pregnancy from a beautiful and purposeful outcome of the marital act to an unfortunate and unwanted side-effect.
This month kicks off with an interview with Deacon Nathan Beiersdorfer, a teacher at Moeller High School and father of three young children, on the important role men should play in the pro- life movement. The rest of the month's podcasts focus on how the COVID-19 pandemic has affected mental health care, especially on children and the elderly.
Listen to this month's podcasts on each of these topics at being-pro-life.buzzsprout.com.
• Mar. 2: The Role of Men in the Pro-Life Movement
• Mar. 9: COVID-19's Impact on Mental Health Services
• Mar. 16: COVID-19 and Mental Health in Nursing Homes
• Mar. 23: COVID-19 and Mental Health with the Homebound Elderly
• Mar. 30: COVID-19 and the Mental Health of Children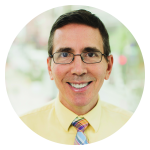 Bob Wurzelbacher is the director of the Office for Respect Life Ministries. He and his wife, Cindy, live in Sharonville with their two young daughters.
This article appeared in the March 2021 edition of The Catholic Telegraph Magazine. For your complimentary subscription, click here.