Peter as Pope?

Why is St. Peter considered the first pope?
The apostle Peter has long been recognized in Catholic tradition as the first pope, having been given a unique leadership role by Christ himself. It is believed that after the resurrection of Jesus, Peter traveled to Rome where he became the local Christian community's leader and first bishop.
FEED AND TEND
Peter was not an obvious choice to lead the apostles after Jesus' death—he abandoned Jesus on Calvary. But after the resurrection he was reconciled with Jesus when Jesus asked Peter three times if he loved him, then instructed Peter to "feed my lambs," "tend my sheep" and "feed my sheep" (Jn. 21:15-17). This dialogue was interpreted as a reversal of Peter's three-fold denial. It also indicated that Jesus bestowed the task of leadership on Peter: feeding and tending the Church's members.
Elsewhere, the New Testament shows that Peter held a prominent place among the early Christians. The apostle John appeared to give deference to Peter in allowing him to enter the empty tomb first after Jesus' resurrection (Jn. 20:3-6), and Paul, after his conversion, met with Peter, apparently understanding the significance of Peter's authority (Gal. 2:7-9).
THE ROCK
Early Christians believed Peter was given a unique role. He was the first disciple to acknowledge Jesus as Messiah, prompting Jesus to say, "You are Peter, and upon this rock I will build my church, and the gates of the netherworld shall not prevail against it. I will give you the keys to the kingdom of heaven. Whatever you bind on earth shall be bound in heaven; and whatever you loose on earth shall be loosed in heaven" (Mt. 16:18-19). The early Christians—and later the popes—viewed this passage as evidence of Jesus giving Peter a special mission to lead the Church.
ETERNAL ROME
Peter's role was amplified through his connection to Rome. Known as the "Eternal City" because many believed it would endure forever, Rome had a special place in Christianity's growth. Though the cradle of Christianity is undoubtedly the Holy Land, during the Church's infancy, Peter set out for Rome as a missionary. Christians were not initially well received there. Among the many early martyrs, Peter was killed under the emperor Nero (64-67 AD) and buried below today's St. Peter's Basilica. But Christianity was eventually legalized, and its strength shifted westward along the Mediterranean. As the Church grew, Peter became linked in memory with the Christianization of Rome and to Jesus' promise that—like "eternal Rome"—His Church would endure until the end of time.
SPEAKING THROUGH PETER
As tradition solidified around Peter as the first Bishop of Rome, the Church began to apply the same significance to Peter's successors. During a tense theological dispute in the fifth century, after the reigning pope, Leo I, offered a solution to the bishops attending the Council of Chalcedon, they responded, "Peter has spoken through Leo!"—meaning that Leo had the same gifts as Peter to safeguard correct teaching and Church unity.
Scripture and tradition testify to a unique role for Peter and his successors. Jesus named Peter as the leader of His Church and the foundation upon which it would be built. Knowing that such a role would be necessary throughout the ages, Jesus willed that Peter be succeeded by others who would share in his work of spiritual governance.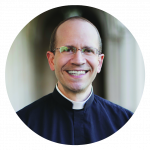 Father David Endres is professor of Church history and historical theology at Mount St. Mary's Seminary & School of Theology.
This article appeared in the June 2023 edition of The Catholic Telegraph Magazine. For your complimentary subscription, click here.