Piqua parishes celebrate twinning relationship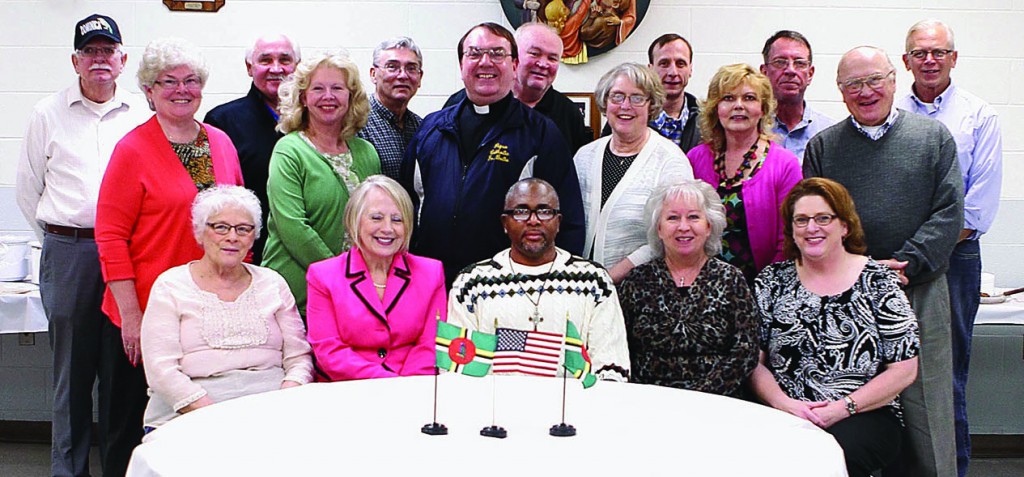 Although he serves as pastor for St. John and St. Lewis Parish in Portsmouth on the picturesque island of Dominica, Father Herman Sharplis has discovered a "home away from home" in Piqua, where he recently concluded a whirlwind visit with parishioners of  twinning parishes at St. Mary and St. Boniface churches as part of its Lenten program.
The congenial priest reflected on his March visit before departing for Brooklyn, N.Y. to visit friends. Attired in a lightweight jacket bearing the Knights of Columbus insignia and name of Piqua's pastor, Father Tom Bolte, Father Sharplis explained he didn't want to chance any inclement weather being accustomed to the Caribbean's 80 degree temps. Father Bolte, he mused, gave him the jacket during his initial visit here in 2014.
He described his second visit to Piqua as "successful," and expressed appreciation to the myriad students and adults who welcomed him as a Lenten speaker at both parishes. Throughout the week, the visiting priest preached at all morning Masses, enjoyed coffee and doughnuts with parishioners, assisted with Stations of Cross emphasizing the "Year of Mercy" -specifically the corporal and spiritual works of mercy- and also helped with a healing Mass at St. Boniface.
In addition, Father Sharplis was the main celebrant for the Northern Area All-School Mass at Holy Angels Church in Sidney and addressed students at Lehman Catholic High School as well as Piqua Catholic School. He enjoyed potluck dinners with both the twinning and mission commission members and feasted on parish council members' favorite potluck creations prior to a talk at St. Mary Church using as his topic "God's Mercy Leads Us to Heaven." During his visit, he was treated to visits by Mike Gable, director of the archdiocesan Mission Office, Father Len Wenke and Pat Plus.
He describes a visit with the CCD Faith Formation students as particularly "special." One young boy, Jackson Hemmert, asked if he could come to Dominica to "help" Father Sharplis. The son of Erin and Aaron Hemmert, it was explained by his mother, would like to become a priest and was inspired by Father Sharplis' message.
To date, the Piqua parishes have sent two delegations to the island of Dominica as part of its twinning relationship. Twinning Coordinator Bob Hartings was among those who visited in January, as well as the initial get together in January 2014. Piqua delegates who most recently traveled to St. John and St. Lewis in Portsmouth were realtor Jeanie Bates, businessman Jerry Voisinet, Music Director director Judy Lohnes, Piqua Catholic School teacher Russ Kill, retiree Ron Curtis and Hartings.
Piqua visitors were housed at the homes of Dominican parishioners providing Piqua delegates "with the unique advantage of better understanding (each other's) culture and heritage." According to Hartings, the Piqua contingent was extremely impressed with the thoughtfulness and generosity of their host families. Over the course of the past two years, the parishioners have come to feel more as a family with one another rather than as visitors."
Hartings indicated the groups traveling to Dominica have been very impressed with Father Sharplis' passionate homilies and spiritual teachings during prayer services.
"Personally I am grateful that Father Sharplis was able to find priests and lay people in Dominica to cover his duties during his (most recent) absence. His homilies and retreat presentations at our two parishes have been wonderful The folks that attended voiced the same appreciation for Father's insights and the same concern that we wished more parishioners would have attended. Those of us that did attend the retreat came away with a renewed spirit and new insights into the depths of God's mercy."
Father Sharplis, who was born and raised in Dominica, has four brothers and four sisters and was raised in a loving home. He attended secondary school at St. Mary Academy in Dominica and studied for the priesthood at St. John Vianney and The Uganda Martyrs Seminary in Trinidad. He has a love for nature and passion for gardening.
In addition to gardening, Father Sharplis has a passion for the twinning program suggesting that the program enables parishioners from both Dominica and Piqua to "cement relationships" and form a better understanding adding "prejudice occurs because of a lack of understanding." Twinning, he added, provides a "treasured moment"  and sense as to "why the Holy Spirit does what it does." In essence, he noted, "God is not limited to one group of people. I am happy to share my ability with all people . Twinning is a very successful and uplifting experience for me."
A special Dominican Mass and cultural immersion event will take place April 17 beginning with an 11 a.m. Mass at St. Mary Church in Piqua and continue at the school with a light lunch including "tasting tables": of authentic Dominican food and drink and learning stations with photos and updates of the many facets of Dominican life such as the school, church, CALLS center, Home for the Aged and outreach programs. Second graders will also perform some traditional Dominican dances. Parishioners from both St. Boniface and St. Mary are invited and encouraged to contact the parish offices to make reservations.
Story by Sharon Semanie
This article first appeared in the April 2016 print edition of The Catholic Telegraph.