Police report gives details on La Salle shooting, student still in critical condition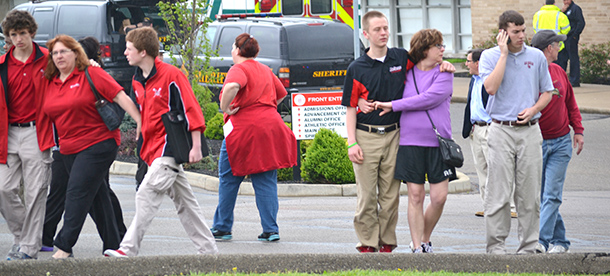 Staff Report
Green Township Police have released an account of an alleged attempted suicide that occurred in a La Salle High School classroom Monday with 22 other students and an instructor present.
Instructor Michael Holman, the report said, observed the student seated in a chair in the front of the classroom. He told police that students began yelling and that the victim struggled to chamber a round into a handgun, placed the gun to his right temple and fired. The report did not give context for the yelling that preceded the shooting.
The name of the student, who remains in critical condition at University Hospital, is in the official report of the Green Township Police. The Catholic Telegraph is withholding the name at this time.
The police report confirmed the incident took place at 9:07 a.m. Monday morning during first period classes at La Salle in room 316.
School officials immediately made a 911 call and the school followed lockdown procedures. The student was rushed to the hospital by ambulance. La Salle parents were notified about a half hour later and students were eventually dismissed early into the custody of their parents.
School officials said all necessary resources, such as counsellors, would be made available to students.
Archbishop of Cincinnati Dennis M. Schnurr released the following statement late Monday morning.
"We are all greatly saddened by the shooting at La Salle High School," Archbishop Schnurr said. "We pray for the young man's recovery, not only from the self-inflicted wound but also from the personal challenges that led him to take this action. We also pray for his family and friends, for the other students and the teacher in the classroom at the time, and for the entire La Salle school community. Through the grace of God, may they all find healing, strength, and courage."
La Salle High School released a statement Monday asking for prayers.
"The LaSalle community asks for prayers for the student, who is in a hospital fighting for his life, and for the LaSalle community," the release said.