Pope urges U.S. Catholics to keep enthusiasm, welcome newcomers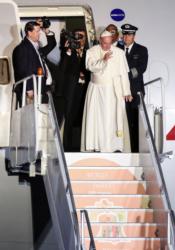 By David Agren Catholic News Service
PHILADELPHIA — Pope Francis ended his trip to the United States with a call for Catholics to keep the enthusiasm of the visit, while continuing to welcome newcomers and care for creation.
"Do not let your enthusiasm for Jesus, his church, our families, and the broader family of society run dry," Pope Francis said at Philadelphia International Airport, prior to flying back to Rome. "I pray that our days of prayer and reflection on the importance of the family for a healthy society will inspire families to continue to strive for holiness and to see the church as their constant companion, whatever the challenges they may face."
In just over five full days in the U.S., Pope Francis reaffirmed the importance of church and family life, pleaded for inclusive attitudes toward immigrants, reiterated the right of religious freedom and called for action on climate change and care for creation.
The trip reaffirmed the pope's enormous popularity with Catholics and non-Catholics alike as large crowds convened — even with tight security — while media coverage was comprehensive.
Pope Francis, who met again with Vice President Joe Biden just prior to leaving Sept. 27, acknowledged the warmth of the welcome in his final remarks.
"Your care for me and your generous welcome are a sign of your love for Jesus and your faithfulness to him. So, too, is your care for the poor, the sick, the homeless and the immigrant, your defense of life at every stage, and your concern for family life," Pope Francis said. "In all of this, you recognize that Jesus is in your midst and that your care for one another is care for Jesus himself."
The pope visited Philadelphia as part of the World Meeting of Families. He delighted droves of well-wishers with an off-the-cuff speech on family life. At Independence Hall, he spoke in Spanish on respect for religious freedom and urged immigrant communities — and all Americans — to remember their roots and embrace diversity.
"You should never be ashamed of your traditions," he said.
Pope Francis also stopped in New York, where he visited a Catholic school in Harlem, addressed the U.N. General Assembly and led a multireligious gathering at ground zero — a "place which speaks so powerfully of the mystery of evil."
"We know with certainty that evil never has the last word," Pope Francis said. "In God's merciful plan, love and peace triumph over all."
In Washington, the pope addressed a joint meeting of Congress, visited later with the homeless and canonized St. Junipero Serra, "who reminds us all of our call to be missionary disciples."
The visit involved political and pastoral aspects. Pope Francis arrived first in Cuba, having helped the decades-long estrangement between the communist country and the United States.
In the United States, his speech to Congress was widely watched and touched on topics such protecting life in all its stages, religious liberty and acting against climate change. He touched on his environmental encyclical, "Laudato Si'" again in his parting remarks.
"This land has been blessed with tremendous gifts and opportunities," the pope said. "I pray that you may all be good and generous stewards of the human and material resources entrusted to you."
His message of unity, kindness and caring captured Catholics and non-Catholics alike — especially in Philadelphia — though it was criticized as un-American in some conservative circles.
"He's bringing a sense of unity that I've not seen here," said Rodney Barnes, a social work student and non-Catholic attending the papal Mass in Philadelphia.
"The biggest thing for me (in this message) was the small things in life that you can do for each other every days," said Rona Iredale, whose family saw the Mass from a rooftop bar.
"I'm not very religious, but it was very moving," said Iredale's daughter Hannah, 16, who found much to like about the pope. "He's just a chill guy and I agree with his views."
The exact impact of the visit remains to be seen, though early signs are promising.
"In terms of articulating his message and generating enthusiasm and connecting with Americans, it was a tremendous success," said Andrew Chesnut, religious studies professor at Virginia Commonwealth University. "Only time will tell if there's lasting impact in terms of more parishioners in the pews and a new spirit of partisan cooperation for the common good."
In his final speech, as in some other, Pope Francis ended with the words, "God Bless America."
Posted September 28, 2015