Dublin to host next World Meeting of Families — in 2018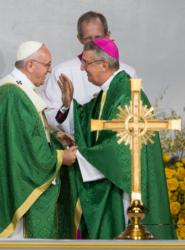 By Laura Ieraci Catholic News Service
PHILADELPHIA — Irish pilgrims in Philadelphia shared their excitement after Archbishop Vincenzo Paglia, president of the Pontifical Council for the Family, announced the 2018 World Meeting of Families would be held in Dublin.
Irish pilgrim Mary Fitzgibbon's reaction was raw when she spoke with Catholic News Service. She had traveled to Philadelphia with her husband, Michael, and five children, ages 2-14, but had missed Archbishop Paglia's announcement Sept. 27. She heard it first from CNS.
"I'm shaking," she said, explaining she had written a letter of appeal to the papal nuncio to Ireland, asking if the next World Meeting of Families could be held in Ireland "because we need it."
"The faith is still deep there and has taken such a beating," she said.
She described present-day Ireland as being in "a very difficult place, where there's been a push for a secular agenda" and "strong anti-church sentiment, particularly driven by the media."
"Marriages are in a bad way. Many people have lost the sense of what marriage is," said Fitzgibbon, who lives in Tralee, County Kerry.
While the majority of Catholics still marry in church, she said, that number has steadily declined.
The church in Ireland, still reeling and healing from a major sex-abuse scandal, has also experienced a decrease in church attendance and vocations to the priesthood and religious life over several years. Ireland established the National Board for Safeguarding Children in the Catholic Church in a bid to restore public confidence in the church's handling of allegations of abuse against priests and religious after a series of judicial reports uncovered serious failings. Four Irish bishops have resigned following severe criticism of their failures in relation to handling allegations of abuse.
The World Meeting of Families in Dublin will be the second large-scale church event in Ireland in the past decade; Dublin hosted the International Eucharistic Congress in 2012.
The announcement came just four months after Ireland became the first country to legalize same-sex marriage by a referendum vote.
Hosting the World Meeting of Families could mean a papal visit, though the attendance of the pope in Ireland has yet to be confirmed. The last pope to visit Ireland was St. John Paul II in 1979.
When CNS caught up with Irish pilgrim James Carr after the papal Mass, he said he was "thrilled" Ireland would host the next World Meeting of Families.
"We're still on bit of a high here," he said. The 38-year-old pharmacist came with his wife of three years, Lisette, and their young child. The Carrs, who traveled from Waterford, about 110 miles from Dublin, had just run into other Irish pilgrims on the road.
Despite his excitement, Carr, too, noted the difficult climate in Ireland as regards the church.
"Lots of people know bad things happened in the church in Ireland," he said. "We know what happened in the past and the mishandling of those scandals."
He said there is "a need to address the bad things" and then to "move forward" in a "more humble" way.
"We have had some dark days, but I feel we've turned a corner," he said, "and we're looking forward with confidence to the days ahead."
Citing Philippine Cardinal Luis Antonio Tagle, who spoke in Philadelphia, Carr said the focus going forward should be on the "church of mercy" and not on "the negative" in society.
"There are some people (in Ireland) who are genuinely confused, hurt and angry, and some of it is expressed in the political agenda," he said. "We need to respond with love, gentleness and truth."
Carr said his first-ever World Meeting of Families in Philadelphia was "a real time of grace."
"We're so glad we came," he said. "We're taking back with us a real sense of renewal and commitment to our families."
He said Pope Francis "moved our hearts and elevated our minds, renewed our sense of commitment and resolve" and challenged him with his practical message to families.
"He sets the bar high, you can't just sit back and be smug and comfortable," said Carr.
"Very impressed by the warmth and friendliness" of Philadelphians, Carr said he hopes the Irish can "reciprocate as much" in three years.
Posted September 28, 2015