Prayers for vocations responsibility of all the faithful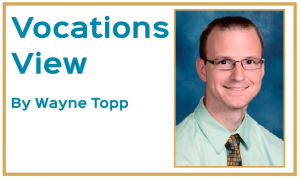 This month, on May 21, the archdiocese will celebrate the ordination of seven men to the Holy Priesthood, a number not seen in locally in seven years.  This is a very exciting moment for the archdiocese.
Interestingly enough, Archbishop Dennis M. Schnurr has been the leader of this archdiocese for eight years. Coincidence or not, those numbers align for a reason, and I believe it is the people of the archdiocese, aided by the passionate leadership of the archbishop.
I was sitting in a meeting today with the Serra Club of Cincinnati, a member group of Serra International, a lay apostolate of the universal church dedicated to prayer for and support of vocations to the priesthood and religious life.  In this meeting, the rector of Mount St. Mary's Seminary gave a short speech during which he thanked the club for their dedication to prayer for the seminarians who are about to be ordained.
He said, "It is your prayers that made it possible for these men to answer the call; your sacrifices that made it possible for them to make the sacrifices necessary to complete their studies; your prayers that kept them steady when doubts arose; and your prayers that will make it possible for them to 'go up to the altar of God.'"
What an inspiring thought! What a challenging thought!
Shortly after becoming the Archbishop of Cincinnati, Archbishop Schnurr wrote down a prayer and sent it out to be prayed at every Sunday Mass across the archdiocese. Since then, we have seen a consistent rise in the number of our seminarians that continues to this day.
Again, this rise may be attributed to many things, but the most likely answer is as simple and as powerful as prayer. While it is true that we cannot sway the mind of God, or make the call appear where it is not, it is also true that our prayers on behalf of those who are being called can help to soften the hearts of these men and make it fertile ground for the call to take root. It is possible, too, that if we are not faithful in our efforts to pray for these men and the many women who are called to religious life, many men and women may not be ready to receive the call when it comes and will miss the true vocation to which they are called.
The same goes for each of us. Through our continued prayer for the will of God to be done in our lives, we enter more and more into a conversation with our Lord, we become accustomed to His voice and we know it. Without that continued connection, we may not fulfill the mission that God has prepared for us.
We celebrate in a couple weeks, the ordination of seven men to the priesthood because so many have faithfully prayed that the Lord lead them to His altar and that they may become the servants He has made them to be.
It is our responsibility to support one another in prayer, and through that prayer, we will continue to celebrate many more ordinations, professions of vows and beautiful marriages celebrated in accord with the will of God.
Wayne Topp is the assistant director of the Vocations Office for the Archdiocese of Cincinnati.
This Vocations View column first appeared in the May 2016 print edition of The Catholic Telegraph.