Pro-Life "Heartbeat Bill" Goes to Governor in Late-Night, Lame Duck House Session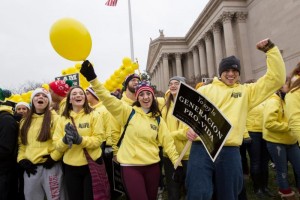 By Gail Finke
Ohio's so-called Heartbeat Bill, which would ban abortion after a baby's heartbeat can be detected, was passed by both state Houses on Tuesday and is now on Gov. John Kasich's desk.
Crafted with the help of many Catholic attorneys and pro-life advocates, including the late Dr. Jack Willke of Cincinnati, the Unborn Heartbeat Protection Bill was introduced in the Senate, where it had been since initially passing the House in March 2015, in a surprise move Tuesday morning. It quickly passed and went back to the House, where it passed as an amendment to a child abuse bill late Tuesday night.
Paula Westwood, Executive Director of Right to Life of Greater Cincinnati, has worked on the legislation for many years and offered testimony about before both Houses on numerous occasions, both with Dr. Willke and alone.
She says that the House Bill includes a budget appropriation that gives the governor line-item veto power. He can pass the entire Bill as-is or strike any part of it, including the abortion provision.
"As our leading elected official, Cincinnati Right to Life and the entire Ohio statewide pro-life coalition expect Gov.Kasich to stand firm in defense of these helpless little ones, whose lives depend on his signing H.B. 493 with the Heartbeat protection amendment intact," she said.
A coalition of pro-life groups from around the state supports the bill, including Right to Life groups in Cincinnati, Warren County and Clark County in the Archdiocese of Cincinnati; as well as Cleveland, Tiffin, Fostoria, and other areas around the state. It's also supported by the Ohio Pro-Life Action League and its affiliates.
Ohio Right to Life and its affiliate members (not all groups named "Right to Life" are affiliated with the state group) and the Ohio Catholic Conference are officially neutral on the legislation, which would in effect ban most abortions because fetal heartbeats can be detected as soon as 16 days after a baby is conceived.
Pro-life opponents of the bill consider other proposed abortion restrictions more likely to meet court challenges. Proponents, including Westwood, say that legislation is frequently challenged and that this legislation has been written to withstand challenges.
It was written in part by Janet Folger Porter, president of Royalton, Ohio-based Faith2Action and former president of Ohio Right to Life, and has inspired "heartbeat" laws that passed in Arkansas and North Dakota.
In social media posts to its members this morning, NARAL Pro-Choice Ohio called the bills' passage "completely unexpected" and urged them members to demand that Gov. Kasich veto the Heartbeat Bill in whole or by line-item veto.
Pro-life groups are making similar appeals to members. Whatever the governor does, Westwood says the Bill is a victory for the cause of Life in Ohio.
"The Ohio House has confirmed that at the very least, unborn children with beating hearts in Ohio deserve protection and life," she said
To see the test of H.B. 493, go to LegislatureOhio.gov.
For information about how the line-item veto works in Ohio, go to InnovationOhio.
To contact Gov. Kasich about his or other pending legislation, go to Governor.Ohio.gov.
H.B. 493 with Heartbeat protection amendment now goes to Governor Kasich for signature.
ACTION: Contact Governor John Kasich to sign H.B. 493 including the Unborn Heartbeat Protection amendment without veto.