Pro-lifers told to stay hopeful to overcome 'shrine to personal choice'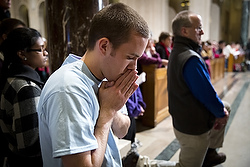 By Mark Pattison Catholic News Service
WASHINGTON — The winter storm that dealt a chilly body blow from the Great Plains to the East Coast may have rendered Archbishop Charles J. Chaput of Philadelphia unable to come to Washington to celebrate the Jan. 22 closing Mass of the annual National Prayer Vigil for Life, but the homily he wrote made its way to thousands of hearing ears.
In it, he wrote of the virtue of hope and the confidence that abortion can be overcome.
"The very existence of people who refuse to accept evil and who seek to act virtuously burns the conscience of those who don't," Archbishop Chaput wrote in his homily. "People who march and lobby and speak out to defend the unborn child will be — and are — reviled by leaders and media and abortion activists that turn the right to kill an unborn child into a shrine to personal choice."
He added, "Evil cannot bear the counter-witness of truth. It will not coexist peacefully with goodness, because evil insists on being seen as right, and worshipped as being right."
Archbishop Chaput's homily was read by Msgr. Walter Rossi, rector of the Basilica of the National Shrine of the Immaculate Conception, site of the Mass.
"Seventy years ago, abortion was a crime against humanity. Four decades ago, abortion supporters talked about the 'tragedy' of abortion and the need to make it safe and rare. Not anymore," Archbishop Chaput wrote.
"Now abortion is not just a right, but a right that claims positive dignity, the license to demonize its opponents and the precedence to interfere with constitutional guarantees of freedom of speech, assembly and religion. We no longer tolerate abortion. We venerate it as a totem."
The archbishop said, "Optimism and pessimism are equally dangerous for Christians because both God and the devil are full of surprises. But the virtue of hope is another matter. The church tells us we must live in hope, and hope is a very different creature from optimism. … Hope is the conviction that the sovereignty, the beauty and the glory of God remain despite all of our weaknesses and all of our failures. Hope is the grace to trust that God is who he claims to be, and that in serving him, we do something fertile and precious for the renewal of the world."
Archbishop Chaput said, "All of us are here because we love our country and want it to embody in law and in practice the highest ideals of its founding."
He added, "Over the past 41 years, the pro-life movement has been written off as dying too many times to count. Yet here we are, again and again, disappointing our critics and refusing to die. And why is that? It's because the word of God and the works of God do not pass away. No court decision, no law and no political lobby can ever change the truth about when human life begins and the sanctity that God attaches to each and every human life."