PURCELL MARIAN HIGH SCHOOL HIRES D.J. DOWDY AS ATHLETIC DIRECTOR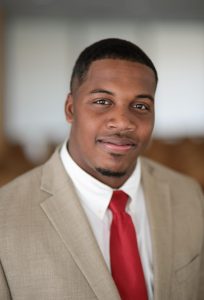 CINCINNATI – Purcell Marian High School has hired D.J. Dowdy as athletic director effective July 1, 2019. Dowdy has served as associate athletic director and interim co-athletic director at Purcell Marian since 2017. Dowdy replaces Brian Meyer, who is the new athletic director at LaSalle High School effective July 1.
An Akron native and graduate of North High School, Dowdy graduated from the University of Cincinnati in 2016, where he was a team captain, four-year letter winner, and scholarship athlete for the Bearcats football team. Dowdy has a bachelor's in sports administration.
"This is not a job to me. It's a purpose, a calling to make an impact and help kids have a whole experience at Purcell Marian, not just in Athletics. As an Akron native, Purcell Marian has become my home, my family. Purcell Marian is not a stop for me. It's a destination," says Dowdy.
"D.J. is ready. His work at Purcell Marian over the last two years has shown he has the tenacity, heart, and the passion to create meaningful experiences for our student athletes and the entire PM community," says Principal/CEO Andy Farfsing. "We're thrilled to keep him in the Purcell Marian family."
About Purcell Marian High School
For more than 90 years, Cincinnati's Catholic, co-ed Purcell Marian High School (PM) has served a diverse population of students. Founded on the faithful charisms of The Marianists in 1928, the Purcell Marian family of schools includes St. Mary, Marian, Regina, Purcell, and Purcell Marian High School. Led by Principal Andy Farfsing '95, Purcell Marian is in the midst of a renaissance centered on inclusivity and preparing graduates for post-secondary opportunities in the global world. Purcell Marian measures success on a 3E Guarantee, which guarantees all graduating seniors are either Employed, Enlisted, or Enrolled at the time of graduation. PM is an International Baccalaureate-candidate school, anticipating a November 2019 official accreditation. For more information, visit purcellmarian.org.