Quilter's colorful creations reflect unconditional love
January 10, 2012
By Patricia McGeever
ARCHDIOCESE — The work Julia Louderback creates in a corner of her basement brings expectant mothers to tears. She crafts together colorful and cozy quilts. Then, she gives every single one of them away.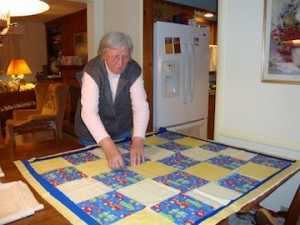 "I know where it's going," she said of her generous donations. And that seems to be satisfaction enough for her. Louderback, a member of St. Therese, the Little Flower Parish in Mt. Airy,  doesn't know exactly who gets her quilts. But Chris Schuermann, the executive director of Birthright of Greater Cincinnati, does.
"They're just exquisite. The care and love is obvious," said Schuermann.
Birthright is an international pregnancy center with its Cincinnati location on Beechmont Avenue. Women in need are referred there by social service agencies.  Every woman receives a layette consisting of brand new baby clothing, blankets, sheets and at least one handmade item. Those who take the extra step and go through Birthright's six-week childbirth class have their names put in a drawing for the quilt.
For the lucky recipient, there is appreciation and awe. "The reaction is joy, tears, surprise. They just can't believe someone would care about their baby to make something for them," said Schuermann. "They don't know that kind of unconditional love.
This gift of love from a stranger begins with fine fabrics in brilliant colors and varying textures. Cotton is on top and muslin on the bottom, with the best grade batting sewn in between. Louderback said high quality batting doesn't take as many stitches to sew into place.  "That's why I like to buy good material. It feels so good in your hand to work with it," she explained.
She spends most of her time on the front end of the project choosing the print then finding the right complimentary fabric colors to use as the borders. "It's just a joy to work with all those colors."
The first quilt Louderback made was for a doll. But when her daughter, Sarah, who makes and sells baby bibs, had some unused fabric, it jump-started her mother's new pastime. She "gave me several hundred neck holes and said, 'you've always wanted to quilt so here you go.'"
Louderback made about a dozen quilts on a no-frills 1952 Singer sewing machine. She's since upgraded to a more modern one. Sometimes as she's sewing, Louderback will think about the mother who will receive her quilt and say a prayer for her. She knows the woman's situation may not be ideal and is grateful the mother is able to see her pregnancy through.
Louderback calls abortion "outstandingly horrible," and feels by creating and donating her quilts she's helping one person at a time as a new life is brought into the world.
"It gives you satisfaction to know you're helping with a major problem of our time," she said.