Recently dedicated statue remembers the unborn
January 10, 2012
ST. ANDREW DEANERY — The Knights of Columbus, St. Maximilian Kolbe Council #11355 recently donated a bronze limited edition statue of "Rachel Weeping for Her Children" to the parish. The statue is dedicated to the unborn and to all those who mourn the loss of a child.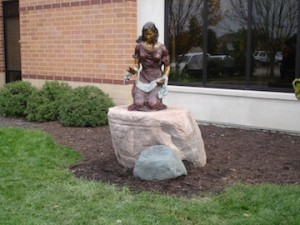 Designed by sculptor Sondra L. Jonson of Nebraska, the natural looking Rachel sits on a red granite 3,600-pound stone that was found on a farm in Ross County, probably pushed down to southern Ohio by the Great Glacier, which formed the hills of southern Ohio.
Jonson said that she designed the statue "to reflect a society bereaved of its children and looking to God for healing and redemption" and placed a rose at Rachel's side as a "sign of her confidence in God and hope for her future."
The story of Rachel and Jacob and their family is found in the Book of Genesis, and Jeremiah 31:15-16 tells of Rachel's weeping for her children who have gone into exile.  Matthew quotes Jeremiah when Mary and Joseph escape Bethlehem while the Innocents (boys under two years old) are being slaughtered by Herod in his attempt to kill Jesus (Matthew 2:18).  Jacob's children are often referred to as the founders of the 12 tribes of Israel (another name for Jacob).
Rachel was an Old Testament matriarch, the wife of Jacob for whom he worked many years for the honor of marrying. She was the mother of Joseph (of the coat of many colors) and Benjamin. She longed for children and died in Benjamin's childbirth.  She was buried outside Bethlehem, and her tomb is visited by Jews, Muslims and Christians, alike.
Project Rachel and Priests for Life have chosen her to represent their efforts to promote life. It is the Knights' wish that this statue will inspire those who contemplate abortion to choose life and to help those in need of consolation and healing to find hope.
The rock on which Rachel kneels was chosen because Jacob first met Rachel when she was tending her father's sheep. He rolled the stone away from the well so she could draw water for the sheep. Jacob later erected a pillar (a stone) in honor of Rachel when she died, marking the location of Rachel's tomb.
Jonson said of the stone on which Rachel kneels, "Putting St. Max's Rachel on natural stone gives her a more authentic look and a unique presence. It seems fitting for a church whose patron saint gave up everything, even his life, for his faith in Jesus — 'the stone the builders rejected.'"
The statue may be visited at St. Maximilian Kolbe Church, 5720 Hamilton Mason Road in Liberty Township.