Radiating Christ: Bobby Kenney III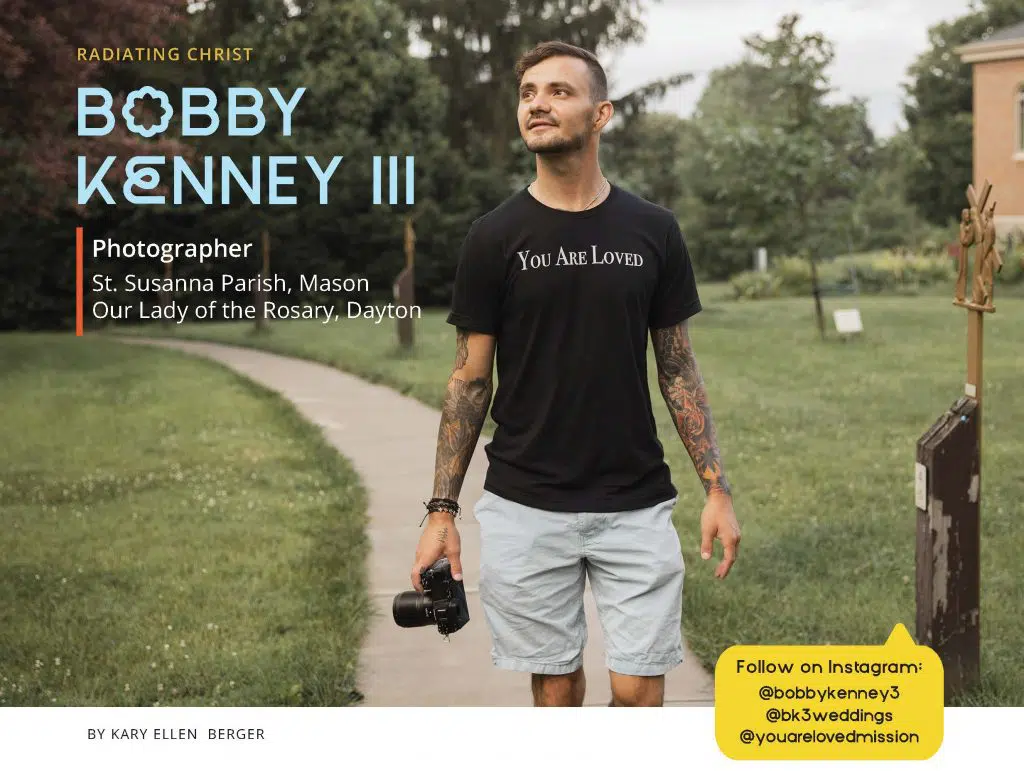 Pictures are worth a thousand words. Looking at a picture of photographer and entrepreneur Bobby Kenney III, though, would only give you a glimpse of the faith journey he has been on in his life so far.
Growing up in West Chester, Kenney admitted his connection to Christ wasn't strong when he was younger. "At the age of 13 was when I really started falling into sin," Kenney said.
The sin Kenney referred to led him to dangerous activities that included getting shot at during a drug deal when he was
16. Two years later, Kenney was in felony rehab, "a clean prison for juveniles," as Kenney described it. While there, he began to hear the Lord's message.
"There were a couple guys who came every Sunday for Church to talk about Jesus and Scripture," Kenney said. "It was there that I found hope for the very first time in my life."
Out of rehab, Kenney went to college, but quickly found himself back on a destructive path. After more highs and lows, Kenney felt an urge to reignite his relationship with God. "I asked myself, 'What am I doing? I'm not seeking anything of living for any sort of purpose,'" Kenney said. "So I decided to pray for the first time in years. I simply asked God for help and some sort of guidance."
That guidance came in the form of a gift at Christmas. "My mom gave me her old camera for Christmas, along with a necklace that had Jeremiah 29:11 on it, which says, 'For I know well the plans I have in mind for you – oracle of the LORD – plans for your welfare and not for woe, so as to give you a future of hope,'" Kenney shared. "I was instantly inspired."
In the years that followed, Kenney fell in love with photography and built his relationship with God. While finding success with his photography, Kenney realized he could expand on his work to share God's love. He was also in the process of creating a clothing line, but his initial plans for the brand weren't aligned with promoting Christ.
At the same time, Kenney began attending a Bible study with coworkers and, later, was invited to attend a SEEK conference, Kenney went, and, during the life-changing experience, he said a prayer. "I prayed, 'God, what do you want me to do with this? I'm giving it to you," Kenney reflected. "It was then that I had a vision. The vision was of a girl waking up, with black makeup smeared under her eyes. She looked miserable and as if she'd been crying. She got up out of bed, walked into the bathroom, looked in the mirror, looked down at her shirt, and it said, 'You Are Loved,' and she smiled. I instantly teared up and had chills – the good kind. I said to myself and God, 'That's it! That's what the clothing line will say!'"
You Are Loved is now an established non-profit that is more than a clothing line. The organization focuses on bringing the message, "You Are Loved" to those incarcerated or in rehab facilities, the homeless, at-risk youth and others. Kenney also connected his passion for photography with this organization "I take/share polaroids of people wearing the shirt, and I ask them the question, 'What do you want to bring to the world?,'" Kenney said. "Regardless of where people are in their life, it brings out the goodness of their heart and helps them see the light inside, and also shows that there is love instilled in every human heart."
Kenney has future goals of spreading the word about "You Are Loved" through events and a book. Photography remains his full-time job, and, with every picture he shares online, he makes sure to include scripture or his own faith-filled thoughts in the caption. Kenney's future continues to grow brighter as he and his fiancée prepare to marry in Dayton in 2022.
"I want people to know that there is newness in every day," Kenney said. "There is resurrection power in every day. God made this day specifically for you out of pure love. The question is how do you respond? The answer is simple. Love God, love your neighbor. And your neighbor is every human being you encounter. Make sure when you approach people, you are giving off the impression 'You Are Loved.' For that is what it means to be Christ-like."
This article appeared in the September edition of The Catholic Telegraph Magazine. For your complimentary subscription, click here.