Radiating Christ: Hospital Chaplains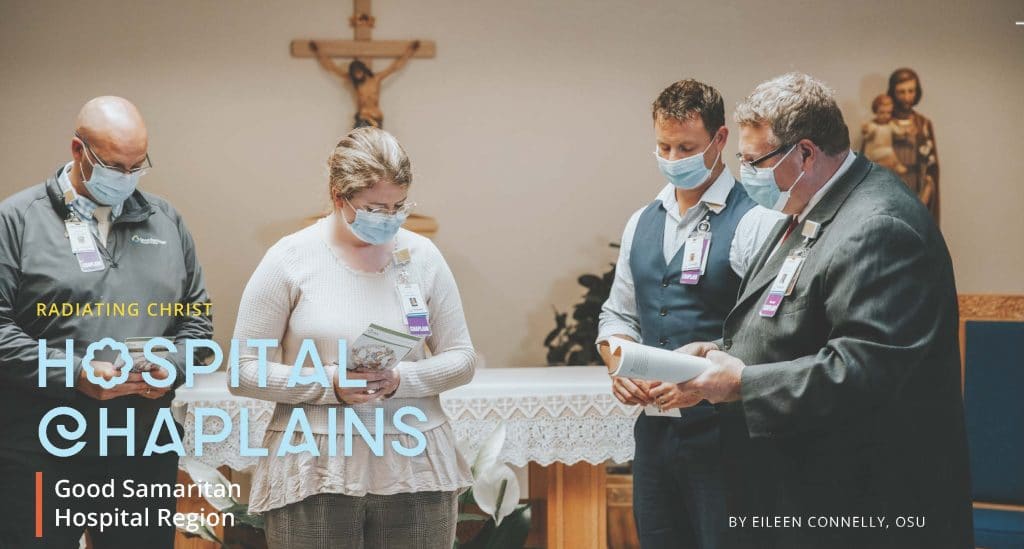 Their ministry is one of presence, prayer and bringing Christ's love and comfort to others. The team of six chaplains in the Department of Pastoral Care at Good Samaritan Hospital in Cincinnati fills these roles daily.
According to Austin Schafer, manager for Mission and Pastoral Care for the Good Samaritan Hospital region with TriHealth, their duties include providing sacramental and spiritual care, reaching out to patients of all faith traditions (or none), bringing hospitality and offering a listening ear. "When people feel heard, they begin to heal," he said.
During the height of the pandemic, when the hospital was receiving between 80 and 100 new positive COVID-19 cases per day, the chaplains were often overtaxed, but considered their ministry a "sacred" responsibility, Schafer said.
"It was definitely a very emotional time for everyone," he said. "It was just nonstop. There was sadness and grief, certainly, but also so many examples of faith and beauty. It helped to hang on to that."
"We see the patients' families as part of the team," Schafer said. "When they couldn't have visits, we did as much tele-ministry as possible, via iPads and phone calls, anything to facilitate that connection. We visited family members at their cars, trying to address their fear and uncertainty."
Staff wellness was also a priority, whether it was a chaplain bringing a cart of refreshments to overtired medical team members or providing opportunities to honor lives lost.
Out of the challenges of the pandemic came a powerful reminder of the sense of community in the hospital setting. "During COVID, there was such a strong sense of people caring for each other, showing love and concern," Schafer said. "It was very intentional in a way I hadn't seen before."
He emphasized the unique role hospital chaplains play in peoples' lives, saying, "We don't establish long-term relationships with people. We're here for a very acute time during someone's health journey. We'll likely never hear from that person again, but while they're here, we can offer them genuine openness, a safe place where they can share and heal."
Father Cosmas Mabu came to his position at Good Samaritan two years ago after diverse ministry experience, including serving as an Army chaplain in his home country of Nigeria. For him, seeing to the sacramental needs of Catholic patients and responding when a priest is requested is truly a way of radiating Christ.
"Giving care is radiating Christ," Father Mabu said. "That's what we're called to do: radiate Christ in His humanity through our care and concern for others. As chaplains, our role is to bring Christ to the people and help them understand the love He has for them. They need that more than ever when they're ill or injured."
He acknowledged that it can be challenging to be on call 24 hours and to roll out of bed at midnight to handle an emergency call, but wouldn't have it any other way.
"This is my ministry, the ministry of Christ," Father Mabu said. "It gives me great joy to be able to bring Christ to people in this way. It's not easy, and there are tears, but to walk with people, to help them know God is with them when they need comfort, is a privilege."
It has been especially rewarding to witness the sense of relief and peace a patient feels upon receiving the sacrament of reconciliation. "They feel free," he said. "Then you pray with them and encourage them, and they experience the joy of Christ."
Annie Mesewicz is new to the chaplain team at Good Samaritan, but is answering the call to a vocation she began discerning in high school. "I've always wanted to help people spiritually and emotionally," she said. "My mom, who is nurse, asked if I had ever considered becoming a chaplain. From then on, my heart was on fire for this ministry."
A 2019 graduate of Xavier University, Mesewicz recently completed her first unit in Clinical Pastoral Education (CPE) at the Cincinnati VA Medical Center and is excited to be making the transition to professional Catholic healthcare chaplaincy.
During her first few days at Good Samaritan, Mesewicz was called upon to visit a patient who requested a female chaplain (she is currently the only one on staff). "It was definitely trial by fire," she said, "but also very humbling and such an honor. I feel like walking into a patient's room is like being on holy ground. Each person is a beautiful image of the body of Christ."
"We're meeting people wherever they are on their faith journey," she added. "We're there to reassure them that they're not in this alone, to pray with them, to really do what the Gospel calls us to do."
Schafer encourages those who love to "radiate Christ through listening and pastoral care" to discern chaplaincy or become involved as a hospital volunteer or Communion minister. "It is holy and sacred work," he said. "Christ and the Church need you, and you can help improve the lives of many through your servant leadership." For more information, email Schafer at [email protected]
This article appeared in the September edition of The Catholic Telegraph Magazine. For your complimentary subscription, click here.