Radiating Christ: Mary Beth Koenig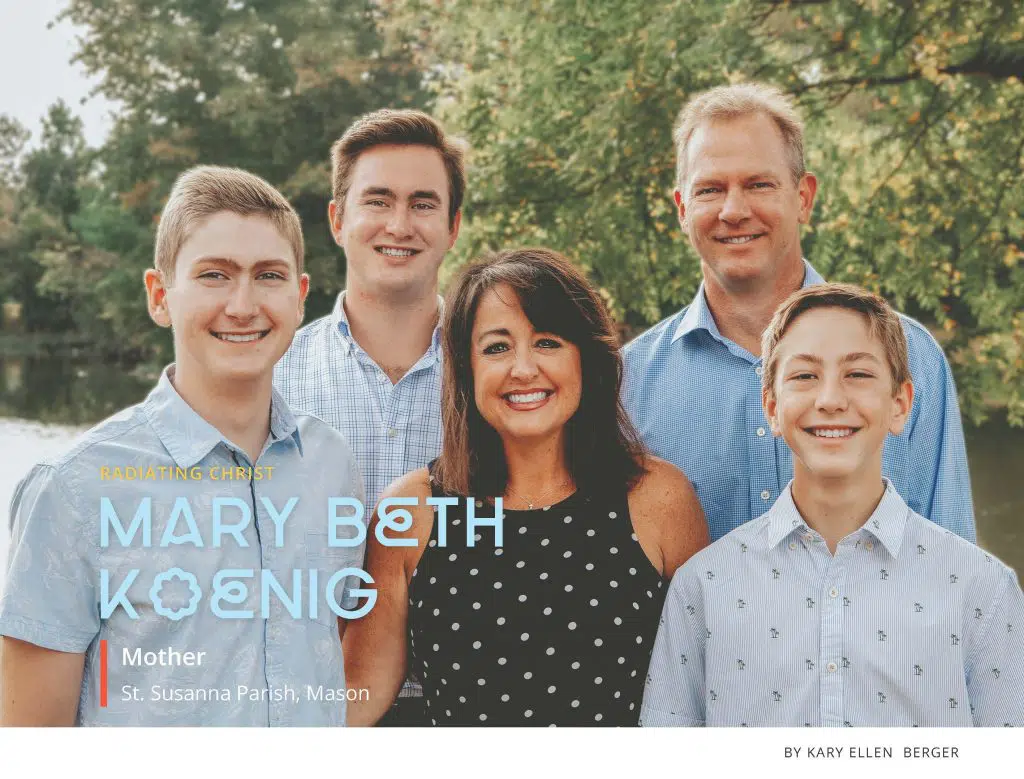 When you strike up a conversation with Mary Beth Koenig, you'll hear frequently about "God's awesomeness." Not only is that one of her favorite phrases, but in her actions and her words, she radiates how good God is.
Mary Beth and her husband met at the University of Cincinnati and recently celebrated their 25th wedding anniversary. The couple have been members of St. Susanna in Mason for 17 years, where Mary Beth has been involved in various parish ministries. The couple has three boys and live in a neighborhood that Mary Beth describes as "family."
Family – both in the biological and community sense – have been a supporting arch to the Koenigs throughout the years. The Koenig boys have had varying medical complications that have included stays at Cincinnati Children's Hospital. In one of God's "awesome" moments, Koenig shared how she found God in one of the most unexpected times.
"I was standing in the hallway at Children's and a sorority sister from college turned the corner," Koenig said. "I hadn't seen her in 25 years. She's a faithful Catholic, a beautiful soul and she's like, 'I'm here for you Mary Beth. I'll pray for you.'"
Praying has been a mainstay for Koenig, who enjoys attending daily Mass and praying with her family every day. During one of the boys' trying times, when asked what people could do to help, Mary Beth encouraged everyone to turn to God.
"I love morning Mass," Koenig shared. "I couldn't go, so people who had not been to church in forever went to Mass. People who weren't even Catholic went to Mass. It was beautiful."
When asked how she can stay so positive during difficult times, Mary Beth smiled. "God is our Father," Koenig said. "Think about a child, and every time they get scared, they run to their father. There are totally times I get scared, but I just fill every morsel of my being with as much of God's goodness."
"Our job here on Earth is to spread the faith, and in spreading that faith all you're doing is spreading the love and joy of Christ," Koenig continued. "You're a much happier person if you're doing good for everyone else around you the whole day rather than focus on, 'Woe is me.' There is no way you can't be happy in those times."
Mary Beth admitted that she embraces the difficult moments knowing that God is always by her side.
"He will provide. Trust Him," Koenig said. "The ultimate glory is to live eternity with God but, man, oh, man, are we so happy that we get this extra time to be a family. He does amazing things."
Amazing things, that Koenig said, include seeing her sons grow into young men who are looking towards their futures.
"From when my boys were little, I always prayed to God for their wives," Koenig said. "I don't know who their wives will be when they grow up but I prayed for God to pray for them, that they were growing in a happy, loving home, but, more important, that they're growing closer to God."
And sharing the importance of God with children, from an early age, is something near to Koenig's heart.
"I hope people are inspired to go back to church or morning Mass and have conversations about God with their kids," Koenig said. "No one's relationship with God can always be on fire — always be on the top or always be at its best. You have down days, you have good days, and you have days where you turn away from God. But the thing is the door is always open."
This article appeared in the September edition of The Catholic Telegraph Magazine. For your complimentary subscription, click here.