Radiating Christ: Jake and Alyssa DeMange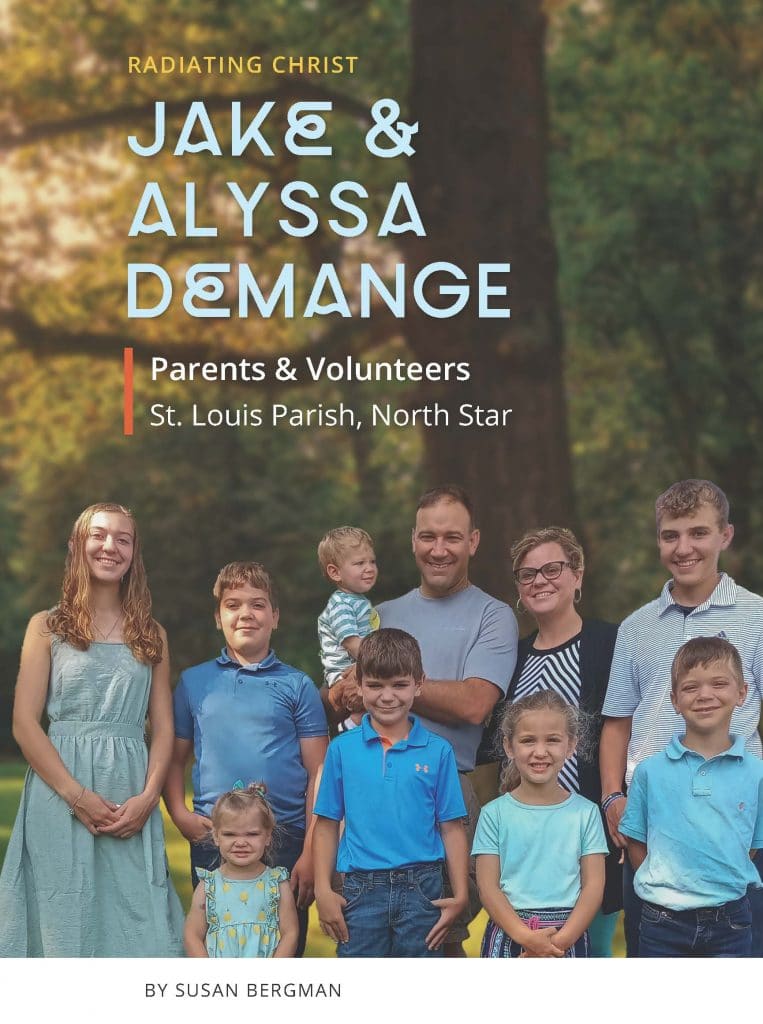 We all know someone who inspires the faith of others. In the northern archdiocese, lovingly called "God's Country" due to its large Catholic population and abundant churches, individuals who exuberantly radiate Christ are visible in nearly every community.
Nestled among extraordinary wave makers, are individuals softly shining Christ's love and positively impacting those around them. In the likeness of St. Therese of Lisieux, their spirituality is doing the ordinary with extraordinary love. "What matters in life," she famously wrote, "is not great deeds, but great love," and Jake and Alyssa DeMange, of North Star, are people who do just that.
Together, the couple is instrumental in organizing the Darke County Right to Life bus, which transports more than 50 local Catholics to Washington, D.C., each year for the March for Life. As parents to eight children, it's an event to which they feel strongly connected.
"During our second pregnancy, we found out that we were expecting twins," Alyssa recalled. "We were so excited, and then things took a turn." One of their twin boys was stillborn. Jake and Alyssa agreed it was a pivotal point in their relationship with God. "It was a wake-up call. It fundamentally changed our outlook on how much of a gift life truly is," added Jake.
A few years later, through the encouragement of his wife, Jake joined the St. Denis Knights of Columbus in Versailles. He is a past Grand Knight and currently serves as a trustee. In an effort to increase local engagement, he helped organize "Breakfast with the Lord" for local students and also developed a Lenten speaker program that features nationally-known Catholic evangelists.
"We are blessed to live in an area with great people and strong faith, so we were really just looking for a way to bring them together," said Jake. The event now averages 180 attendees. "We all believe that even if we only bring one person closer to God, then we have achieved our goal."
Clearly that's a goal Jake carries over into his personal life. Fellow Knight, Paul Borchers, has been inspired by Jake: "He radiates Christ through his actions in what he does for his community, as well as sharing his faith with his children." Those actions with his family include participating in First Friday early morning Mass, which Alyssa explained is a treat for the kids, because Jake goes into work a little later, and they enjoy donuts afterward.
The emphasis on combining faith and family activities is something both Jake and Alyssa credit to generations of positive influence. "We were both raised doing similar things with our parents and grandparents. It brings us joy to continue those traditions with our own children."
This article appeared in the September edition of The Catholic Telegraph Magazine. For your complimentary subscription, click here.