Radiating Christ: Kara Stephenson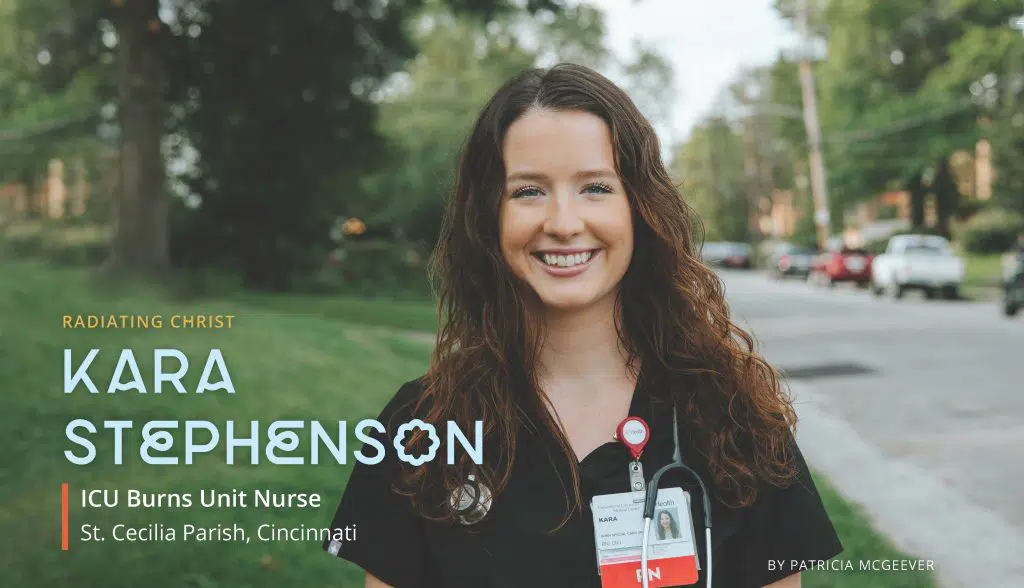 In an intensive care unit at the University of Cincinnati Medical Center (UCMC), there are 10 beds where some of the most critically injured patients are treated. They are in the hospital's Burn Center. Among those caring for them is a young, newly-minted nurse who says she wants to bring Jesus' healing ministry to health care. Kara Stephenson graduated with her Bachelor of Science in Nursing degree in December from Wright State University. The Centerville native knew she wanted to work in critical care and started her job at UCMC this spring.
"It's definitely not easy, and I'm still adjusting to the stress that does come with seeing that kind of suffering," said Stephenson. "But it is exactly what I wanted to do, so I know He'll give me the graces I need to figure that out."
With her education and faith as foundations, Stephenson cares for patients who are sometimes in the ICU for months. The Burn Center receives the most seriously burned patients in the region. Their pain and suffering is intense and their injuries are difficult to see. To care for them, Stephenson steps into what she calls "imaginative prayer," and pretends she is caring for Christ's wounds after the passion.
"When I'm physically interacting with them, changing dressings, giving them medications or doing any kind of procedure at the bedside, I'm asking the Lord to work through my hands as I am caring for them," she explained. "Every time I touch them, I pray for them and ask that God brings His healing touch through my hands, that He will trade out my hands for His because His are way better."
Stephenson prays her patients will be restored to health and will heal without scarring. Patients are often sedated, so there is not much opportunity to pray with them. But she does offer to pray with their families. Stephenson says she tells them, "I'm a Christian. We don't have a chaplain on duty at this time, I'd be happy to pray with you… I leave it open to them."
Stephenson wasn't always this devout. Only when she grew tired of party culture did she embrace prayer. When she did, her life changed instantly. Stephenson also said she experienced her own healing. Growing up, she suffered from depression. She was never formally diagnosed, but did see a counselor. While attending a seminar for a charismatic ministry, Stephenson said someone prayed over her.
"I can't explain it but I've never had a depressed or low thought," she recalls. "I was completely healed by Jesus. That was the big reason why I'm bringing this to health care because I saw that it's possible."
Stephenson loves her work and says it's a bonus that she gets paid to do it. "It's difficult, and it's not all rainbows and sunshine, but I do feel like I get to minister to the poor, sick and imprisoned, all of them grouped into one," said Stephenson.
This article appeared in the September edition of The Catholic Telegraph Magazine. For your complimentary subscription, click here.