Religious freedom critical to health of world's societies, says bishop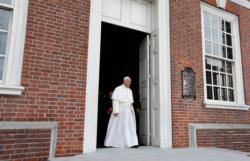 WASHINGTON — The U.S. Senate passed legislation to reauthorize the U.S. Commission on International Religious Freedom Sept. 30, but the measure was awaiting action by the House.
A day earlier Bishop Oscar Cantu of Las Cruces, New Mexico, urged Congress in a letter to pass the bipartisan measure quickly so the commission could continue its "vital mission" to protect religious freedom, which he called "critical to the health of societies around the world."
"The Catholic Church has long viewed protection of religious freedom as a 'cornerstone of the structure of human rights' since it is rooted in the dignity of the human person," said the bishop, writing as chairman of the U.S. Conference of Catholic Bishops' Committee on International Justice and Peace.
"At a time when international religious freedom is increasingly imperiled, it is vital that USCIRF be reauthorized so that it can continue to highlight the need to protect those who are discriminated against, harassed and even killed for their faith," he said, noting the USCCB has been a strong advocate of the watchdog body for years.
The commission is an independent government agency charged with reviewing violations of religious freedom throughout the world and making appropriate policy recommendations to the president, secretary of state and Congress.
It was established by the 1998 International Religious Freedom Act. The law also established the Office of International Religious Freedom in the State Department's Bureau of Democracy, Human Rights and Labor, whose staff monitors religious persecution and discrimination worldwide.
Bishop Cantu quoted from Pope Francis' address on religious freedom on Independence Mall in Philadelphia Sept. 26:
"In a world where various forms of modern tyranny seek to suppress religious freedom, or try to reduce it to a subculture without right to a voice in the public square, or to use religion as a pretext for hatred and brutality," the pope said, "it is imperative that the followers of the various religions join their voices in calling for peace, tolerance and respect for the dignity and rights of others."
Posted October 2, 2015