Renowned apologist speaks to seminarians, priests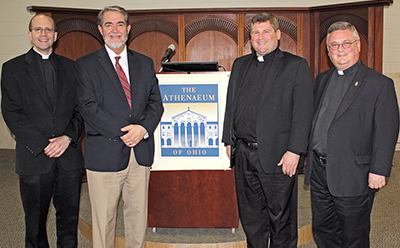 Dr. Scott Hahn, a former Protestant minister-turned Catholic apologist, author and speaker addressed seminarians and priests in a talk at Mount St. Mary's Seminary April 15.
"The most effective strategy to evangelize is to share the Gospel with joy. Enjoy being Catholic," Hahn said enthusiastically to the crowd, which included Archbishop of Cincinnati Dennis M. Schnurr.
"Dr. Hahn was very energized about the faith and enthusiastic about the New Evangelization," seminarian David Carvajal Casal said. "It was an impressive talk."
The best-selling author and teacher came to Cincinnati with his wife, Kimberly, also a Catholic apologist, to speak at a Scripture workshop held at McAuley High School April 16-17.  Dr. Hahn agreed to present a talk to seminarians and priests prior to the conference.
For the rest of the story, including a link to a full video of the presentation, visit Mount St. Mary's Seminary website HERE.