Friars Minor keep the spirit of St. Francis alive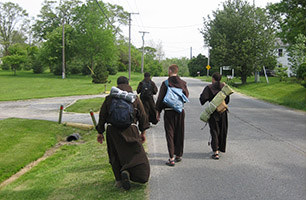 Sponsored Content
The Franciscans of St. John the Baptist Province follow Jesus Christ, by following the example and life of St. Francis of Assisi, to proclaim the Gospel by Words and Actions.
The Friars Minor and many Franciscan Brothers and Sisters, have all kept the spirit of St. Francis of Assisi alive throughout the centuries. As vowed men in the Church, friars continue to live the charism of St. Francis of Assisi who wanted his followers to be called "minor" in solidarity with those occupying the lowest positions of society.
Members of the order are continually searching for ways to concretize the Church's preferential option for the poor. They enjoy the freedom, and take seriously the responsibility, of responding to the needs of those on the fringe of society as heralds and builders of peace.
The Friars accept today's challenge of adapting to a rapidly changing world and church while remaining true to the spirit of their founder. Like the original followers of St. Francis, friars of the 21st century are called to be a community of prayer involved in a variety of ministries. Their charism is not to any specific task within the Church, rather to being brothers among ourselves and to the entire world.
Therefore, the Friars of the St. John the Baptist Province try to respond to the call of the Church by a willingness to be sent and to serve, and to proclaim the Good News to all.
Friars have shared in the cultures and life of the Native-Americans, African-Americans, Appalachians, Chinese, Hispanic, Filipinos, Africans and Jamaicans. Today ministries include missions, parishes, teaching, campus ministries, chaplaincies, retreats, social ministry, communications art and technology.
The Friars are currently are involved in ministries and religious life formation work in Ohio, Michigan, Wisconsin, Illinois, Pennsylvania, Louisiana, Texas, Jamaica and Africa.
If you feel called to explore the possibility of sharing the Joy of the Gospel Life with the Franciscans of St. John the Baptist Province, contact them HERE or call the vocation office at 513- 542-1082 or 1- 800- 827-1082. Contact by email HERE. Follow the Friars on Facebook and visit www.franciscan.org/be-a-friar.