Responding to God with a 'generous yes'
May 30, 2012
By Eileen Connelly, OSU
It's been nearly a year since the boy from Groesbeck was ordained Auxiliary Bishop of Cincinnati. As the first anniversary of his episcopal ordination approaches on June 9, it is an opportunity for Bishop Joseph R. Binzer to reflect on his vocation and ministry.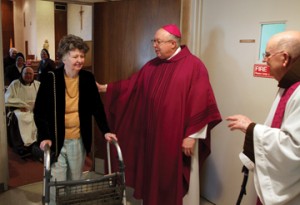 His days are joyously full, said Bishop Binzer, with his duties ranging from serving as director of the archdiocesan Priest Personnel Office to presiding at various liturgical celebrations. One recent Saturday, for example, found Bishop Binzer speaking at a Spiritual Motherhood for Priests retreat the Holy Spirit Center in Norwood, presiding at the Golden Jubilee Mass at the Cathedral of St. Peter in Chains, and celebrating confirmation at St. Charles Borremeo Parish in Kettering.
Asked if this was typical day for him, Bishop Binzer replied, "I don't think I've had a typical day since I was a freshman at Miami University."
He attended Miami after graduating from LaSalle High School in 1973 and earned a bachelor of science degree with a major in accountancy. Bishop Binzer worked for 11 years as a Certified Public Accountant before joining the seminary in 1988 to study for the priesthood. After his ordination in 1994, he served at St. Dominic Parish in Delhi Township for three years, then earned a canon law degree from Catholic University of America in Washington, D.C., in 1999.
After returning to Cincinnati, he was resident associate at St. Bartholomew Parish in Finneytown, served on the archdiocesan Tribunal, and was master of ceremonies for retired Archbishop Daniel E Pilarczyk before becoming chancellor. As chancellor, he oversaw the work of the Chancery Office, dealing with issues of canon law, collecting and preserving parish records, assisting parishes and priests with matters of civil law, and maintaining files on priests and parishes. He also supervised the Office of Communications, The Catholic Telegraph, the archdiocesan archives, the Office of Religious, the Tribunal, the Vocation Office, the Permanent Diaconate Office, child protection and the victim's assistance coordinator.
Today, whether he is attending a banquet honoring Catholic school teachers or a ceremony recognizing youth for their commitment to parish and community service or celebrating a baptism or wedding, Bishop Binzer said he's grateful for the opportunity to be present at all stages of people's spiritual lives.
"I'm moved by the willingness of people to share their faith with me and I've had the chance to share in so many wonderful occasions at area parishes and schools," he said. "It's been easy to experience God's presence and it's obvious God is alive and well in the hearts of the people of the Archdiocese of Cincinnati. I have met so many friendly, faith-filled people and it's truly a blessing to be with them.
While every liturgical celebration and event he attends is meaningful for Bishop Binzer, among the occasions in the past year that have stood out for him are his ordination, his first ad limina visit to the Vatican in February, what he describes as  a "graced and blessed" experience, and the April 25 Unity Mass, which brought together representatives from Catholic schools in Dayton and northern part of the archdiocese.
While Bishop Binzer said he feels "blessed to be serving the church in this way," he noted that this sentiment isn't new. "I've been blessed in my ministry since I was ordained a priest," he said. "Even prior to that time, I was aware of all the blessings God has given me."
"In Archbishop Schnurr's prayer for vocations, we pray to respond to God's plans for us with a generous 'yes." That's how my parents (the late Robert and Joan Binzer) tried to live their lives, as did other adults that touched my life. That had a very definite and positive impact on me as a child. I keep going back to how blessed by God I've always been."
Amid his busy schedule, Bishop Binzer stressed the importance of always finding time for prayer. Especially meaningful for him is pausing at the end of each day to "spend time with God, thank Him for His presence and for His continued assistance. Prayer is an important part of my life and try to always respond with a generous 'yes.' Prayer allows me to do that."
Bishop Binzer's free time is spent with family, including every Sunday with his mother, and following the Cincinnati Reds. "During baseball season, unless they're playing, I'm tuned into the game on TV, the radio or Internet," he said.
Known for the cheerful greetings he gives to archdiocesan employees and other passersby as he makes the short walk between his residence at St. Louis Church and his office, Bishop Binzer said, "As Catholics, we celebrate Mass and anniversaries, so why not allow that to carry over on a walk down the street? It's part of the celebration of life."
Looking back on a year that has been both blessed and busy, he added, "People tell me all the time that they're praying for me. I'm grateful for that and ask that they please continue those prayers and be assured of mine.